13 Easy Appetizer and Main Course Ideas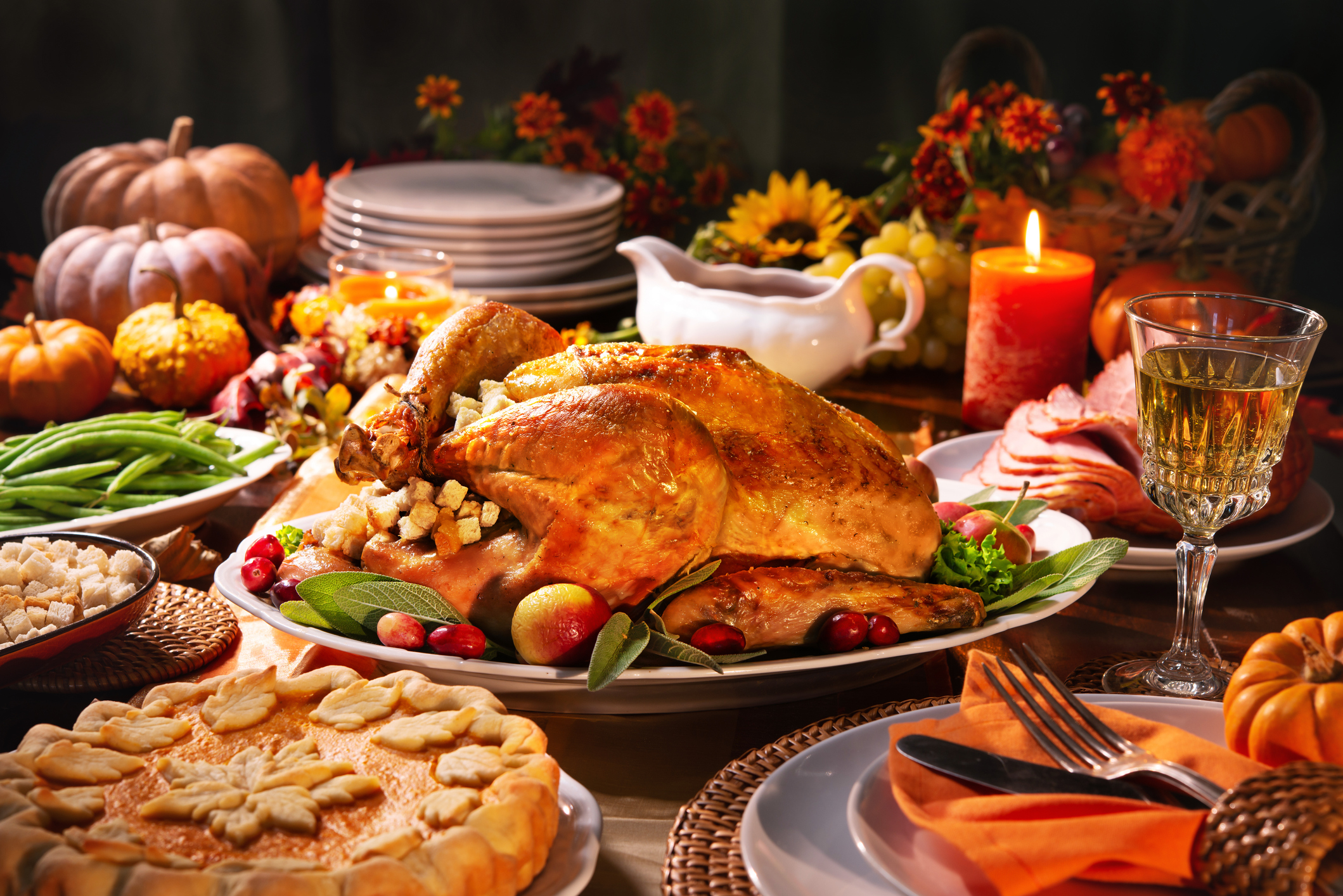 Cooking a traditional Thanksgiving dinner can be a testing time for anyone.
The enormous turkey will be the official star of the show on November 25 but—whisper it—many people are more interested in savoring an array of delicious appetizers and side dishes.
Here Newsweek has collected some super-easy ideas for Thanksgiving entrées and accompaniments.
1. Brie, Cranberry and Camembert Pastry
The GG Sisters have shown how to make a Thanksgiving appetizer using just four ingredients.
Take a packet of store-bought croissant party, roll it out, cut it into bite-sized squares and press into a muffin tin.
Next, place a cube of Camembert, a teaspoon of cranberry and a sprinkle of walnuts on top. Bake for 12 minutes or until golden.
2. Maple Pecan and Cranberry Baked Brie
Organically Olive describes her creation as "the ultimate Thanksgiving appetizer"—admitting early on in her TikTok video that she "ate a full wheel by myself last week."
Just seven ingredients are needed to make this dish—and two of those are salt and pepper. First, place a wheel of brie and some pecan nuts in a warm oven.
While they are warming, chop up some fresh sprigs of rosemary. Then heat a good glug of maple syrup in a small pot. Add the diced herbs before seasoning to taste.
Bring this mix to the boil, before reducing immediately to a simmer to prevent the syrup from burning. Then add the nuts and some dried cranberries and stir.
Once the cheese is soft and gooey, spoon the still-warm syrup mixture on top and serve immediately.
3. 'Addictive' Cranberry Jalapeno Dip
Lindsey Maestas claims her viral TikTok recipe is the "best appetizer you'll ever make."
Begin by finely chopping one quarter cup of green spring onions, two tablespoons of cilantro, a pair of hot jalapeño peppers and 12 ounces of uncooked cranberries.
Add sugar and salt to taste, plus the juice of one lemon, then leave to refrigerate overnight.
Finally, layer the mixture on top of whipped cream cheese and serve to your lucky guests with crackers.
4. Cranberry Goat's Cheese Prosciutto Crostini
Statement Home assures viewers their Thanksgiving guests will love this sophisticated-sounding appetizer.
This almost too-easy recipe simply involves lightly toasting slices of baguette in the oven, before layering prosciutto, cranberry, cheese and a little rosemary on top. Serving the crostini next to a display of pumpkins and gourds is optional.
5. 'Crack Weenies'
Vandal The Evil Baker describes his "dirty" take on Thanksgiving appetizers as "so f***ing addictive."
Take a pound of bacon and cut the strips into thirds with scissors, then take each slice of bacon and wrap it around a weenie sausage, securing it with a toothpick.
Once the double pig products are ready, place them on a baking tray and drizzle with a little maple syrup.
Bake at 350F (180C) until the bacon is almost brown. Then sprinkle with a little brown sugar and return to the oven for approximately two more minutes.
6. Yam Bites
Stephanie Stoven describes her creation as an "easy holiday appetizer."
Cut your yams into relatively thick rounds, then drizzle them with two tablespoons of melted butter and two tablespoons of maple syrup.
Sprinkle a touch of cinnamon and a pinch of salt over the slices, before baking at 425F (220C) for 20 minutes, turning them over halfway through.
The baked yams now need to be topped with marshmallows, before being broiled for two minutes. Finally, top each slice with a single pecan.
7. Cheesy Pesto Pastry Rolls
Home cook Tara Ippolito claims these rolls require "no work at all" and are "always a hit."
You need to generously spread basil pesto across croissant roll pastry, then liberally sprinkle parmesan and mozzarella cheese on top.
Tightly roll the pastry into a sausage shape, place on some parchment paper and bake in an oven until they are a gorgeous golden-brown color.
8. Brown Sugar and Sage Roasted Garlic Bread
Jamie Milne claims her Thanksgiving take on the classic is "better than the original."
She takes whole bulbs of fresh garlic, which have been topped and tailed, drizzles them with olive oil and seasons with salt and pepper before placing them in the oven for roasting.
Next, she combines a packet of softened butter, a large pinch of chile flakes, chopped sage, a spoonful of brown sugar—and finally the soft roasted garlic, after its pearly skin has been removed.
Once combined, this buttery mix should be generously spread on French bread sliced along its length.
Toast the baguette in the oven until the bread is golden brown and crispy.
9. Baked Cranberry Sauce
The Feel Good Foodie suggests making this before the big day, as it can keep for up to three weeks.
She mixes a 1.5-ounce bag of fresh cranberries with 1 cup of sugar, a quarter cup of water and a quarter cup of cinnamon in a baking dish.
Put it in a 350F (180C) oven for one hour, remembering to stir halfway through.
While still warm, add half a cup of pecans and, if you like, a quarter cup of marmalade.
10. Cheesy Scalloped Potatoes
Mealtime With Melissa believes her pommes au gratin make an excellent accompaniment to Thanksgiving dinner.
She thickly slices four potatoes and keeps them fresh in cold water while preparing the rest of the recipe.
Thinly diced onion is added to melted butter in a pan, to which is added seasoning, herbs and three cloves of garlic.
Once the onions have softened, two cups of flour and some milk are added. This should be stirred on a medium heat, until "thick and bubbly", before shredded cheddar and Pecorino Romano are added.
Grease an oven dish and layer the potatoes and the cheese sauce, repeating until all the ingredients have been used.
Bake in an oven at 350F (180C) until the surface of the cheese is lightly brown and bubbling.
11. Butternut Squash, Kale and Farro Salad
The Palatable Life describes this dish as "the only salad you will need this Thanksgiving."
First, cut butternut squash and red onion into bite-sized pieces and toss them with olive oil, salt and pepper. Roast until light brown.
Next, while boiling the farro according to the instructions on the pack, mix the vinaigrette.
This dressing marries balsamic vinegar, maple syrup and Dijon mustard. When it's ready, toss with the grains and the still-warm vegetables.
12. 'Best' Mashed Potato
The Palestinian Foodie believes her recipe for mashed potato is so good, viewers will want to "thank me later."
First peel, dice and boil potatoes until tender, then drain and add a good pinch of salt.
Next, add an entire packet of garlic and fine herbs soft cheese, plus butter and heavy cream to taste. Serve with a sprinkle of chopped spring onions.
13. Mom's Potato Pie
Simply Suppa said her Nonna (grandmother) taught her mother how to make this pie, which she called a "gateau."
After boiling and mashing potatoes, add one cup of parmesan and three beaten eggs, before spooning half the mix into a lightly oiled pie dish.
Layer six slices of Provolone cheese to cover the entire top of the pie.
Next, add the rest of the potato, before creating little divots and sprinkling some breadcrumbs and more grated cheese on top.
Pop the pie into a 350F (180C) oven for approximately 20 minutes, or until golden brown.