A very vegan Christmas | Cognoscenti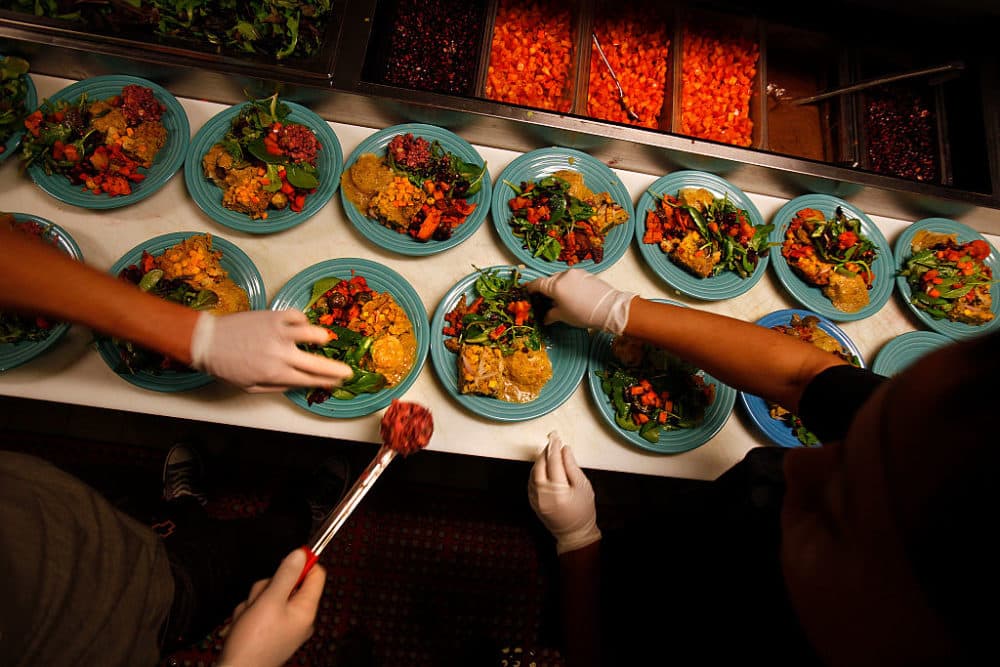 It will be a merry Christmas for my fellow vegetarians and me. We'll enjoy the gift of inclusion, spared exile with our MAGA relatives to the crank corner of the dinner table. We can venture this prediction based on last month's start to the holiday season.
America just celebrated "its most vegan Thanksgiving ever," with plants-only chefs and bakers seeing boom sales. It wasn't because clogged supply chains limited the number of turkeys available (though inflation did make guzzling tryptophan pricier this year). Rather, surveys by Whole Foods found that more than half of Americans regard vegan holiday options as important.
Assuming the pattern holds for Christmas, this is a watershed moment. It's also important if we're serious about climate change.
I'm a vegetarian with a "Price is Right" attitude toward veganism: I get as close to it as possible without going over. I eat oysters and mussels because they're the functional equivalent of plants. I'll enjoy dairy cheese until the recently reported miracle — a vegan version that actually tastes good — is more than a local novelty in distant cities. And I don't lose sleep over soothing a sore throat with honey.
So I'm biased towards Americans' recent, commendable experiment in eating less meat, in vegetarian or vegan mode. They're swimming against a rising tide of animal consumption and inhumane factory farming in developing nations — not to mention waves of domestic holiday culture.
But more environmentally benign eating … could be our gift to the planet as the calendar leaves this difficult year behind.
Canonical writers wax carnivorous about yuletide tables with dead animals. Washington Irving would fawn over brawn (pig's head meat in its own jelly), along with "beef and stout home-brewed." Jane Austen describes a Christmas Eve meal of brawn and mutton. Bob Cratchit's family drooled over Christmas goose, until a reformed Scrooge goosed their salivary glands into overdrive with a turkey "twice the size of Tiny Tim."
There's nothing wrong with traditions and great literature. But those writers didn't have to reckon with climate change. Earth's fragile atmosphere has absorbed much moaning about the inadequacies of the recent Glasgow summit; some moaners will be grieved to hear that it's infinitely harder to hit our climate marks without curbing our meaty appetites.
Some reputable researchers, Vox reports, dissent from that view. Even so, the news site reports, "Years of research on the environmental impact of food make one thing clear: Plant proteins, even if processed into imitation burgers, have smaller climate, water and land impacts than conventional meats."
Vox's next observation also bears heeding:
Apart from environmental impact, reducing meat production would also reduce animal suffering and the risk of both animal-borne disease and antibiotic resistance. The criticisms against the new wave of meatless meat appear to be more rooted in broad opposition to food technology rather than a true environmental accounting — and they muddy the waters in the search for climate solutions at a time when clarity is sorely needed.
Thanksgiving inspired hope that Americans are up to the challenge. Whole Foods sells a vegan holiday meal every Thanksgiving, recycled for Christmas. Last year's cremini mushroom roast so mushroomed in popularity (sorry) that the store offered it again; I enjoyed one on November 25.
Admittedly, Whole Foods is the Mecca of affluent foodies, but veganism's appeal reaches beyond its chichi aisles. The D.C. owner of a vegan bakery and restaurant reported twice the volume of Thanksgiving orders this year as last. The Herbivorous Butcher in Minneapolis prepared more than 1,000 vegan roasts amid surging sales. It sold out its Thanksgiving meal packages in early November, well ahead of the holiday.
One likely reason is that you can forego flesh without being an ascetic, gaunt Gandhi. My Thanksgiving pie, full of apples, pears and figs, exploded with flavor to satisfy any sweet tooth. Christmas dessert will be plum pudding; yes, that rich, raisin-spice cake, which originally included beef suet, now comes in vegetarian and vegan versions.
Is swallowing less meat asking people to swallow too much, given other adjustments forced on us this year? The pandemic has wrung so much pleasure from living. With those choked supply chains unable to cram the usual mountain of presents under the Christmas tree, we're advised by some to "live more like Europeans" and buy less.
Yet if many remain addicted to shopping, Thanksgiving's food sales suggest that our meat fix is something more than a few Americans can temper. Peace on earth remains a distant dream this Christmas. But more environmentally benign eating, and with it a little humanity towards other species, could be our gift to the planet as the calendar leaves this difficult year behind.