Austin's Creature Coffee Gets Creative with In-House RoastingDaily Coffee News by Roast Magazine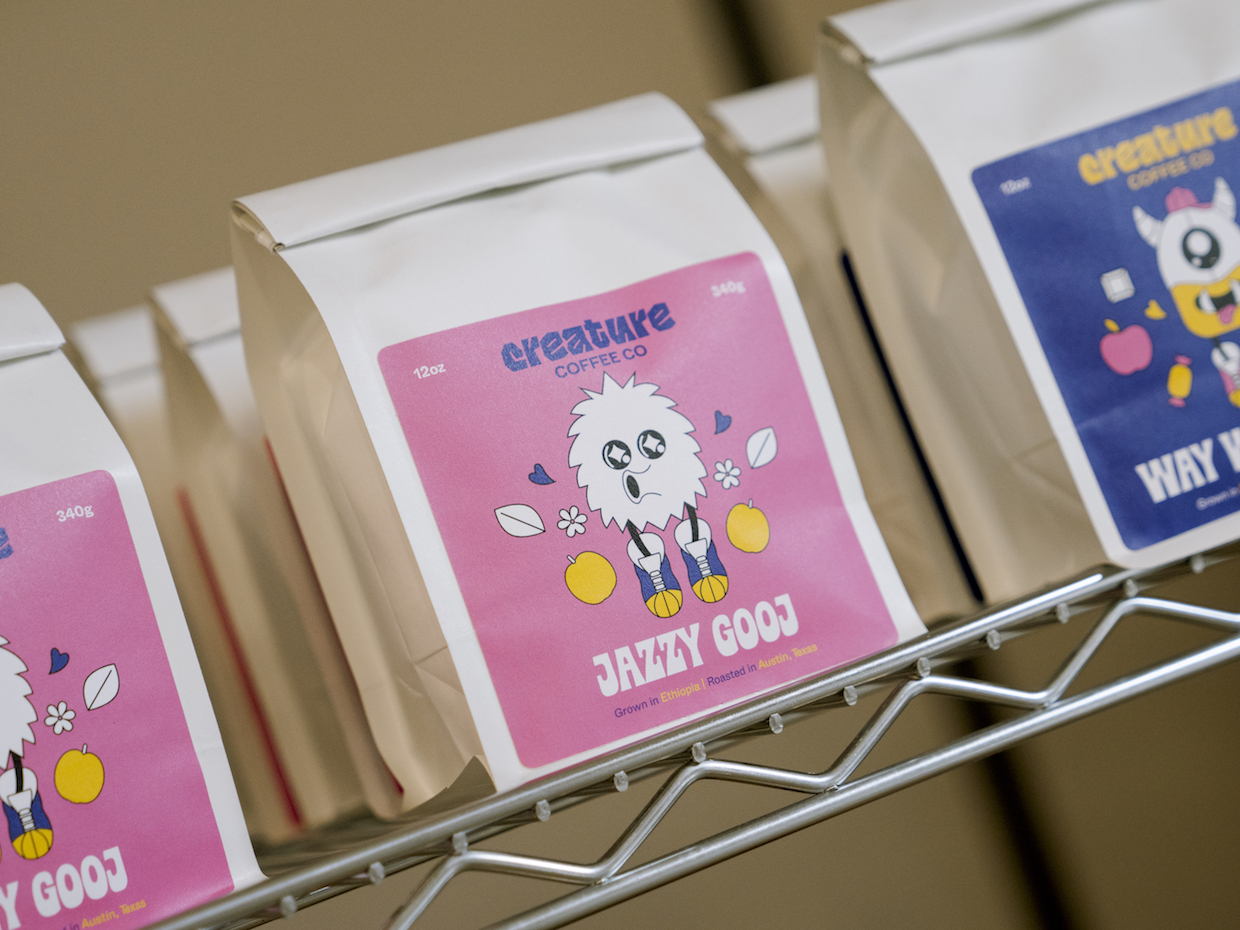 Creature Coffee has recreated itself, evolving from a Texas-focused multiroaster subscription company with one brick-and-mortar retail bar into a wholesale and online specialty coffee roasting company.
"Over the years we have loved trying out coffees from all our friends, and we learned a lot," Michael Craig, CEO of Creature Coffee, told Daily Coffee News. "Buying high-end specialty coffee can sometimes feel a little 'samesie' or even intense, so we wanted to be bright, bold, and fun, and most importantly, approachable."
Creature worked with Miami, Florida-based graphic designer Alexandra Apaza for the charismatic colors and playful artwork of its rebranded materials. Each packaged Creature Coffee offering comes with an original creature character on the label, reflecting different lively characteristics in the cup.
For now, the company is renting time on a Loring S15 Falcon roaster owned by fellow Austin-based company Medici Roasting, who's director of coffee, Eric Lepine, is currently also leading Creature's roasting program.
After sourcing high-quality, traceable coffees through importers such as Genuine Origin, List + Beisler, Falcon Coffee and more, Lepine sample-roasts on an Ikawa prior to pursuing larger production batches in the Loring.
"We specialize in high-quality single-origin coffees that are unique, so we're always on the hunt for the next best coffee," Craig told DCN. "We also like to support farmers and cooperatives that are doing amazing things for their communities. We take time to select our coffees, and we're very thoughtful in which ones we select. Discovering new coffees fascinates us and there's nothing better than bonding as a team while cupping coffees."
---
Related Reading
---
All of Creature's bags, boxes, tape and other materials are either compostable, biodegradable or recyclable.
"This isn't easy or cost-effective to accomplish," said Craig. "We're not perfect in any way, and doing the right thing isn't always the best way to make good margins, but these things are important to us."
Creature opted not to renew its lease on the coffee bar attached to the Native Hostel in downtown Austin following the pandemic downturn, although the hostel now operates the on-site cafe with Creature coffees.
"It's been a rough ride for the coffee community during the pandemic, and we were no exception — tough decisions had to be made," said Craig. "As soon as we left Native Hostel, the plan to start roasting coffee evolved, and we focused all our energies on things that were a little more pandemic-proof. It turned out to be a great decision, but at the time it was a tough call to make."
This past summer, Creature moved into a larger warehouse and production space in Austin where a public tasting bar may open. Discussions are also underway for a possible full brick-and-mortar cafe in Austin sometime next year.
"Our team keeps growing, and we're excited to be back in growth mode," said Craig. "I'd always dreamed of roasting our own coffee and the pandemic gave us the time and energy to get this off the ground. Luckily for us, orders came flying in immediately and we hit the ground running. Growing during a pandemic, in all parts of our business, has its challenges, but we're moving forward, making decisions cautiously as we go."
---
Tell DCN about your new coffee shop or roastery here.
Howard Bryman
Howard Bryman is the associate editor of Daily Coffee News by Roast Magazine. He is based in Portland, Oregon.