Cavoli Nostri scales up Naples' vegan, vegetarian food scene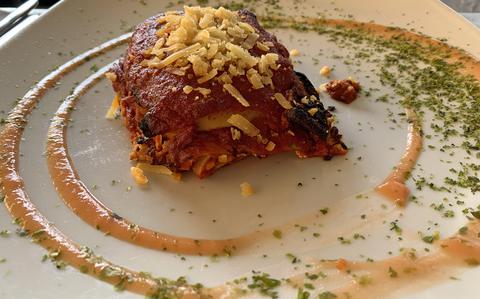 In a southern Italian city renowned for its rich meat and seafood dishes, it may surprise some people to know that Naples also is home to an astonishing number of vegan and vegetarian restaurants.
Those options run the gamut from juice bars to food stalls, cafes and restaurants dishing up salads, sandwiches, burgers and pastas. But few offer the upscale dining experience of Cavoli Nostri.
Situated in the Santa Lucia neighborhood, Cavoli Nostri offers a carefully sourced, organic menu featuring vegan and vegetarian interpretations of Neapolitan favorites such as pasta alla Genovese and experimental fare such as baked purple potatoes and friarielli broccoli.
Emphasis is placed not only on the use of fresh in-season vegetables and fruits, whole grains, seeds, legumes and meat substitutes but also on skillful combination of the ingredients into sophisticated dishes presented with artistic flair.
On a recent visit, two friends and I started our meal with a selection from Cavoli Nostri's tapas and starter menus. The Spanish patatas bravas, or spicy potatoes, proved to be deep-fried potato chips served with a creamy rossa dip.
The chips were warm, lightly salted and plentiful. The dip had a mayonnaise-like consistency and flavoring and color reminiscent of Thousand Island dressing.
Spiciness fans would be disappointed, as there was no heat to the dip, but the appetizer was a crowd-pleaser at our table.
We also ordered bite-size, deep-fried rice balls, called arancini in Italian, which arrived sitting on individual pools of a velvety mushroom sauce and sprinkled with sesame seeds.
The moist and lightly seasoned arancini provided a good base for the sauce, which packed a flavor punch.
On another visit, I'd be tempted to order each appetizer again but probably would experiment with alternatives, such as polenta squares with wild mushroom pate.
For our first course, we selected pappardelle with mushrooms, lasagna Neapolitan and the Ceylon sliders, a barbecued jackfruit sandwich.
It was here that Cavoli Nostri let us down. Despite the beautiful serving plates and generous portions, the food was too cold to enjoy.
To be fair, we were there on a Sunday, when Italian families follow a time-honored tradition and gather for lunch, so it's likely one of the busiest and most hectic days of the week for restaurants.
It also seemed that there was just one server for more than a dozen tables. We therefore didn't bring the faux pas to our harried waiter's attention, choosing instead to soldier on.
The lasagna featured wide noodles, vegan ricotta cheese and sausage and beef meat substitutes. The marinara was rich and flavorful, but one of my friends found the meat substitutes unappealing and wished that the restaurant offered a simple cheese-only version.
The pappardelle was perfectly cooked with a creamy sauce brimming with mushrooms, but because the dish arrived nearly cold, the sauce had congealed, making it inedible.
The jackfruit sandwich was chewy with a lightly spiced, tangy sauce. While it too was served lukewarm, one of my friends said she'd order it again, especially if the bun were whole-grain. In all, she pronounced it a "delight."
Cavoli Nostri redeemed itself with our second course, which featured legume balls with a "revisited" ragu and friarielli. I found myself wishing that I'd ordered this dish first.
It arrived piping hot. The legume balls were covered in a rich tomato sauce, while the friarielli was well-cooked, its bitterness contrasting nicely with the sweetness of the tomato sauce.
We were enticed by the vegan tiramisu but ultimately decided to skip dessert because we were too full after the appetizers and entrees.
While the cold food was a disappointment, the rest of our meal was enjoyable. I'd go back again for tapas and a glass of organic wine.
Cavoli Nostri's commitment to fresh, fun and experimental cuisine makes it a standout and a must-try for vegans and vegetarians looking to scale up their dining experience.
Cavoli Nostri
Address: Via Palepoli, 32, Naples, Italy
Hours: Monday through Saturday, noon-3:30 p.m. (lunch); 7-11:45 p.m. (dinner); Sunday, noon-4:30 p.m. (lunch); 7-11:45 p.m. (dinner)
Prices: Appetizers and tapas, 5-13 euros; pastas, 9-10 euros; second courses, 9-14 euros; soups and salads, 7-8 euros; desserts, 4-6 euros. Organic wine and juices also are available.
Information: Online: cavolinostriveg.com; Phone: +39 081 1948 5739