Co-ops, farmers markets sustain a healthy food economy | Health And Wellness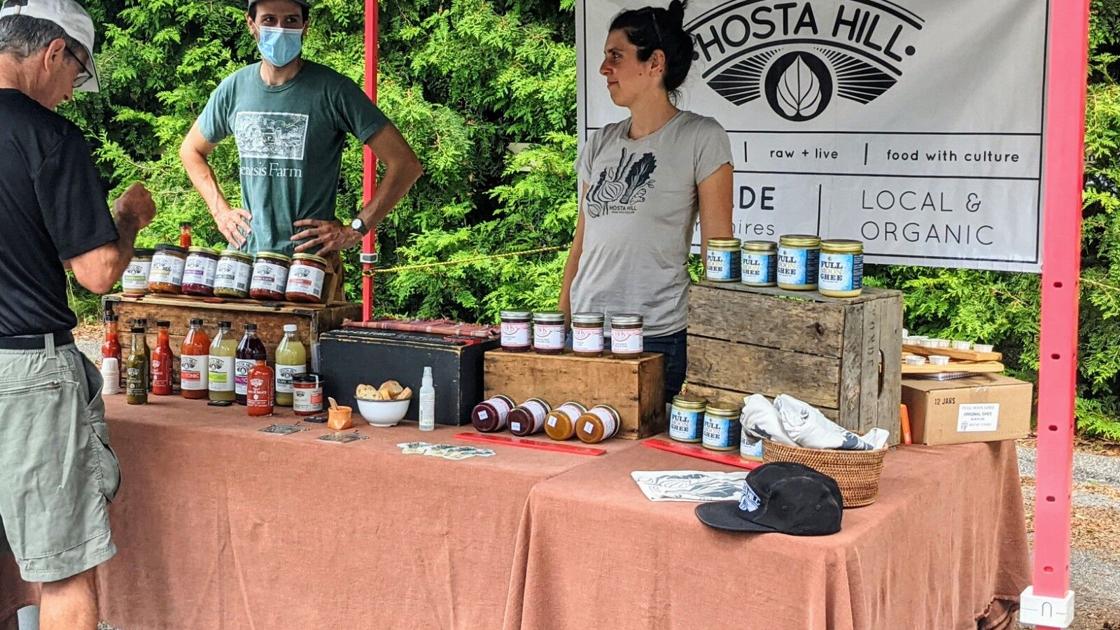 PITTSFIELD — Lisa McDougall calls herself a "big fan" of the Wild Oats cooperative market in Williamstown.
But she's not your typical fan. As owner of Mighty Food Farm in Shaftsbury, Vt., McDougall has a vested interest in the symbiotic relationship between her farm, Wild Oats, and the customers who buy her certified organic fruits and vegetables, both at the co-op and the Williamstown Farmers Market.
"If they succeed, I succeed, and if I succeed, they succeed," McDougall said of Wild Oats. "It's great."
There is a tightly knit social, economic and ecological fabric in the Berkshires that is woven together by farmers and their allies and supporters. A prime example is the relationship between farmers markets, such as Wild Oats and the Berkshire Food Co-op in Great Barrington, area farmers and residents.
Both stores — Wild Oats to the north, Berkshire Food Co-op to the south — are ecologically minded and member-owned cooperative grocery stores steeped in sustaining their communities.
"They've done a lot to bring in local farmers and their products," said Kim Wells, owner of East Mountain Farm, which sells its pork products at Wild Oats and the Williamstown Farm Market. "It's nice when people say, 'Oh, I saw your product at Wild Oats.' It definitely feels good to know that it's being used right there."
"Wild Oats is like a hub of Williamstown," McDougall said. "There's a real sense of community there. They have great newsletters, and a great social media presence, and membership appreciation days. … If I have a lot of (a certain product), we'll do a sale on it. They're always asking me first, what I have, before they go to a large distributor. It's difficult to work with a bunch of small farmers as opposed to ordering from a big purveyor, and they do a really good job of juggling all of that."
Many of the farmers market participants, such as East Mountain, Mighty Food, MX Morningstar Farm, Hosta Hill, Off the Shelf Farm and Tunnel City Coffee, are also vendors whose products are sold at either Wild Oats or Berkshire Food Co-op seven days a week.
"The farmers markets are tourist attractions," says Devorah Sawyer, Berkshire Food Co-op marketing manager. "Our local farms and vendors are amazing, so why wouldn't you want to come to our farmers market? And some of the other vendors (at Great Barrington) that we work with also go to other local farmers markets, so it ties the food economy together throughout Southern Berkshire County."
And the co-ops do so much more than sell locally sourced food and other products. In 2020, the two co-ops infused upward of $2.6 million into the region's farms, local goods producers and service sectors. They also sustain the area's most vulnerable residents and the environment, and have raised tens of thousands of dollars for local beneficiaries in need.
The Berkshire Food Co-op's sponsorship of the Great Barrington Farmers' Market allows SNAP (Supplemental Nutrition Assistance Program) dollars to go farther into the community, so that more people can access locally grown foods. The co-op is also connected to a program called Berkshire Bounty, which provides food for local food pantries and keeps healthy food accessible to as many people as possible. Each year, the co-op gives back almost $40,000 to the community through its Round Up for Change and Real Good Giving programs.
Wild Oats' partnership with the Williamstown Farmers Market is also beneficial to the community. The Farmers Market is the co-op's featured Round Up For Change partner for the month of June. All the money collected from customers rounding up their purchases to the next whole dollar will be donated to their Community Essentials Initiative, which pays farmers for food that is then donated to local food pantries. Overall, monthly partnerships like this one have generated more than $35,000 for local non-profit organizations in the Round Up program's first year.
The co-ops have never been more essential to their respective communities than during the COVID-19 pandemic, when customers and vendors alike seemed to prefer a more personal touch.
"Wild Oats was running a really great system during the pandemic, from curbside pickup to in-house procedures, so people felt really comfortable going there still," said McDougall. "And we saw an increase in sales with them. We felt safe delivering there, and I think customers felt safe going there."
Wells, of East Mountain Farm, also found a silver lining in the pandemic: He sold a lot more pork, much of it through Wild Oats.
"I think a lot of people really stocked up," he said. "We noticed a trajectory of sales that we'd never seen before. I don't think it's the same thing as the toilet paper hoarding, but people were definitely buying more than they needed.
"It's hard to tell just how far this enthusiasm is going to carry," Wells said. "I think people got very nervous when the large (meat) packing houses started to shut down, and we were swamped with customers shopping to stock up. I'm hopeful that it's a good sign of more and more people buying locally."
McDougall is also hopeful about what the future might bring, especially in partnership with Wild Oats and the Williamstown Farm Market. Factoring in the effects of climate change on local agriculture, she does not want to envision a future without the co-ops, farmers markets and food providers working together for a sustainable food economy in the Berkshires.
"It would be a huge loss both for customers and farmers and local producers if they were to go away, because they carry so much local product," she said. "It really supports a lot of small producers, agriculture or not, in northern Berkshire County and beyond.
"It comes down to, as a business owner, changing with the times and keeping up with what customers want. In agriculture, some of these farmers are really feeling the extremes in climate, and thinking about how to manage that with growing crops. In this area, you can definitely see more of an interest in local food with COVID. It's just like any small business — keeping up with consumer demand, changing with the times, and just staying on top of it. That's all we can do."
Reach out to Wild Oats at 413-458-8060 or wildoats.coop or Berkshire Food Co-op at 413-528-9697 or berkshire.coop to find out more about locally produced goods and other sustainable food options.