Coffee Leaders Speak UpDaily Coffee News by Roast Magazine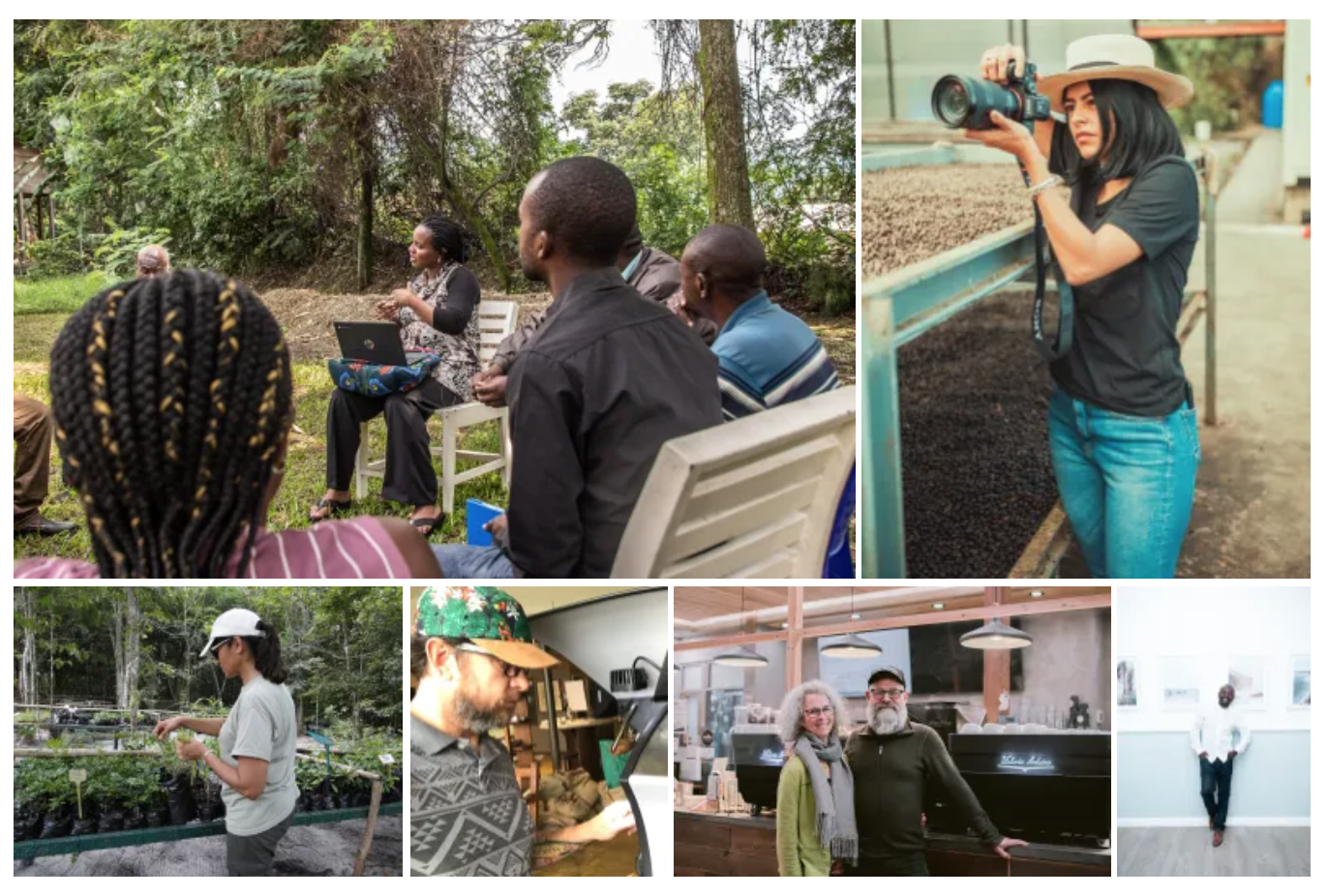 This year, Daily Coffee News reprised its "Three Questions" feature series, in which inspiring or progressive leaders in the coffee industry are asked to share some reflections on their respective coffee journeys.
In the process, they're also asked the same three questions: 1) What about coffee inspires you most?; 2) What about coffee troubles you most?; and 3) What would you be doing if it weren't for coffee?
We hope to expand this series in the coming year, but we need your help. Is there someone in the coffee who inspires you? An unsung hero who deserves the coffee world's attention? Someone for whom coffee is not a career, but a calling? If so, feel free to nominate that person here.
Below is a smattering of our favorite "Three Questions" answers of 2021. Note that some answers may have been shortened for clarity.
---
[Editor's note: This feature is part of our ongoing 2021 year-end coverage. Click here for additional stories, updated daily through Dec. 31.]
---
These answers were provided during our interviews with IWCA Executive Director Sarada Krishnan, Salt Spring Coffee Co-Founder Mickey McLeod, African Coffee Club Founder Mukurima Muriuki, coffee photographer and documentarian Lucia Bawot, Democratic Rupublic of Congo "Queen of Beans" Linda Mugaruka (interview translated from French), and Cropster's Marcus Young.
What about coffee inspires you most?
McLeod: I am really inspired by how coffee connects us to people and the environment. The growing conditions at origin, the weather, the soil — they all play such a huge role in shaping the flavor that ends up in our cup.
Mugaruka: What inspires me about coffee is being able to communicate with and advise producers, the heroes of the industry. I call them heroes because they work tirelessly, even sleeping in the fields at times to produce the best possible coffees.
Young: Our industry, like all, has serious issues related to diversity and inclusivity — but many in specialty coffee have refused to accept the status quo. This work is happening at every step of the supply chain: Farmers are working alongside NGOs to increase incomes at the farm and for farm workers; baristas and roasters are working to create cafes and companies that are more inclusive; and others are working to diversify all levels of specialty coffee. We have groups dedicated to environmental action and a future for coffee in the face of climate change and other factors.
Bawot: I think we'd all agree there's something supernatural about coffee, a magnetism that brings people together. Once you get into the coffee industry, you get beautifully trapped. Also, the coffee industry is constantly getting reinvented, and that's what gets me excited.
What about coffee troubles you most?
Mugaruka: What troubles me about coffee is being around people who don't recognize the value and the difficulty of the work across the supply chain to provide quality coffee.
Muriuki: What troubles me about coffee is seeing all the smiling faces of people drinking the coffee, yet they have no idea the suffering some of the coffee farmers go through. I am troubled that people enjoying a flavorful cup of coffee and paying a premium for it, are not aware that the farmer responsible for that great coffee never received his or her fair wage.
Young: I am troubled by the inequities in coffee, and that despite the years of effort by so many, we continue to fail on the most basic promise of an equitable industry. The reality of a volatile and often speculative C-Market that excludes many producers and the downward pricing pressures from multinational roasting companies, plus profit-driven vertical integration causes real problems for growers and local communities reliant on seasonal income from coffee production.
Krishnan: The impact of climate change on coffee is very concerning. That is why I am a huge advocate for conserving coffee's genetic resources. We need these resources to make the crop resilient for a sustainable future of the crop and all those who depend on coffee for their livelihoods.
Bawot: Something that troubles me about coffee has to do with how some coffee people — and I include myself because I've done this in the past — think we know the whole truth, that coffee should be drank a certain way… Our goal should be to get more people to drink coffee, to enjoy this beverage and to fall in love with this industry, not so much [to enforce] how people drink it.
McLeod: Our world is facing a monumental challenge in the form of climate change. For the coffee industry, this means that rising temperatures and extreme weather events are going to increasingly be affecting the areas where we can grow coffee and the livelihoods of producers at origin.
What would you be doing if it weren't for coffee?
McLeod: If I weren't running Salt Spring Coffee, I would most likely be doing something related to food and agriculture. Like coffee, food has a way of connecting consumers to producers and to the land. These industries — coffee, agriculture and forestry — remind us that the land needs to be taken care of. These are the types of businesses that interest me.
Krishnan: If I had not gone into horticulture (and coffee), I probably would have gone into accounting. I love numbers. At one point in my career, I even took accounting classes at the local community college and worked one season for H&R Block doing taxes. I am grateful for that experience, but am glad to be in the field of coffee.
Muriuki: I help companies and individual resolve conflicts by showing them how to clarify their interests. I would also be talking more about the continent of Africa and helping people relearn about the continent.
Bawot: Probably I'd be doing photojournalism for newspapers or magazines, covering social issues worldwide.
Young: Over the past few years I've started making natural wine with my wife Devorah and buddy Valerian. The results have been delicious. We're not adding any yeasts or sulfites; we're not filtering; and we're doing all the production by hand at our home.
Mugaruka: If I was not in the coffee industry, I would still be in another agriculture-related sector and working to improve food security in certain regions of my country. I love helping people and being useful, and food security and women empowerment are challenges that I would want to help solve.