Easy Cold Brew Coffee Recipe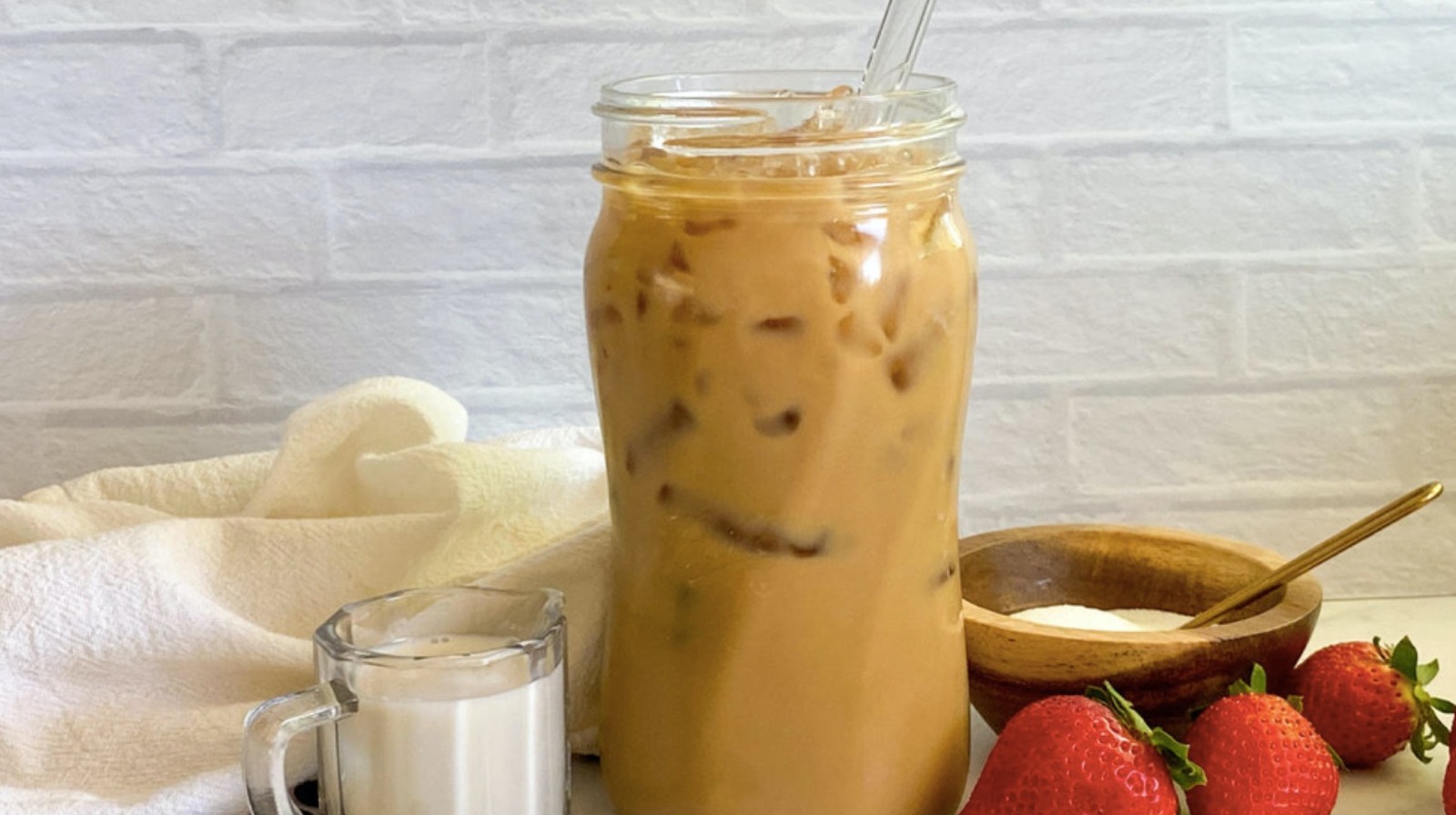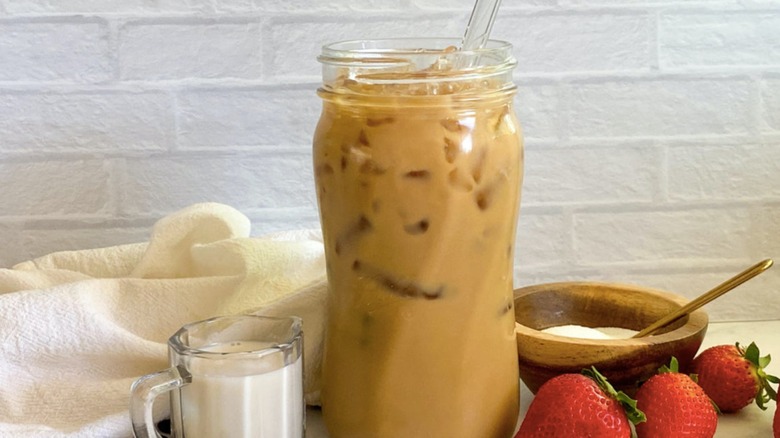 Miriam Hahn/Mashed
In the mornings when you are dragging and need more than a standard cup of coffee, we'd recommend serving up a glass of cold brew coffee. Recipe developer and health coach, Miriam Hahn, notes that "there is a little more caffeine in cold brew than regular coffee because you are using more beans per cup. Each serving will have about 250 mg of caffeine." She also notes that because you start with cold coffee, the ice doesn't melt or dilute the final beverage ending with a "stronger, bolder drink". This is key for those hot summer months.
Because it lasts so long in the fridge, we love making a batch of cold brew coffee at the start of the week to have ready for busy weekday mornings. You can drink this black or serve with any type of milk or creamer you desire, whether it be dairy-based or a non-dairy variety. You can add any sweetener you wish, but Hahn suggests "trying it first without sweetener to see if you even need it. The cinnamon adds such a great flavor, you might be fine without adding anything else."
Gather your ingredients for easy cold brew coffee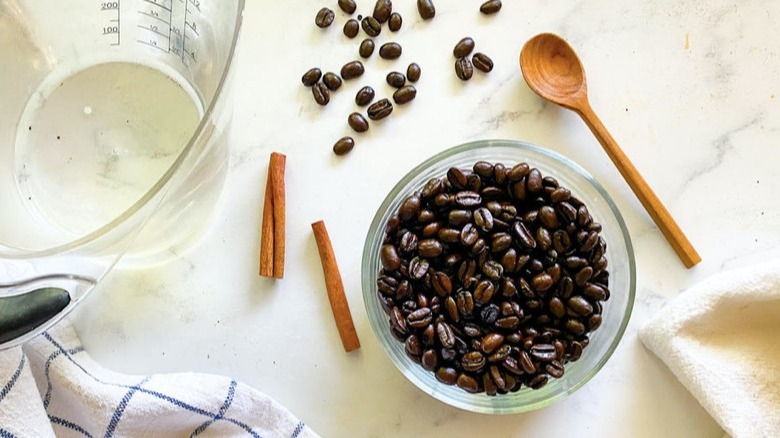 Miriam Hahn/Mashed
To make this cold brew coffee, you will need whole bean coffee, cinnamon sticks, and water. Hahn notes that the cinnamon sticks are crucial in this recipe: "By adding these the cinnamon flavor is infused in the coffee and gives it an unbelievable flavor!"
Grind the coffee beans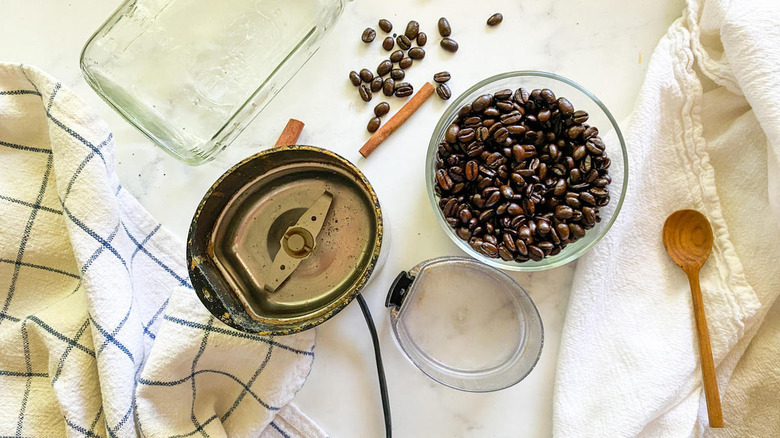 Miriam Hahn/Mashed
Place the beans in a coffee grinder and pulse a few times until they are coarsely ground. You don't want a fine powder, but rather a nice, coarse ground, which is ideal for cold brew.
Brew the coffee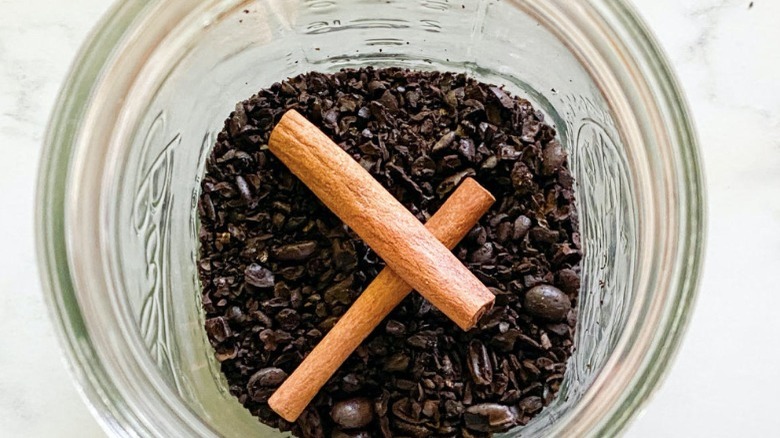 Miriam Hahn/Mashed
Add the coffee grounds, water, and the cinnamon sticks to a large mason jar. Stir well and leave at room temperature for at least 12 hours. During this time, the coffee will brew.
Strain the coffee and serve over ice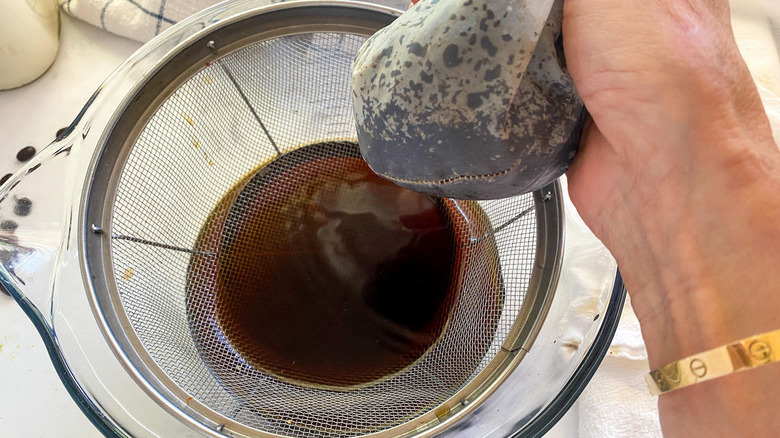 Miriam Hahn/Mashed
Next, you can strain the coffee from the grounds using a nut milk bag or cheese cloth. Place the nut milk bag or cheese cloth on top of a fine mesh strainer that is sitting in a large bowl. Pour the coffee over the bowl allowing the grounds to catch in the strainer. Only the coffee should pass through to the bowl, and be sure to discard of the grounds. Transfer the strained coffee into a fresh mason jar. Serve over ice with cream and sugar as desired.