Equator Coffees Opens First Shop in Southern CaliforniaDaily Coffee News by Roast Magazine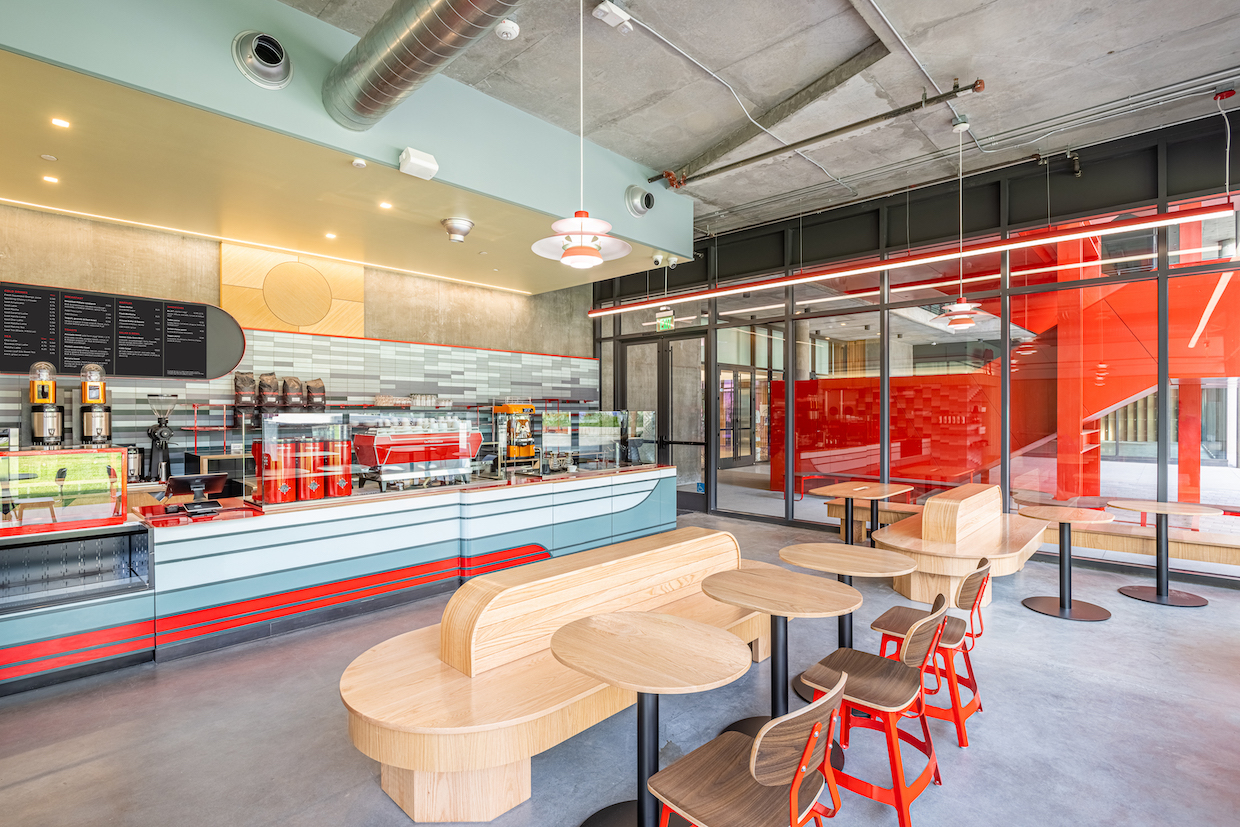 Northern California-born Equator Coffees has opened three cafes over the past six months, including its first in Southern California.
Doors to the 1,400-square-foot, 50-seat-plus cafe opened last week at the Ivy Station mixed use development in Culver City, welcoming guests into a colorful and futuristic space designed in collaboration with Kellie Patry Design.
Inspired in part by California's natural landscape as well as by the metro line that in 2012 began connecting Culver City to downtown Los Angeles, the playfully streamlined interior features long bands of color that stretch across the entire bar facade, with horizontal tiles the interior wall creating a sense of momentum.
Curved surfaces, round white oak benches and circular details are also subtly reminiscent of public transit stations and maps, while a wall of windows connects the cafe to the green space outside and grants an unobstructed view of trains coming and going.
"We look for sites in historical and iconic buildings and/or sites in mixed-use projects like Ivy Station that bring together diverse communities," Equator Coffees Co-Founder Helen Russell told Daily Coffee News. "We are actively looking for additional sites across Los Angeles, and hope to have two to three additional cafes open here in the next two years."
Upon the new bar, a La Marzocco KB90 espresso machine and fleet of three Victoria Arduino Mythos grinders are all dressed in Equator's sharp signature red. On the back counter stands a pair of Ground Control batch brewers, which the company now features at all 10 of its retail cafes, according to Russell.
---
Related Reading
---
"We strive for steady growth each year in all departments, and plan on opening a couple stores a year," Russell, who founded Equator Coffees in 1995 with Brooke McDonnell, said. "However, Covid scrambled our plans the last two years forcing us to pivot time and time again, and causing us to open stores close together."
Other recent Equator openings include a cafe in Burlingame and a cafe inside the historic Round House Cafe building at the Golden Gate Bridge.
The Round House Cafe was originally built in 1938 to offer visitors a panoramic view from the south end of the bridge. The 1,600-square-foot Art Deco building still features its sunburst of ceiling rafters and window bank seating, where guests can now enjoy drinks featuring coffees roasted nearby at Equator's San Rafael roastery.
Coffees from around the world are roasted there in a Loring S35 Kestrel that was joined in 2019 by a Loring S70 Peregrine full-bag roaster. Some special lots make their way to a smaller Petroncini machine, While a second Peregrine is slated to join the nest next year.
The roastery is helping fuel an increase in coffee sales to consumers at home while also supplying certified B Corp company's retail cafes.
"For me, personally, I'm excited to spend more time on my bike and enjoying coffee in our cafes with all the amazing people that visit our cafes," said Russell. "Continuing to create memorable experiences and getting back to hugs and long embraces is what I'm looking forward to most."
---
Equator Coffees Culver City Cafe is located at 8900 Venice Blvd, #105, in Los Angeles. Equator Coffees Round House is now open at the Golden Gate Bridge in San Francisco. Tell DCN's editors about your new coffee shop or roastery here. 
Howard Bryman
Howard Bryman is the associate editor of Daily Coffee News by Roast Magazine. He is based in Portland, Oregon.