Follow These 6 Nutrition Pros for Culturally Competent Diet Advice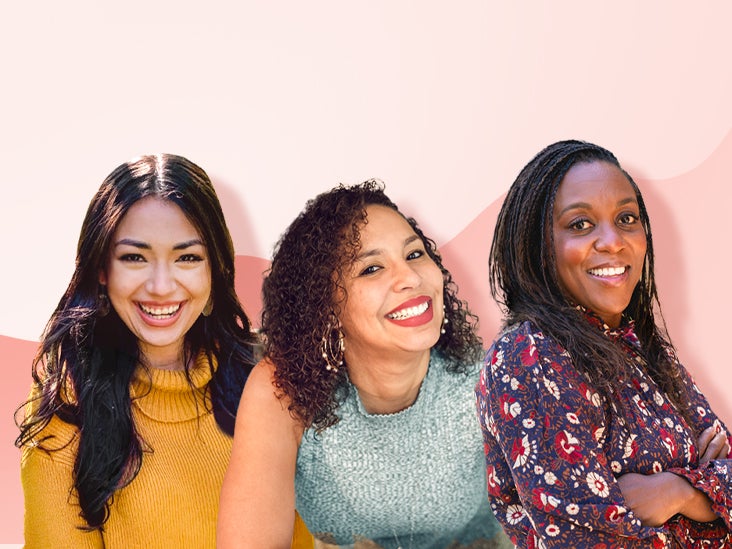 Follow these six inclusive dietitians for nutrition advice without a heaping side of guilt.
If you're anything like me, you may hear the word "dietitian" and automatically stiffen.
Many of us who are disabled or have larger bodies have been subjected to various types of discrimination in healthcare settings. The same is often true for those of us from communities of color, from different cultural backgrounds, or who aren't native English speakers.
In terms of healthy dietary choices, Western perspectives and education often lead the conversation in the US.
Because those health food standards dominate what's seen in media and what's shared in health clinics, you may find that the foods you grew up with are missing from conversations about "healthy" food.
And sometimes, they're actively demonized.
This may lead to the desire to avoid the potential of uncomfortable health and diet visits entirely, especially if you've ever had a finger wagged at foods that are important to you and your family.
The upside? There are some folks in the dietetics field that focus on cultural competency and pushing against harmful norms.
Below are six dietitians and nutrition-focused experts who've formed their practices and social media presences doing just that. They provide sustainable and inclusive health-focused dietary support by embracing the rich backgrounds of their clientele.
The face behind The Balanced Peach Academy and TikTok page, Amanda Frothingham is a registered dietitian (RD) whose work focuses on creating healthy relationships with food and healing from disordered eating.
She's outspoken about the dangers of diet culture and food restriction and encourages her followers to be human, not beholden to numbers on a scale.
Frothingham also shares about her ongoing journey with eating disorder recovery.
She recognizes that media influence isn't always the most positive when it comes to body acceptance, and you can find her on social media using dance challenges to encourage others navigating similar journeys.
Lauren Bell, MPH, focused her studies on the nuances of holistic gut health and works for the wellness of others and shares her knowledge on the subject through her TikTok.
She creates videos on various topics that intersect with food and identity, including the demonization of cultural foods and the ways that diet culture is rooted in discrimination.
Bell doesn't only create content that speaks to individuals about their relationship to health and their bodies. She also discusses how national and global relations have the ability to impact food security.
She calls out how racism, colonialism, and fatphobia are woven into popular definitions of "healthy."
If you're looking for an anti-colonial approach to health talk, give her a follow. You can also follow her on Twitter.
While Cesar Sauza doesn't spend as much time on social media as some of the others listed here, he's a good example of a provider who's doing great work, even without a hefty internet presence.
Sauza's role at AltaMed Health Services in East Los Angeles, California, includes overseeing dietitians and providing nutrition consults to both Spanish- and English-speaking clients.
Instead of referring folks out to other facilities, AltaMed Health Services is able to see their clients in-house, giving all patients access to culturally-competent dietitians.
Sauza doesn't believe in the idea of a one-size-fits-all approach when it comes to nutrition. His approach involves looking at both the client's lifestyle as a whole and the root of a patient's barriers to reaching their goals rather than giving everyone the same recommendations.
Sauza says that being a Spanish-speaking dietitian and a Latino is important when it comes to relating to his clientele.
"I understand traditional Latino foods, which is important to offer culturally competent nutritional recommendations," he says. "To provide information that resonates with patients, they should be educated on how to make their traditional foods healthier, rather than discouraging them from eating their traditional foods."
Sauza wants to dispel the myth that foods with Latin roots are inherently unhealthy and address the misinformation that often accompanies conversations about health and food.
"At the roots of every culture's traditional diet, you'll find a variety of whole foods, including fruits and vegetables," says Sauza. "Our traditional Latino foods are not the problem. Our food environment and the highly processed variations of these foods is what makes them unhealthy."
A dietitian and nutritionist with a Haitian and Trinidadian background, Maya Feller cites her work as having a "cultural twist."
Feller incorporates a holistic approach in her work, discussing how joy and your environment are important parts of your health.
As adjunct professor at New York University and owner of the private practice Maya Feller Nutrition, Feller's approach rooted in anti-bias has garnered her national attention.
Aiming to provide support against chronic conditions without forgoing her clients' cultural background, Feller gives tips to uplift all cultures.
This includes the creation of a Southern cuisine cookbook for diabetes management, discussion around food's connection to anxiety, and suggestions for how to incorporate your children into your health journey.
Registered dietitian Vanessa Rissetto is also the CEO and co-founder of Culina Health, a virtual nutrition platform.
Both Culina Health and Rissetto's internet presence are focused on empathy, and she shares her work on various platforms like podcasts, Instagram, and the Fresh Food Fast series with Healthline (try the turkey pumpkin chili or the citrus salad!).
Rissetto's practice is open and welcoming to all, regardless of body size or background.
She's been vocal on social media about the necessity for folks to be able to create their own goals without demonizing their bodies or their personal desires in the process.
Culina Health prides itself on being people-centered and accessible. An example is the virtual health system working with many insurance agencies, which isn't always the case for dietitians and nutritionists.
Scroll through her IG feed to see tons of tasty recipes (with ingredients you probably already have at home) and positive messages to get you through the week.
Dalina Soto, aka Your Latina Nutritionist, has created a community focused on positivity around eating that embraces the cultural foods you grew up with.
Have you ever been told that rice and beans are too high in carbs to be a regular part of your diet, despite being a staple in Latin cuisine? Soto aims to counter negative stereotypes like these, uplifting varied recipes and sharing how foods rooted in your culture aren't inherently bad.
Both her website and social media presence incorporate Spanish and English, putting her Latinx background and personal experiences front and center.
As a self-proclaimed anti-diet dietitian, Soto is vocal about body acceptance rather than reaching weight goals and harmful food restrictions.
Her practice includes helping clients create meals that are sustainable by recognizing that people are in different places when it comes to not only racial and ethnic backgrounds, but time, money, and capacity.
If you want to get personalized support for your healthy journey, you can find a dietitian or nutritionist through Healthline's FindCare tool.
When looking for a good fit, asking questions about the practitioner's approach to their practice when it comes to cultural foods can be a vital step in making sure you're picking the right person.
If you're in any of the areas the above folks are in, feel free to reach out and see if they have any openings or recommendations for similar providers. Referrals can be a great way to find like-minded people to work with.
These dietitians and nutritionists have centered their health practices on cultural competency and inclusivity, whether through providing bilingual services, pushing against diet culture, or uplifting cultural foods. Some of them do all three!
While none of these social media accounts can replace a one-on-one visit and relationship with an RD, they can help silence the body-shaming noise so prominent on social media.
---
Taneasha White (she/her), a graduate of English and Gender, Sexuality, and Women's Studies, is a Black, Queer lover of words, inquisition, and community, and has used her role within both literary and organizational spaces to make room for folks who are often cast aside, silenced, or overlooked. In addition to mental health, her other writing, editing, and sensitivity consulting work covered varied topics related to the intersections of Blackness, fatness, & Queerness, activism, and reproductive justice. Taneasha is excited to continue this work of amplifying marginalized voices, centering intersectionality, and destigmatizing mental health.
Sources:
Sauza C. (2022). Personal interview.