Free community fridges in Charlotte, NC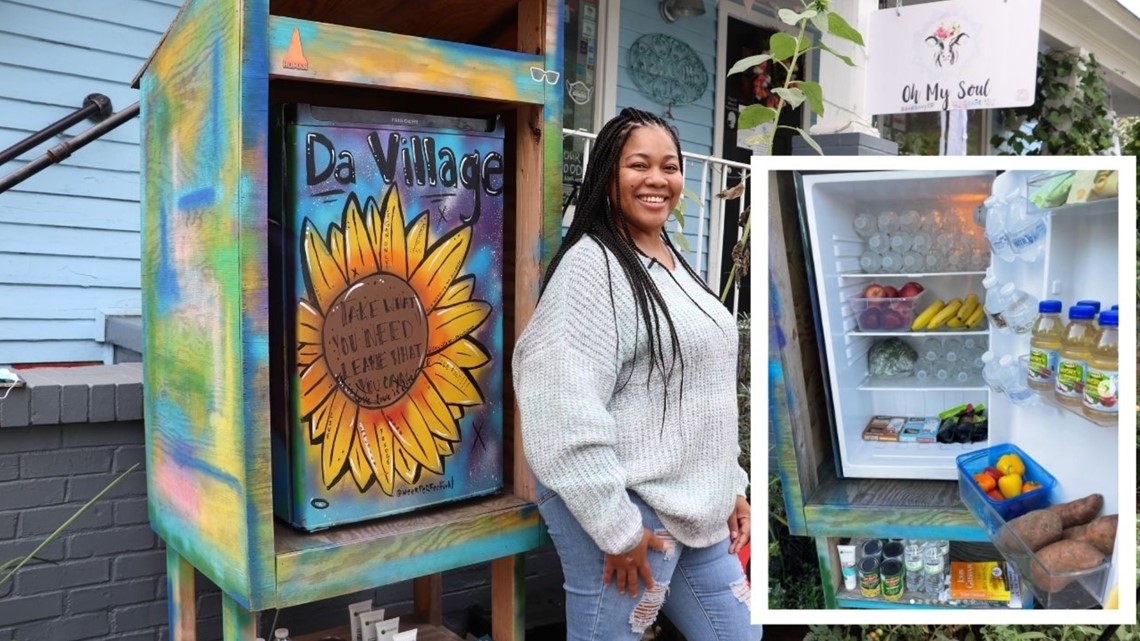 For many in low-income communities, access to fresh healthy foods is hard to come by which is why Shamelle Jackson created these community fridges.
CHARLOTTE, N.C. — If you've ever walked by Oh My Soul in the NoDa community of Charlotte, North Carolina, you might have noticed a colorful fridge in front of the restaurant. But do you know what it's for?
Jackson said when she went to Minnesota for the George Floyd protests, she was overwhelmed by how much the community had really rallied together. 
"I didn't see any fridges," Jackson remembered. "But I saw gardens and just different unique things that were for the community."
RELATED: A Gastonia grocery store is closing soon. Citizens worry this could create a food desert.
Jackson was inspired by what she saw in Minnesota and knew she needed to do something similar for her community in Charlotte. She began researching community outreach and saw other states like New York had these community fridges. 
Click here to sign up for the daily Wake Up Charlotte newsletter
As quickly as the idea had surfaced, Jackson was on a plane to Brooklyn, New York, to check out their fridges to see how they worked and to see how she could implement the same ideas back home. 
"And we put it on Facebook saying we needed a fridge, and we got the fridge the same day," Jackson said. "And we have just been rolling with it ever since." 
RELATED: Mecklenburg County Public Health addresses food deserts and food insecurity
That's why Jackson said she wanted to focus on fresh, whole foods for her community fridge. 
"There are a lot of people who are just suffering right now and can't afford fruits and vegetables," Jackson said. 
You can stream WCNC Charlotte on Roku and Amazon Fire TV, just download the free app. 
The pandemic has affected all of us in different ways, but Jackson said it's been especially hard on lower-income families.
"A lot of people get food stamps and certain things like that," Jackson said. "But a lot of those offices are closed. So if you're used to getting food stamps, you can't even sit with your social worker." 
RELATED: Black communities have little access to healthy food options. A Charlotte chef cooked up an idea to change that
Jackson, a single mother of four herself, said she is so invested in her community fridge that she will often take from her own finances to make sure the fridge is fully stocked.
"I just want to make sure we can keep it fully stocked for the community," Jackson said. 
Free community fridge in Charlotte
Even though she lives more than 30 minutes away from the fridge, Jackson said she will make the drive to NoDa to check on and restock her fridge almost every single day. 
"It's like an addiction honestly," Jackson joked. "The diligence and determination is there for me because, outside of filling up the fridges, we also do pop-up shops." 
For the latest breaking news, weather and traffic alerts, download the WCNC Charlotte mobile app.
During those pop-up shops, Jackson said they will go into different low-income communities and set up little boutiques with tables full of clothes and other necessities. 
"We just want to be consistent for the community," Jackson said.
WCNC Charlotte is part of seven major media companies and other local institutions producing I Can't Afford to Live Here, a collaborative reporting project focused on solutions to the affordable housing crisis in Charlotte. It is a project of the Charlotte Journalism Collaborative, which is supported by the Local Media Project, an initiative launched by the Solutions Journalism Network with support from the Knight Foundation to strengthen and reinvigorate local media ecosystems. See all of our reporting at charlottejournalism.org.