GROW San Mateo and Samaritan House Food Pharmacy provide healthy food | Local News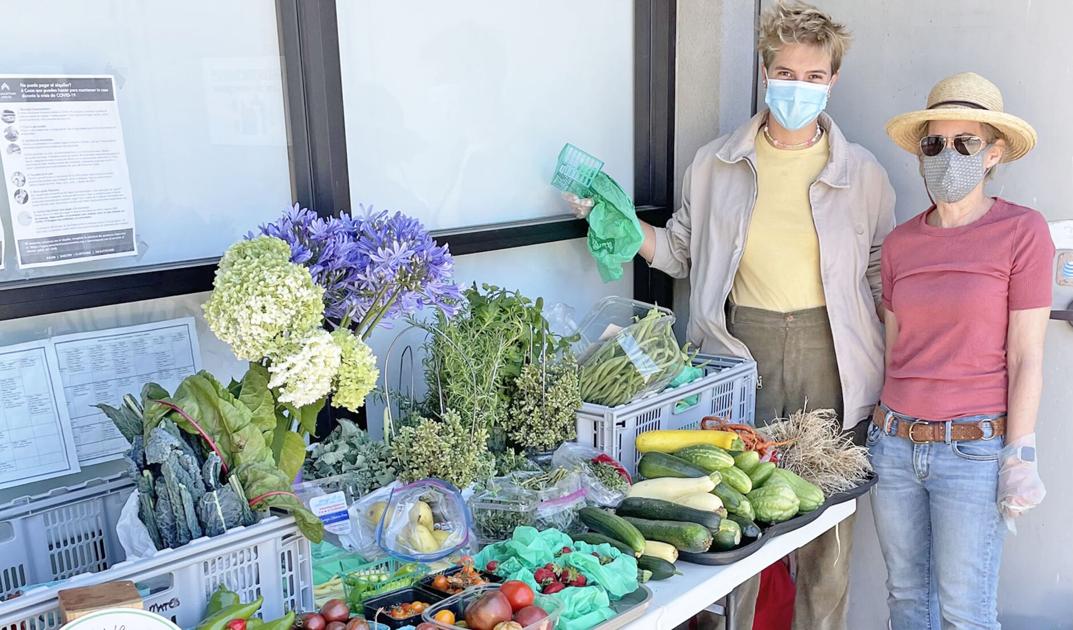 GROW San Mateo formed as a collective project to provide free healthy food to promote a healthier lifestyle and educate people on the importance of fresh produce.
Bill Schildknecht started the GROW San Mateo project in March of 2019 for a collection of local gardeners grow and donate fresh produce. He learned about the Samaritan House Food Pharmacy that summer, which is a part of the organization's free medical clinic, and began a partnership. In the spring of this year, it started to host a table at the two food pharmacy clinics in San Mateo and Redwood City.
"I think what we've seen though is that there obviously is a link between preventable diseases like obesity and diabetes and some of those things where food is actually medicine, and the pandemic hit those people with those ailments the hardest. So I think there's just an increasing realization through this group of people that goes to Samaritan House that eating is not just a luxury. It's vital to your health," he said. "I think there's a huge opportunity for local food to actually change a lot of the problems that we have with the current food system."
He said he was inspired for this project by the Victory Gardens of the 1940s when communities came together.
"I started GROW San Mateo as a way to grow community around the activity of plants because I saw just from my own garden here in San Mateo that plants are able to cross age boundaries, generational boundaries, ethnic boundaries, language barriers. The smell of basil or cilantro is universal. So I've found that there's a way to actually build community through that activity," he said.
The project also focuses on providing ingredients common in Latin American cuisine to give more food choice and selection.
It stopped operations for one month during the start of the pandemic but was able to continue safely working outside. It has about 35 to 40 people who consistently donate produce from their gardens and also receives produce from the San Bruno 4-H Club and from Hillsborough Harvest Garden.
"Samaritan House provides supplemental foods that promote physical health and reduce nutrition-related diseases such as diabetes and hypertension," said Tim Purdy, a volunteer at the Food Pharmacy. "Our goal is to try to provide patients with foods that will help them to establish a healthy diet and better control some of their health issues."
Purdy has been volunteering at the Redwood City clinic for about eight years since it started, being a part of expanding the service, increasing retention, providing nutritional counseling and starting the delivery program.
They have monitored some of the patients and seen a reduction in blood sugar levels and reduction in weight, he said.
It delivers to about 25 patients a week and wants to expand that number. Before the pandemic, it used to offer food demonstrations where a dietitian would talk with patients about the produce and provide recipes, and hopes to resume doing that again. The food products are packaged and handed out but it also hopes to return to its previous model where it had tables set up to distribute to the recipients.
"It's helpful for patients to see what the produce looks like, to pick it up, to smell it, to ask us about it. To have that interaction with us as opposed to us just handing the produce out on a cart and take it to their car," he said.
It also plans to partner with more farmers' markets.
"I felt fortunate because I, on a weekly basis, really see the best of people here at the clinic. We have a really dedicated staff here who really care about the patients and I've really gotten to know the patients very well. And so it's really become the highlight of my week. I really enjoy coming here and seeing everyone and doing something that's meaningful and contributing to the community" he said.
Gloria Valencia-Aceituno found out about the food pharmacy after her boyfriend had a heart attack in 2018 and was directed to Samaritan House after being in the hospital. She is diabetic and said her doctor recommended she try the food from the clinic.
"This clinic has put fresh foods and that is a blessing. My goodness, it saved my life," she said.
Her diabetes has improved and her insulin was cut down from 30 to 15. She's received eggs, milk, chicken, fresh veggies, rice, beans, lentils and more. Receiving these products has also allowed her to save money to use toward gas, she said.
"The people are so kind, so nice," she said. "It's been a huge help."
It is also important for her to give back and she cooks chicken to share with the homeless in Redwood City. She also helps communicate between the Spanish-speaking community members and the staff at the clinic who don't speak Spanish.
"If I'm blessed, then I'm blessing to somebody else," she said.
GROW San Mateo has donation boxes in two community gardens at Beresford Park and Los Prados Park.