Hario Launches a Flurry of Pourover Products with Barista CollaborationsDaily Coffee News by Roast Magazine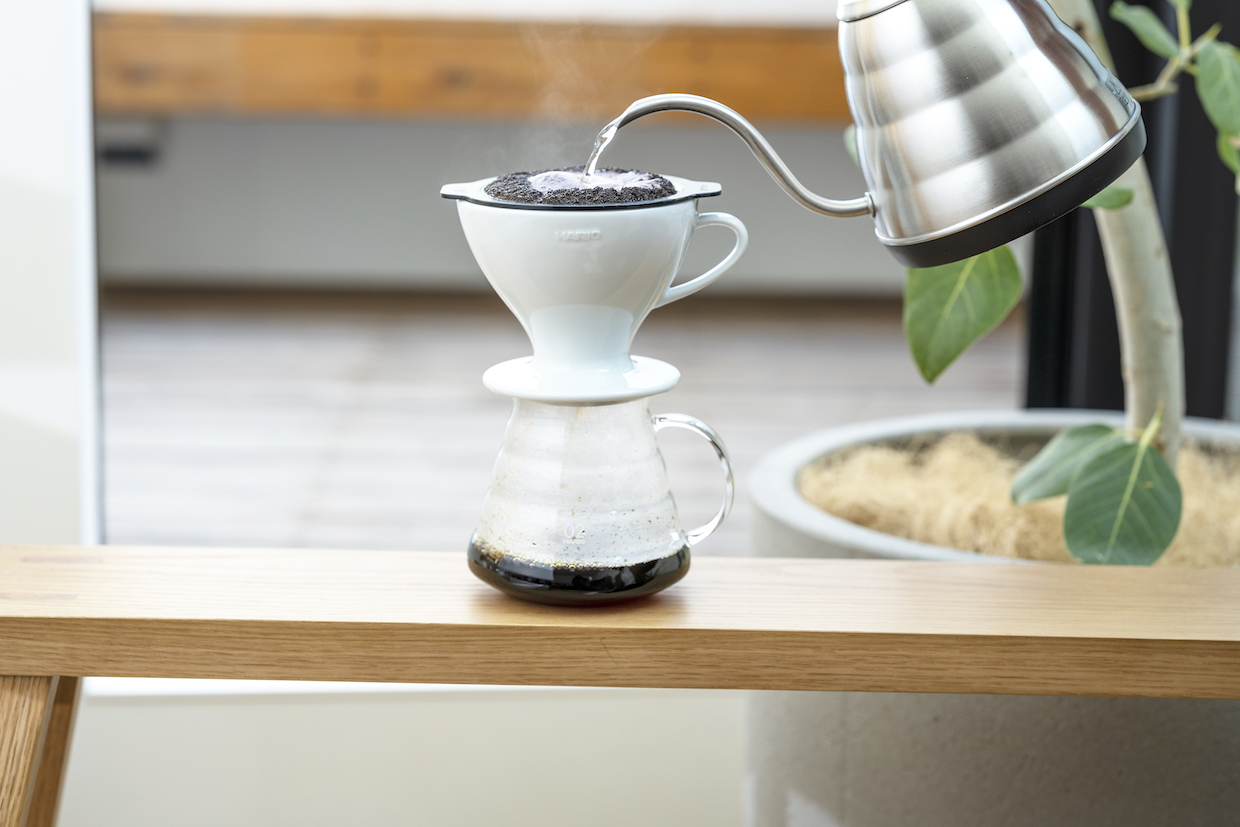 Japanese coffee equipment maker Hario has been busy building its portfolio of manual pourover gear, releasing a flurry of new precision-focused products in a series called World Barista Collaboration.
W60 and Drip Assist
Leading the list of releases is the Hario W60 brewer, which builds upon time-tested concepts put forth by Hario's iconic V60 pourover brewer.
Designed in collaboration with 2013 World Barista Champion Pete Licata (United States), the W60 has a ceramic body that holds V60 paper filters and maintains the spiral interior ribbing and large bottom hole, but differs with a more bulbous shape along with wider-spread ribs. A flat-bottom mesh coffee filter with a polypropylene frame and polyester resin mesh perches atop the brewer.
Users can add coffee to the flat-bed filter on top, and then brew with or without a paper filter lining the ceramic bottom portion, depending on filtration preference. Alternatively, users can bypass the flat bed to brew straight into the filtered ceramic chamber. In a recent launch video, Licata espoused the benefits of combining the flat-bottom top with the extra paper filtration below.
"If you choose to use the paper filter with the flat-bottom brewing chamber, you end up with a very even extraction, plus the cleanliness of the paper filter," Licata said. "For me, this has made some beautifully sweet and articulate cups of coffee."
---
Related Reading
New Equipment That Helped Make Home Coffee Better in 2020
Japan's Cafec Launches Roast-Specific Paper Filters
A Friendly Face in Troubling Times: Bialetti Introducing a Pourover Brewer
---
Licata also worked with Hario to develop the Drip Assist, a piece that fits directly on top of a V60 brewer, but is also compatible with W60 and other pourover devices.
The PCT resin accessory features larger holes in its center for faster flow, and smaller holes in outer ring for slower flow, allowing users to pour more freely while keeping a consistent flow of water over the grounds at different stages of the brewing process.
Double Stainless Dripper and Pour Control Kettle
Hario has also collaborated with 2016 World Brewers Cup Champion Tetsu Kasuya (Japan) for new products, including the Double Stainless Dripper and the Pour Control Kettle.
The Double Stainless dripper is meant to mimic the performance of the cloth filter with metal hoop pourover brewer known as the "nel" method, although variations of it exist with different names in different coffee cultures, such as chorreador (Costa Rica) or guayoyo (Venezuela).
In this case, the flannel coffee sock is replaced by a steel dripper that can be handheld or placed on top of a mug or pitcher, with dual layers of fine metal mesh designed to replicate flannel-sock-like filtration yet with easier cleanup and maintenance.
Kasuya's Pour Control Kettle design features a spout offset and almost perpendicular to the handle, rather than directly opposite the handle. This allows the user to pour by turning their wrist, rather than bending their wrist up and down, for ergonomic benefit.
Mugen and Travel Cup
Hario has released a new variation of the V60 called Mugen. The brewer foregoes the thick ribs of the V60 and instead provides a mostly flat surface onto which a paper filter adheres. Slim channels along the walls result in a much slower flow than the original V60.
Mugen is the Japanese word for "infinite," and the brewer is intended to demonstrate the flexibility of the V60 design, according to the company. Hario has told Daily Coffee News that additional new products with and apart from the World Barista Collaboration series are slated for release in 2022.
In addition to all the new brewers, Hario has released something new in which to enjoy the finished brew: The Miolove travel cup. The stainless steel mug, available with different lip and lid colors was designed in collaboration with 2015 World Brewers Cup Champion Odd-Steinar Tøllefsen of Norway.
Howard Bryman
Howard Bryman is the associate editor of Daily Coffee News by Roast Magazine. He is based in Portland, Oregon.