Here Are the 2021 World Coffee Champions, Including Barista Champ Diego Campos of ColombiaDaily Coffee News by Roast Magazine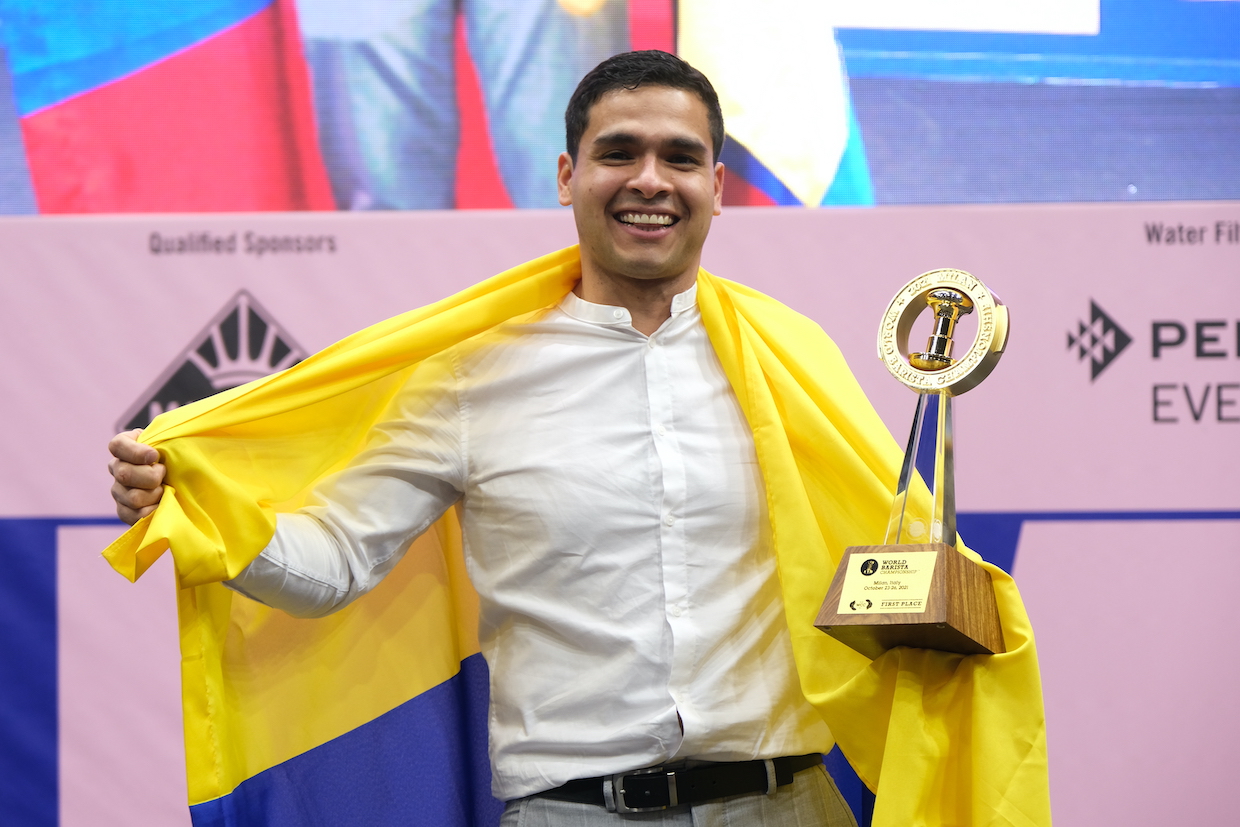 Following intense competition from scores of international competitors in Milan, Italy, the world has three new coffee champions, including 2021 World Barista Champion Diego Campos of Colombia.
Matt Winton of Switzerland has earned the title of 2021 World Brewers Cup Champion, and Kyoungha (Charlie) Chu of Australia took the top spot in the 2021 World Cup Tasters Championship.
The events, coordinated by the Specialty Coffee Association's World Coffee Events group, took place in conjunction with the HOSTMilano coffee and hospitality and trade show. All three of the world championship events were put on hold in 2020 due to event cancellations tied to the COVID-19 pandemic. Each of the three competitions took place in front of an in-person crowd in Milan, while streaming in real-time all over the world.
Succeeding 2019 World Barista Champion Jooyeon Jeon of South Korea is 2021 champ Diego Campos, the 31-year-old three-time winner of the Colombian barista championship, Amor Perfecto roaster, Diamante coffee farm owner and passionate advocate for Colombian coffees.
In a short impromptu speech upon winning the competition, draped in the yellow, blue and red Colombian flag, Campos thanked his fellow countrypeople for their support.
"Wow, wow, wow, I cannot believe this… That's my country," said Campos, lifting up the flag. "I love my country; I love Colombian coffee. This is for you, Colombia. This is for you — all the farmers, all the families, all the pickers, all the hard work. This is for Amor Perfecto family, for my family, for everyone who has supported me. Thank you very much."
United States Barista Champion and Onyx Coffee Lab Co-Owner Andrea Allen placed second in the world competition with a routine that paired exquisite coffees from Colombia with the concept of reclaiming kindness and sensory connections that were lost in the pandemic.
Following are the finals standings from the 2021 World Barista Championship, World Brewers Cup Championship and World Cup Tasters Championship.
It must be noted that the vast majority of the 16 finalists in the three events are men — continuing a gender representation gap at the highest levels of these international events since their inception. Also of note: Martin Shabaya of Kenya became the first barista representing an African country ever to make the World Barista Championship's final round.
2021 World Barista Championship Results
1. Diego Campos, Colombia
2. Andrea Allen, United States
3. Hugh Kelly, Australia
4. Emi Fukahori, Switzerland
5. Martin Shabaya, Kenya
6. Wojciech Tysler, Ireland
2021 World Brewers Cup Results
1. Matt Winton, Switzerland
2. Daiki Hatakeyama, Japan
3. Elika Liftee, United States
4. Carlos Escobar, Australia
5. Ply Pasarj, Canada
6. Tomas Taussig, Czech Republic
2021 World Cup Tasters Championship Results
1. Kyoungha (Charlie) Chu – Australia
2. Dénes Rajmond – Germany
3. Sang Min Ju – South Korea
4. José María Gómez Mora – Costa Rica