Horned Frogs are Craving Birria Tacos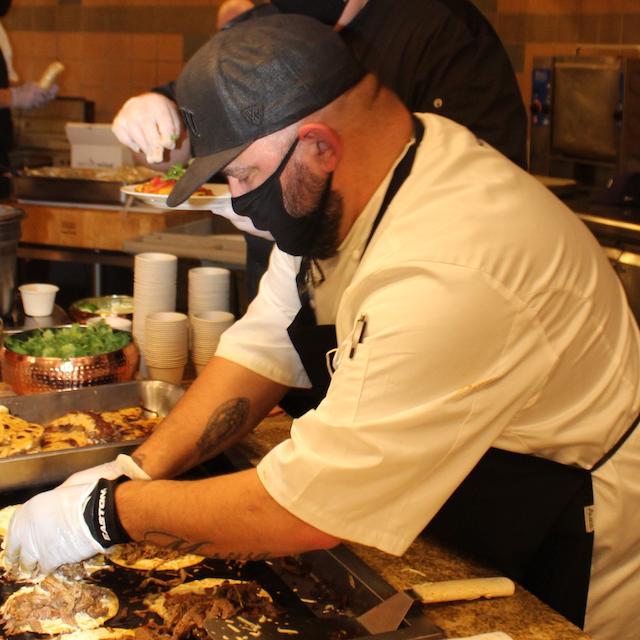 June 8, 2021
As college campuses shift to provide diverse cuisines, TCU Dining is embracing the
concept. Following student survey responses from the fall, the team is enthusiastically
incorporating more international foods, and – upon review of the campus culinary team's
international specialties and the trending foods in the area – they landed on first
introducing birria tacos.
Birria tacos traditionally consist of braised meat inside a corn tortilla that's been
pan-fried and are then filed with cheese, cilantro lime and onion. Next up? How to
best showcase and promote the new item. Chef Russ Humphries opted for a one-night
takeover at Caliente – the campus TexMex retail location.
It was an enormous success. Students lined up around the building for the launch,
which was the first time that retail and resident dining would collaborate on an event. 
"We sold out in less than two hours," said Marketing Director Swati Bharathi. "Students
could not get enough of Chef's birria tacos, consomé and elote. Students also got
to meet Chef and snap selfies." 
After the event, Southwestern University in Georgetown, Texas, reached out to do a
similar chef takeover. The two dining teams collaborated to feature Humphries in its
dining hall, Mabee Commons. With the help of TCU Culinary Director Chef Michael Smith
and Southwestern Chef Jason Parker, that event was also a hit, and more than 600 tacos
were served. 
"With the success of birria tacos, one thing is very clear," said Bharathi. "Food
on college campuses is changing, and we are excited to be leading the way."
Find menu information, summer hours, social media channels and more on the TCU Dining website.