Iced Butterbeer Coffee – MuggleNet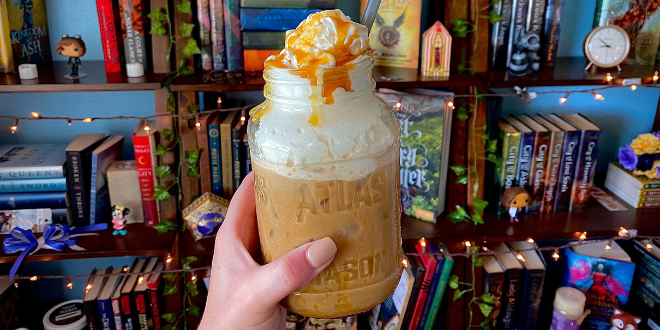 When it comes to our morning routines, most of us Muggles are sure to include some form of caffeine to get our days started. As you wake up and prepare for the day, why not add a little something special to your caffeine fix? This particular recipe for Iced Butterbeer Coffee can be found in the "Rosmerta's Recipes" section and is super easy to make. We are certain this would be a staple in the staffroom at Hogwarts and the Great Hall for the students' breakfast. It is sure to give your day the sweet start you deserve with a mix of caramel, butterscotch, and plenty of coffee.
I was inspired to craft this recipe by the butterbeer frappuccino on the Starbucks secret menu. I have loved butterbeer ever since my first tasting at Universal Studios Orlando. My obsession only grew from there when I had my second tasting at the Warner Bros. Studio Tour London. This then expanded a milkshake variation that I often crafted at home from a recipe on Pinterest. After discovering the Starbucks version, I then decided I would combine my love of this sweet beverage with my addiction to iced coffee.
When determining how to create this caffeine concoction, I knew I would need butterscotch and caramel; from there, I just kind of played with my creamer to coffee ratio. In crafting this sweet beverage, I always make butterscotch, and caramel syrup swirls around the inside of the cup first. I then add in my ice and my refrigerated coffee to my desired amount. For the coffee, I always use the Dunkin Donuts cold brew purchased from my local grocery store; it is much easier than refrigerating coffee overnight. 
My next step is to add in the creamer; this is another Dunkin Donuts product. I love the Extra Extra Creamy Original Creamer because it adds even more sweetness. I will also add one pump of the Starbucks Hazelnut liquid syrup – also found in the grocery store. Once that is all mixed, I top it off with a whipped cream swirl and take that heavenly first sip. One major tip is to add only a little creamer at a time so it doesn't get too sweet. Too much creamer will take it from coffee delight to milkshake mania. Sweeter is a good route if you like less of a coffee taste. I like it to still taste like coffee, so I go light on the creamer and syrup swirl in the cup. If you want to make it extra decorative, you can add a syrup swirl on top of the whipped cream.
This recipe is one my mom and I both enjoy on the weekends. It pairs well with a cozy spot to curl up and a good book. I do believe that this butterbeer beverage could be found often in the staffroom to prepare the professors for a day of teaching and wrangling. It might even be on the breakfast menu at The Three Broomsticks. Albus Dumbledore would find this recipe particularly delightful and would add some extra creamer and a syrup swirl to the top to make it even sweeter.
Be sure to serve up this magical morning delight in your favorite Harry Potter mug or a glass jar and post it to social media because the aesthetics are everything! Every time I sip on this, I feel like I have been instantly transported to Hogwarts, and I am curled up on the couch in the Hufflepuff common room. I can hear the fireplace crackling and the early morning sun shining through to warm me up and prepare me for a day of potions and charms. If you like iced coffee and you like butterbeer, then be sure to visit the "Rosmerta's Recipes" section and give this recipe a whirl! This sweet coffee concoction with butterscotch and caramel flavors is sure to give your day a magical start.
Want more posts like this one? MuggleNet is 99% volunteer-run, and we need your help. With your monthly pledge of $1, you can interact with creators, suggest ideas for future posts, and enter exclusive swag giveaways!
Support us on Patreon