Japan-Based % Arabica Opens First US Roastery and Coffee Shop in BrooklynDaily Coffee News by Roast Magazine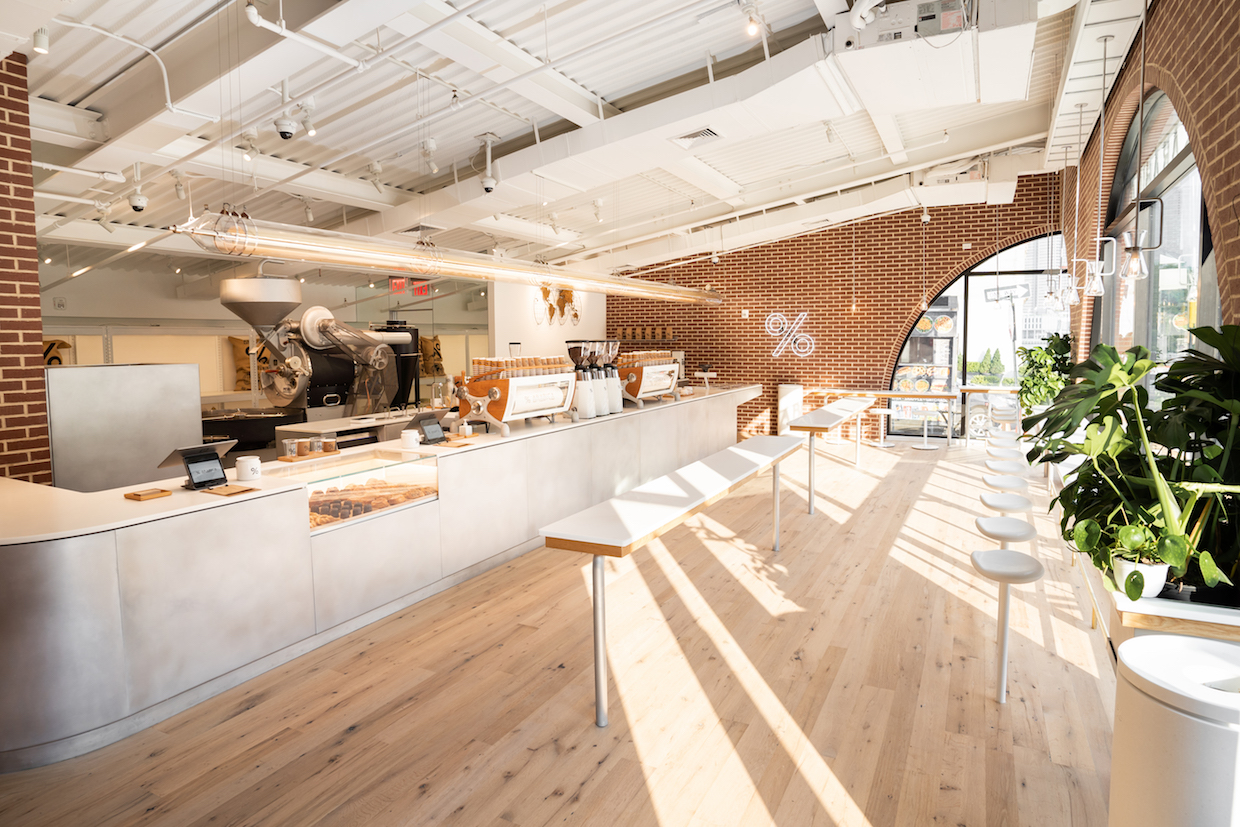 Kyoto, Japan-based specialty coffee chain % Arabica has opened its first roastery and retail location in the United States, in the Dumbo neighborhood of Brooklyn, New York.
Officially opened on June 11, the New York outpost is the brand's 87th retail shop to date, adding to company-operated and franchise locations in 16 countries throughout Asia, Europe and the Middle East.
Core coffee offerings at all locations are consistent throughout the world, though in each new market the company partners with a local bakery for fresh pastries, including the SOHO-based Balthazar Bakery in New York.
Occupying approximately 1,500 square feet in a new single-story development in Dumbo's Fulton Ferry Historic District, the new shop was designed collaboratively by % Arabica Founder Kenneth Shoji and the French design studio Ciguë.
"[Shoji] saw value in their trans-disciplinary approach bridging craft, science and poetry, which he felt closely monitored his 'minimal yet purposeful' approach he had for the brand," Joshua Dittmer, general manager of % Arabica in the U.S., recently told Daily Coffee News. "Context, function and matter instinctively guided the way they conceptualized the space, merging art and utility."
Roughly one third of the space is occupied by the roastery, which is overseen by Dittmer with roasting and quality control support by Abbi Young. Production centers on a 1920s-era UG 22 Probat roaster for larger batches, while a 1-kilo-capacity Japan-made Tornado King fluid bed electric roaster handles roasts for customers on demand.
The Probat is a focal point of the cafe. It is echoed by a brushed aluminum front counter, above which hangs a 20+ foot blown glass lamp that was custom made for the shop by Italian studio Viabizzuno. A custom branded Slayer espresso machine also draws the eye to the coffee bar.
Elsewhere in the shop, lighting maintains the brand's signature obsession with the Chemex brewer shape while shining warmly upon natural and industrial-style surfaces of red brick and reclaimed wood.
---
Related Reading
---
Founded in Hong Kong in 2013, % Arabica opened its first retail location in Tokyo the following year and now owns a coffee farm in Hawaii, in addition to its dozens of retail shops.
The company is the sole exporter of Tornado King shop roasters, and is the sole Japanese domestic distributor of Slayer espresso machines and green coffee from Ninety Plus Coffee.
Dittmer told DCN the company is seeking to open additional locations in New York City, as well as other U.S. markets.
"We have our eye on L.A., San Francisco, Hawaii, DC, Miami, Houston, Austin, Portland, Denver and so many more over the next few years," said Dittmer. "We hope to roll out 100 stores in the next 10 years throughout the [U.S.]."
---
% Arabica is now open at 20 Old Fulton St. in Brooklyn, New York. Tell us about your new coffee shop or roastery here.
Howard Bryman
Howard Bryman is the associate editor of Daily Coffee News by Roast Magazine. He is based in Portland, Oregon.