Kid Dream Coffee Company Comes True in Beverly, MassachusettsDaily Coffee News by Roast Magazine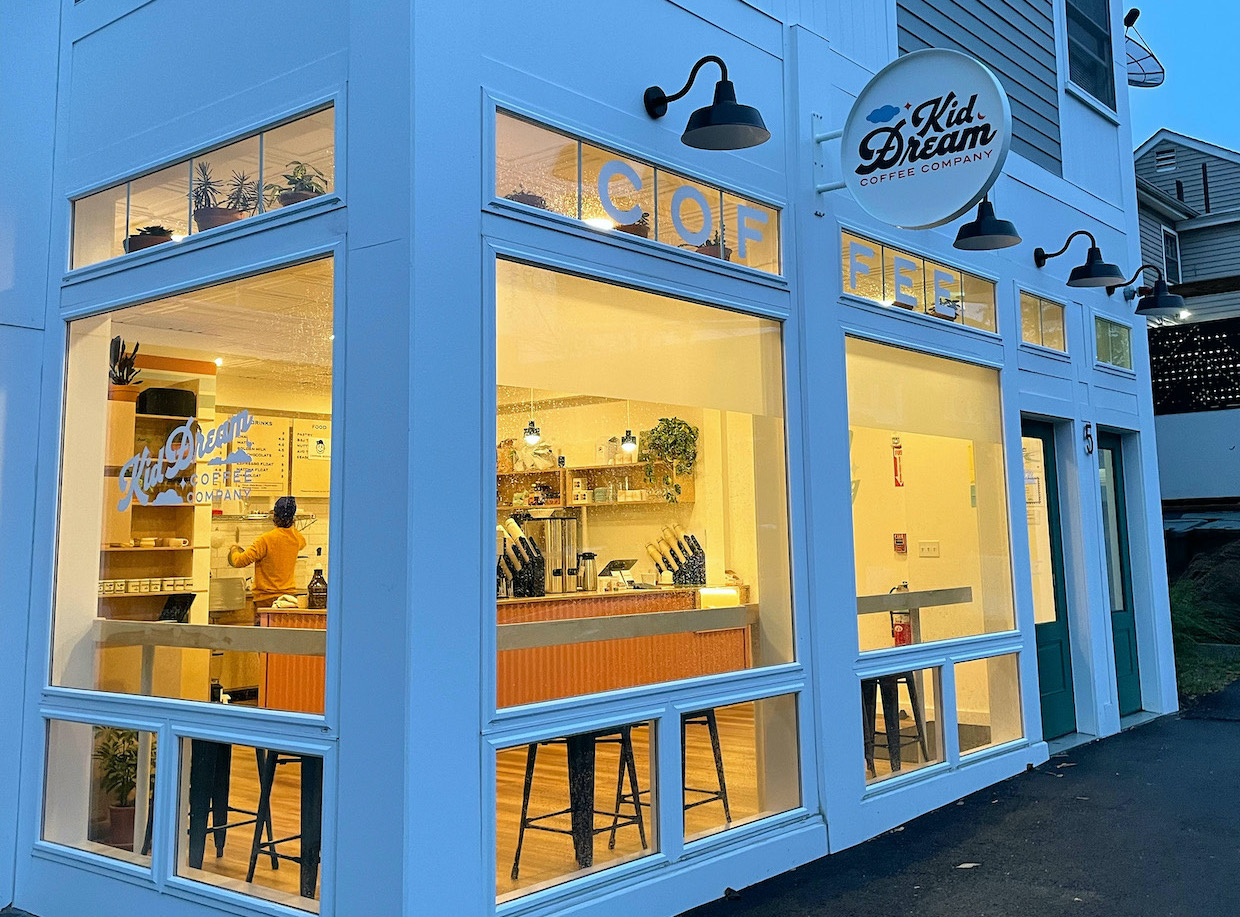 Some kids dream of becoming doctors, teachers, professional athletes or movie stars. Other kids — at least two, anyway — dream of opening a coffee shop.
Those two former kids are now adults Kalvin and Abi Reynolds, whose marital teamwork has made their childhood dreams work with the opening of the Kid Dream Coffee shop in Beverly, Massachusetts.
"Once Abi and I met — having both been working in the industry a long time — we knew we had to make it happen," Kalvin Reynolds, who started telling his parents he was going to be a cafe owner at the age of 13, told DCN. "It really was a whole family affair. Both of our parents really dove all in and made this dream happen for us. It was a DIY project and we are really proud of it."
The Reynoldses have each spent more than a decade in the coffee business, with Abi overseeing the opening of the Land of a Thousand Hills cafe in Lynn, Massachusetts, before running the Boston office coffee bar of the company LogMeIn. Kalvin, meanwhile, spent several years roasting at Atomic Coffee Roasters in Salem (now Peabody) before running the Little Wolf Coffee bar in Ipswich.
Since 2018, the pair had been running a Kid Dream coffee cart as a side hustle before ultimately signing a lease for a 500-square-foot retail space on a side street just off the main drag in downtown Beverly. After a family-led buildout, the shop opened last October, offering minimalist Scandinavian vibes with Baltic birch and lighter wood tones with some bursts of color from the pink bar and blue stools.
"Beverly has a lot of coffee downtown, but the fun thing about the coffee scene here is that everyone is doing things really differently from each other," Kalvin Reynolds said. "We are a small, mostly to-go business that is offering a very different style of coffee and service than what has existed in Beverly, and that has been really fun because we have a lot of regulars who come to us in the morning and visit another cafe in the afternoon."
---
Related Reading
---
The Kid Dream coffee bar is outfitted with a La Marzocco Linea PB espresso machine paired with Mahlkönig E65 grinders. A Fetco CBS 2131 system handles the batch brew, while a Mahlkönig GH2 further supports the shop's grinding needs.
Beans currently come from Broadsheet Coffee Roasters of Cambridge and Ilse Coffee of Westport, Connecticut.
"We chose broadsheet because we have always been obsessed with their Headliner Blend for espresso and we think they have such well rounded offerings throughout the year," said Reynolds. "For Ilse, we found them through a friend about two months before we opened and requested samples. The coffees were just so good that we couldn't not serve them."
Some other roasters may soon join the rotation in the coming months, according to Reynolds, although the shop always plans to have two different offerings ready on drip: one under the title "Comforting" and the other called "Adventurous." The shop also offers a small menu of toasts featuring local Bonny Breads.
Kalvin and Abi said they may ultimately be exploring a roasting operation and a commissary kitchen, with potential plans for retail expansion down the line.
"For Beverly, we don't think we will grow too much more in this city, but we do really hope to expand to surrounding towns and cities in the North Shore of Massachusetts," Kalvin said. "We live in Beverly and really like it here and it was our favorite option for our first coffee shop."
---
Kid Dream Coffee is now open at 5 W Dane Street in Beverly, Massachusetts. 
Nick Brown
Nick Brown is the editor of Daily Coffee News by Roast Magazine.