Kinder Coffee Lab Offers a Friendly Alternative in St. Cloud, MinnesotaDaily Coffee News by Roast Magazine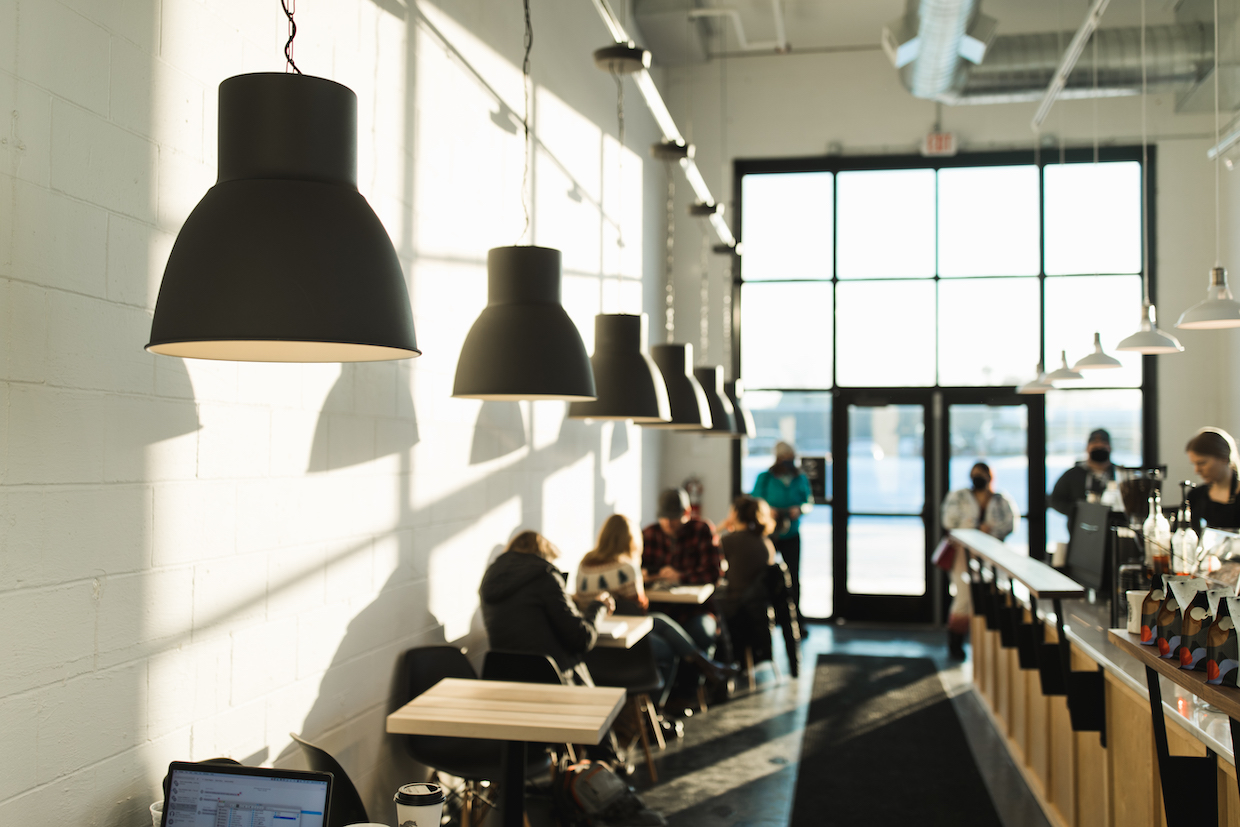 St. Cloud, Minnesota-based Kinder Coffee Lab has opened its first brick-and-mortar cafe, transforming a former auto detailing shop into a high-contrast environment for coffee precision.
With the company's Bellwether roasting machine in full view of customers, the 1,000-square-foot shop features 15-foot ceilings and large windows illuminating matte black equipment on a white quartz bar. White pendant lighting hangs over the Mahlkönig grinders, a Victoria Arduino Eagle One espresso machine and other coffee-making elements, while black pendant lighting fills out the shop.
"It started as kind of a dark auto detailing place that was very much not set up for coffee," Kinder Coffee Head Roaster Tommy Mayhew told DCN. "Our whole vibe we're going for is very clean, very beautiful. The goal is to have a very clean, homogenous look that is very tight."
Kinder Coffee co-owners Guytano Magno, Taylor Feero and Ryan Schoepf are also the owners of Cooper Collective, a co-working business that also operates in the building and sublets the space to Kinder. While the trio's original vision called for a retail coffee shop in 2020, the pandemic prompted a quick pivot towards roasting and online retail at first.
Mayhew, a home roaster who turned pro upon joining Kinder later in 2020, used the Bellwether system's prescribed profiles and green coffee platform as a stepping stone  for the Kinder Coffee sourcing and roasting program that today leans on an Ikawa sample roaster and green coffees sourced mostly through Minneapolis-based Cafe Imports.
In a community where specialty coffee has been historically scarce, Kinder has been landing on coffee profiles that run the gamut from "Third Wave" lightness to sweet mediums and shiny, familiar dark roasts.
---
Related Reading
---
"We want people to drink coffee how they like it, and we just want to introduce them to a new, maybe more ethical way to drink coffees that they like, even if that falls outside the range of 'third wave,'" said Mayhew. "The whole vision of Kinder Coffee Lab is that we're trying to refute some of the snobbiness, for lack of a better word, that can come from the specialty coffee industry — trying to change that image in terms of just welcoming people in. No matter who they are, or what kind of coffee they like to drink, there's a place for them at Kinder Coffee Lab.
---
Kinder Coffee Lab is located at 203 Cooper Ave N in St. Cloud. Tell DCN's editors about your new coffee shop or roastery here. 
Howard Bryman
Howard Bryman is the associate editor of Daily Coffee News by Roast Magazine. He is based in Portland, Oregon.