Legendary Roasting Name Sivetz Given New Life with the SRM15Daily Coffee News by Roast Magazine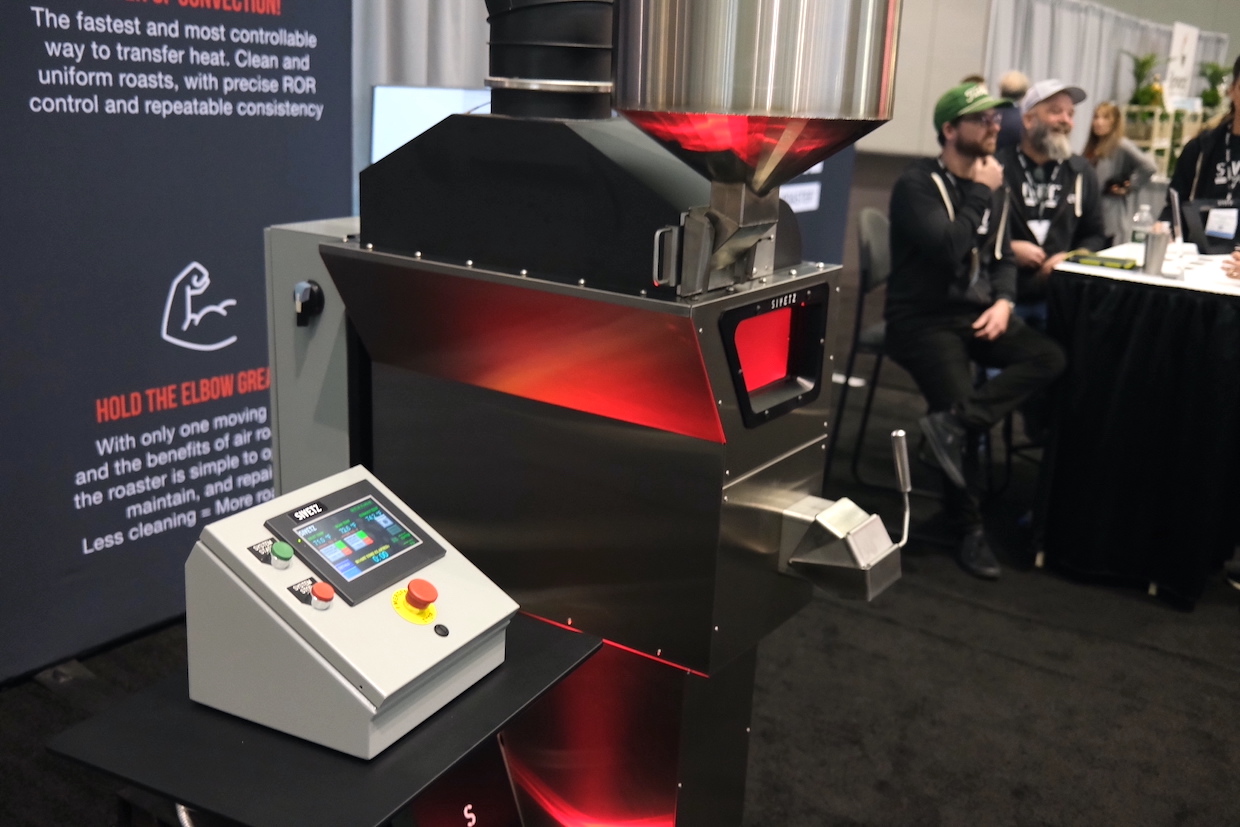 An iconic name in coffee roasting has been given new life with the relaunch of the Sivetz brand and its inaugural roasting machine, the Sivetz SRM15.
The Sivetz Coffee Company, now wholly owned by Michael Barthmus and based in Hood River, Oregon, is currently unveiling the new 15-kilo fluid-bed roaster at the Specialty Coffee Expo in Boston.
(See DCN's complete 2022 SCA Expo coverage here.)
The machine maintains the same core air roasting methodology that was enthusiastically patented then preached for decades by Michael Sivetz, who passed away in 2012 after assembling hundreds of namesake machines that still exist throughout the country.
"It was about 15 months of development time to get to this point, where we were able to adapt some of this newer technology into the roaster, improve the way everything functioned, the ergonomics and how things felt, and also the design and how it all looked," Barthmus, who first became familiar with Sivetz as the founder of Doppio Coffee in Hood River, told DCN in Boston.
Outside of a modernized overall aesthetic — including a new logo and a trapezoidal window into the roasting chamber — the new machine's primary functional deviations from classic Sivetz machines are the addition of variable controls of the fan speed and gas, plus an internal PID that controls the set inlet temperature.
Additionally, fan speed and gas can be controlled in real time in small increments through the new touchscreen controls.
"Before, all Sivetz roasters were 'fan on, gas on' then when the beans hit the bean temperature, drop the beans and load up the next batch," said Barthmus, noting that many roasters would then make custom modifications to the original machines, with varying levels of success. "The ability to control fan speed and gas opens up a new opportunity to roast different batch sizes and the ability to profile roasts, to create profiles, to repeat profiles."
The new Sivetz is also fully modernized in terms of connectivity, with an ethernet connection allowing for the use of roasting software such as Cropster and Artisan, stored roasting profiles and other digital integrations.
"We're going to give you all the controls right there if you want them," said Barthmus. "If you don't want them, that's fine. Put it on Sivetz mode and let it run."
---
Related Reading
---
While working roasting professionals tend to maintain their own allegiances to equipment styles — whether that be fluid-bed roasters or traditional drum roasters — one classic selling point of Sivetz machines has always been quick batches.
Barthmus said an overarching goal in relaunching the brand — which he and a business partner initially purchased from Michael Sivetz' son in law before the two partners amicably split ways — was to maintain the simplicity in roasting and maintenance prized by existing Sivetz fans, while increasing functionality.
"If you take an outdated product and you want to bring it into the current time, the 21st century, it was about figuring out which parts to keep — what is the solid core about what makes a Sivetz a Sivetz," Barthmus said. "We thought, 'What can we approve upon without endangering that or compromising durability or dependability? And how can we keep it simple?'"
The Sivetz SRM15, which is being fabricated and assembled in Oregon, is currently priced at $54,500, with financing available. Barthmus said new customers can currently expect a six-month lead time on new machines, while the machine currently on the trade show floor is heading to Thomas Rhodes of Zeke's Coffee in Baltimore.
"Mike Sivetz built everything from a 1-pounder to a 2-bagger," Said Barthmus. "We're trying to figure out where to take the range next, so I think we're going to start out with some smaller electric roasters, and then I think we want to go to the half bag. That's probably where I've had the most requests. We picked a quarter-bagger because that's kind of been the hallmark of the Sivetz roaster."
---
Does your coffee company have news to share? Let DCN's editors know here. 
Nick Brown
Nick Brown is the editor of Daily Coffee News by Roast Magazine.