Matryoshka Coffee Sparkles Inside the Technico Service HQ in NashvilleDaily Coffee News by Roast Magazine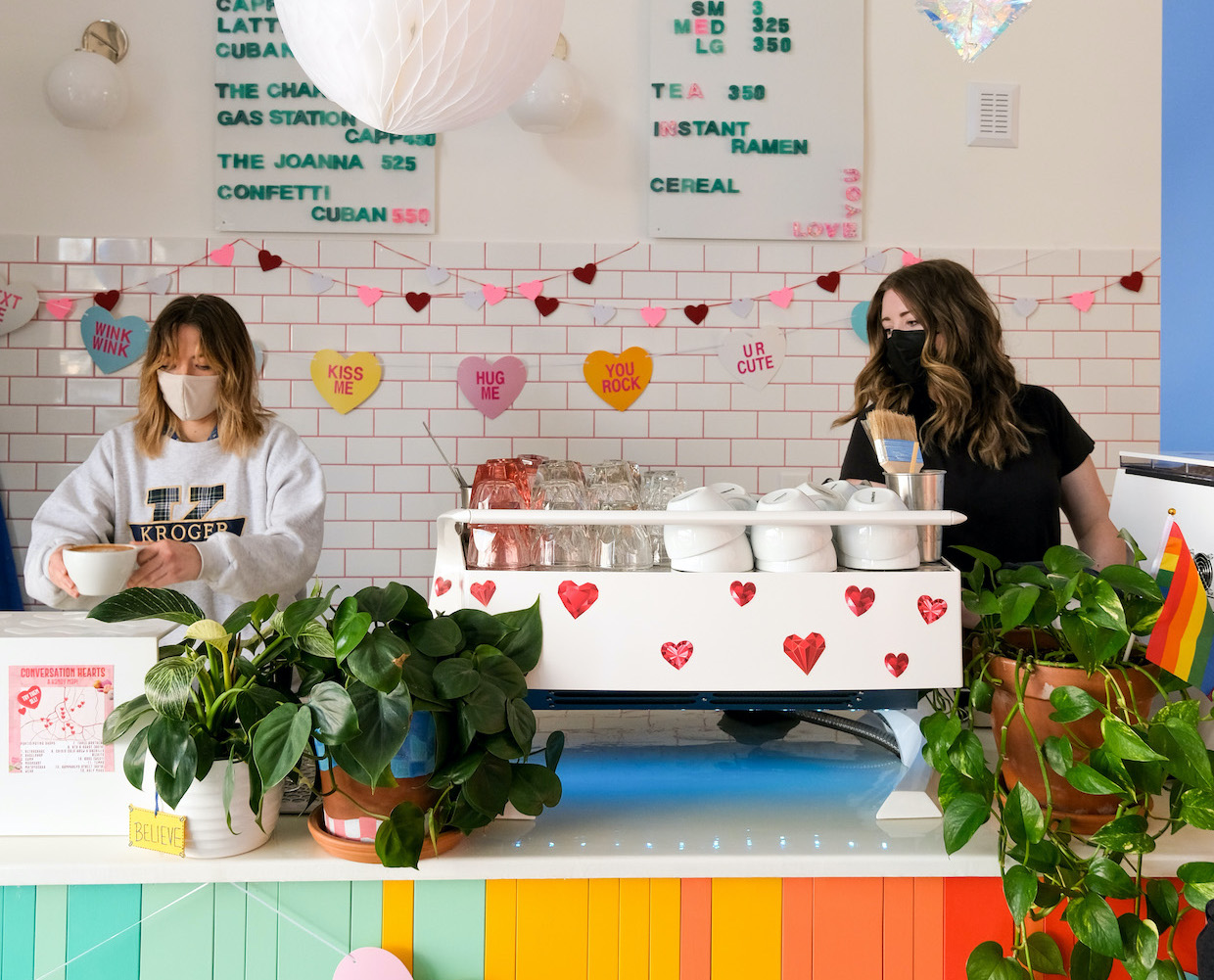 Adding dizzying bursts of color to the front of a new workshop facility in Nashville is Matryoshka Coffee.
With a name referencing Russian nesting dolls, the shop within a shop is technically inside the new home of Nashville-based coffee equipment sales and repair company Technico Service.
Run by Technico Co-Owner Abbey Chiavario, the coffee shop and the drinks coming from it may look like sweet bright candy, yet at the shop's center, it's all about the coffee.
"We're known for our espresso drinks, which is great, and we love that we often surprise people with how fun our drinks are, and they're not overly sweet," Abbey Chiavario told Daily Coffee News. "We take great care to showcase the espresso as well as any other accompanying flavors. We just also add glitter to the top."
Technico Service, which was founded by Jake Chiavario in 2015, moved into the 960-square-foot space last summer. Matryoshka Coffee occupies roughly 300 square feet at the front.
"I built the cabinets, the bar, the tables, the retail display, the countertops, the tiling; literally everything in the shop was built by me," Abbey Chiavario said. "I think a lot of people are surprised to hear that, and in my opinion the surprise about that comes from a pretty patriarchal/misogynistic idea that women don't often build or work in trades."
The white tile tabletops with pink grout and green edges built by Chiavario provide a photogenic platform for hot pink resin serving trays with sparkly glitter. Chiavario also painted the full-wall mural, providing additional eye candy alongside drinks like the hot pink Charlotte (featuring pink matcha, vanilla and dehydrated organic strawberry powder) or the Confetti Cuban (sweetened condensed milk with espresso, vanilla and steamed milk topped with sprinkles).
On the bar, coffees roasted by Nashville-based Crema Coffee Roasters lay the basis for drinks prepared on a white Slayer Steam LP espresso machine paired with a Nuova Simonelli Mythos Clima Pro grinder, while a Bunn G1 grinder outfitted with SSP burrs grinds for drip coffee through a Fetco 1131 V+ batch brewer with a Litmus shower head.
"We currently serve Crema since they're local while we're figuring out our volume, but we plan to rotate roasters," said Chiavario, noting that future roasters may be "nationally sourced, so that people around town can try things they can't get elsewhere in town."
---
Related Reading
Moonshot Coffee Bar Has High Hopes in Nashville
Beer and Coffee Curiosities Satisfied at Curio Brewing in Nashville
Beans Speak Volumes at Memoirs Coffee in East Tennessee
---
As Technico Service has been part of Nashville's specialty coffee community for years, Matryoshka arrives with a built-in network of colleagues. Chiavario has leveraged some of those relationships for a Valentine's Day-themed inter-cafe fundraiser.
Matryoshka and a dozen other cafes around town have united to invite the public on a coffee coffee crawl featuring off-menu drink specials inspired by the phrases etched on candy hearts. At Matryoshka, the drink is the Kiss Me, an iced mocha with sweet pink cold foam, strawberry dust and edible glitter.
A donation of $1 from each Kiss Me sold will go to the local Black-led grassroots organization The Equity Alliance. Other shops are donating as much or as little as their budgets allow to whatever organization they choose.
"Nashville has a really special coffee scene, so this felt like a nice way to do something fun with all of our friends and to maybe push our customers and other shops' customers out of their comfort zones and try something new," said Chiavario. "Plus it's given baristas a great opportunity to flex their drink-making skills. It's been a really heartwarming experience to be a part of."
---
Matryroshka Coffee is located at 370 Herron Drive #4 in Nashville. Tell DCN's editors about your new coffee shop or roastery here.