'Robin Hood' of produce uses sliding scale to provide healthy food for all | Food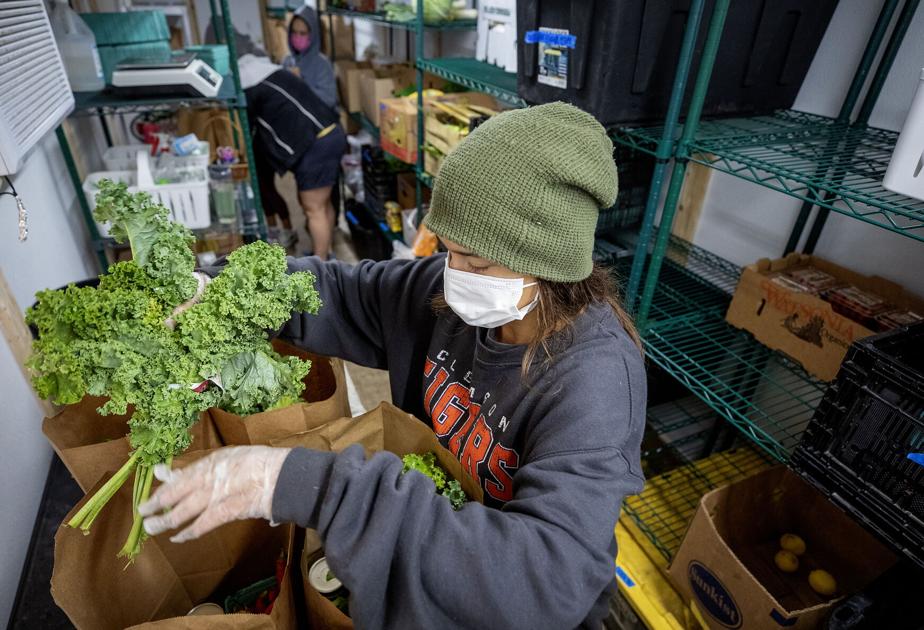 Lindsey Barrow Jr. started as the "King of Vegetables." Now, he's the "Robin Hood" of produce.
"When I was 5 years old, I was marching around with a squash at my grandmother's in Martinsville, Va., and I told my dad I was the King of Fruit. He told me a squash was actually a vegetable, so I told him I was the King of Vegetables, then," Barrow recalled.
That early love of squash — and other vegetables — stayed with him.
"Other kids wanted pizza. I just wanted a bowl of broccoli or turnips," Barrow said.
After studying law and working in fine dining in Charleston, Barrow got a job with a legislator in Hawaii on a project to reduce diabetes through diet. He started learning about the links among access to healthy food, sustainable agriculture and social justice, and he was hooked.
Barrow later moved back to Charleston and, in 2017, opened the doors to Lowcountry Street Grocery, a provider that he says was built on the "Robin Hood" business model, using profits from sales to those who have to provide discounts and a sliding scale for those who do not. As the website states, "LSG leverages the demand for healthy, high-quality local food, to directly address the need for the same for those that need it most."
Barrow is passionate about food equity and providing fresh food to those in so-called food deserts without access to healthy produce, but he also says he was determined to use a more resilient model than many nonprofits are allowed to use.
"Nonprofits are in a continuous funding cycle," he said. "I wanted to use standard business tools. Besides, a lot of nonprofits are forced to give away the secondhand produce; they hand out the old vegetables. It's disrespectful and can widen the food insecurity gap."
Barrow purchases fruit, vegetables and some pantry items from some 300 producers — nearly 200 of whom are farmers from South Carolina, North Carolina, Georgia or Florida. Some of those produce in such small quantities that most groceries wouldn't make space for them. LSG sells these items almost immediately so that even highly perishable items can be stocked.
A small number of food items come from farther away "because nobody's going to stop eating avocados," Barrow said, but those are clearly marked as "commodity" so purchasers know they aren't necessarily getting local produce.
Barrow began with a Kickstarter campaign to help fund a brightly colored 1988 school bus, affectionately named Nell and converted into a mobile grocery store with coolers and specials written on the bus windows. Customers ranged from folks looking for artisan vegetables to people using cards provided by the South Carolina Nutrition Assistance Program. Those who could paid full price for the food; the SNAP recipients were able to buy on a sliding price scale and also earned SNAP's Healthy Bucks in which they earned $10 for every $5 spent on healthy produce. Barrow partnered with religious and charitable organizations to make sure SNAP recipients knew of LSG, and many stopped by, having heard of it just from word of mouth.
The business was starting to grow, and Olivia Myers, Barrow's partner and a dietician, had begun to create a program with Fetter Healthcare called Grocery Rx that paired produce delivery with nutrition education. LSG had a modest Community Supported Grocery program, and the bus was becoming known in neighborhoods of all economic strata.
"We had some gang activity right outside of the bus once and we didn't feel uneasy. We were just part of the community," Barrow said.
Most of LSG's sales were done from the traveling bus, some through home deliveries with the community support program. That all changed with COVID, and the bus stopped rolling in February 2020.
"I knew there was no way we could continue in this cozy space," he said, looking around the bus, now parked at Lowcountry Grocery's West Ashley headquarters. Around the same time, an egg farmer who usually sold 45 dozen eggs to Lowcountry Grocery, dropped by with a handcart of 200 dozen eggs.
"I asked him what he was doing and he said he didn't have anywhere to sell those eggs. I was like, 'Oh right, the restaurants are closing' And then, this good old country boy sat down and started crying. Right then, we knew we were going to take the eggs and take as much as we could get from any farmer," Barrow said.
He and the employees, including Myers, met and decided to focus on growing the CSG portion of the business, which offers weekly deliveries of whatever the farmers and producers have in season. Fortunately, quarantined Charlestonians were ready for delivery of fresh produce.
"We went from 75 CSG customers in March to closer to 1,000 in May," Myers said. "We went from three full-time employees to 20, and we had to hire someone just to enter all the people on the waiting list."
Lowcountry Grocery outgrew its initial headquarters on Meeting Street and moved to Wappoo Road, where its is still expanding in partnership with Graham AME Church, which owns the property. A 120-square-foot storage container houses shelved pantry items, and a similar-sized cooling room holds the produce and dairy items. Packing and delivery staff check a whiteboard that has a delivery schedule, and different neighborhoods get their goods on different days. Purchasers can get anywhere from bags for one for $20 a week to the "locavore" bundle for $100 a week.
Food equity is still important, though, and CSG offers purchasers the option of adding on a donation of a weekly bag of food to SNAP recipients or donating their bag of food on weeks when they won't be needing a delivery. SNAP customers can use their benefits to pay for discounted bundles of any size.
A second side of the food equity triangle is the farmers, many with operations too small to keep up with the demand of a big box store. For them, like the egg farmer, a regular outlet for their crop has been a godsend.
Finally, the third side of the triangle is the consumer. LSG is trying to educate Charlestonians that vegetables are more than tomatoes and corn. Food has a season, and, Myers said, summer is actually a slow season.
"It's hot and humid and nothing grows," Barrow said. "It's exhausting."
A slow season means LSG has to get creative; one bundle has popcorn from Anson Mills because the harvest is lean in the summer. Some vegetables that seem "exotic" are things that grew here long before the commodity vegetables so many are used to. Many of the delivered bundles come with recipes or notes that help educate consumers about what to do with that strange-looking squash they just got handed, or tips about how to store the produce.
"We got some prickly pear once. It's a cactus fruit. We had to tell our customers, 'Bear with us now and wear gloves, because of the prickles.' But it makes a delicious cocktail!"
Barrow said he misses the days of rolling through Charleston, and he hopes Nell can ride again in the fall after an initial onsite opening at LSG headquarters. But even if a COVID variant shuts the city down again, Barrow said LSG is going to keep rolling, even if Nell can't.