Salmon Church Holds International Food Fair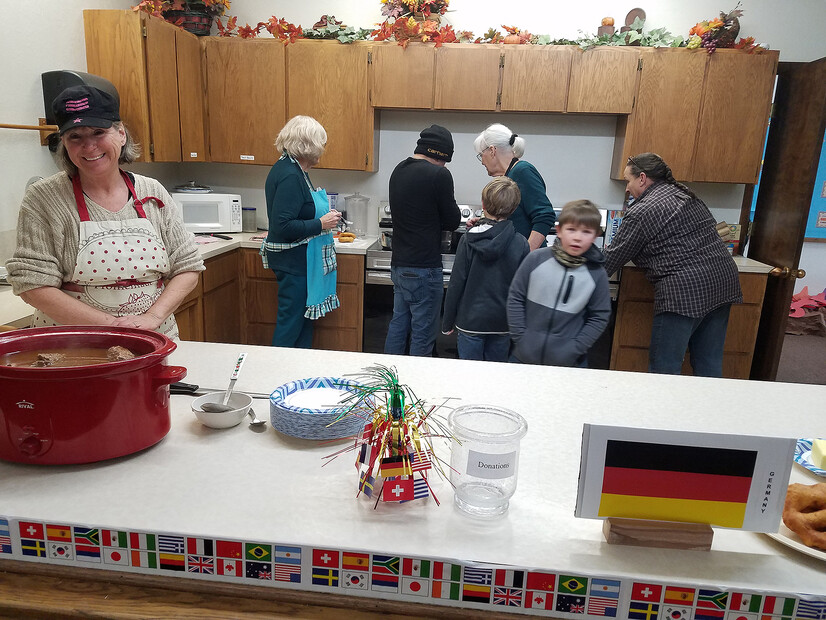 Next >
The Salmon Church in Idaho held an International Food Fair in their school gymnasium on Jan. 16. The entire Salmon community was invited to join the event.
Guests were welcomed at the doors and directed to the food. Entering the gym, they were greeted by a welcome sign and flags of the world hanging on the walls. Tables were spaced around the gym, each with a flag representing the country from which their food originated. Guests were seated at tables decorated by the school children. Flag runners stretched down the center of each table, lined with place mats made from open napkins decorated to resemble a variety of world flags.
International Food Fair featured chefs were church members and community volunteers, each representing 10 different countries.
There was Ukrainian borscht (beet soup) served with a squirt of whipped cream prepared by Tom Lighthall, Salmon Church pastor. His wife, Boots, along with Marie Worthe, represented Ireland with corned beef, cabbage and vegetables. Cooking for the Mexican table were Jakki Huston, Sharon Clark, Pegi Whitley, Linda Churches and Marie Davis. They offered a variety of enchiladas, burritos, chips and salsa. 
Germany's booth was represented by Dealia and Dera Hamilton and Linda Davis. They offered a unique dish called beef rouladen — beef wrapped around a pickle and simmered in a sauce. They also served a delicious German fry-bread known as grable, to some, and dough gods, to others.
The Italian table, operated by Mary Rose Blakely, featured lasagna. Cooking for the Chinese station were Polly Barton and Betty Axtell. They had fried rice, orange chicken, spring rolls and lo mein.
Another special table offered several foods from the Philippines prepared by Charity White and Jerry Wycoff. They served suman, made of sweet rice, ginger, salt, sugar and coconut milk wrapped in banana leaves. Their second dish was arroz valenciana, made of sweet rice, jasmine rice, chicken, beef sausage, coconut milk, green peas and red pepper. Pancit Canton was their third offering made of noodles, chicken and vegetables. And finally, guests could choose their chicken barbecue or beef teriyaki skewers. 
France's specialty was ratatouille served with or without rice and prepared by Babette Acker. She also had miniature cream puffs. Representing India were Diane Bailey and Lisa Whitman who made curried carrot soup and Indian desserts, ladoo and cucumber bundt cake. The American cuisine featured a variety of cupcakes by Gay Joers and a Dutch Oven dump cake with apple pie filling and spice cake prepared by Gary Goodman.
The International Food Fair was held as a fund-raiser for the Adventist parsonage. According to comments received by over 100 guests, the event was a resounding success. Many asked if the church was going to hold another food fair because they enjoyed this one so much.