The 10 Best Summer Appetizer Recipes Every Gathering Needs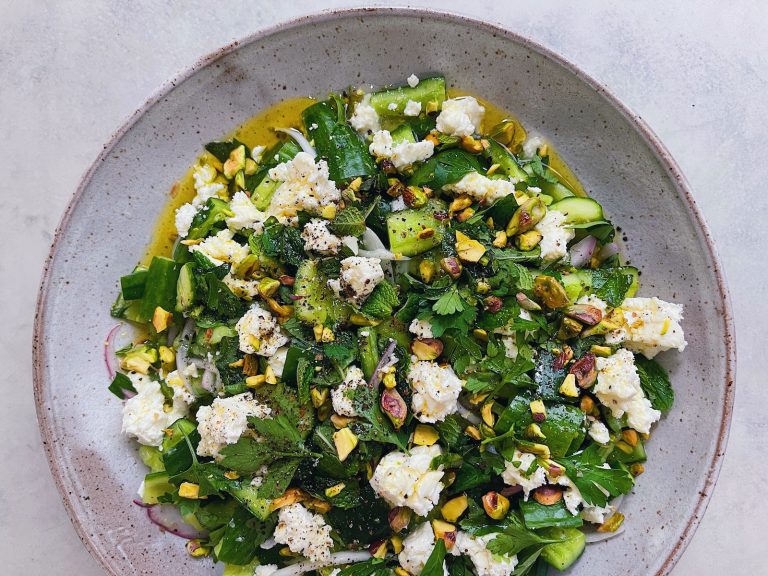 In putting together this list of the *best-ever* summer appetizer recipes, two key guardrails guided my selections. The dishes that made the cut had to 1) reflect the season's gorgeous vibrant hues and 2) be filled with summer flavor. I'm talking about herby dips, crisp, crunchy, and colorful salads, and light but satisfying finger food. Of course, I'm all about easy prep and make-ahead recipes, too. Essentially, the following 10 picks had to be nothing short of perfection… and delicious perfection they definitely are.
From salads to spring rolls to veggie-packed nachos (yes, really), the following summer appetizer recipes are just the thing to whet your palate before the main course is served. Of course, I wouldn't blame you if you fill up on these bites and delights. They're that good.
Feature image by Alison Wu.
White Bean & Raddichio Salad
Why We Love It: It's a hot debate, but I sit squarely on the side of yes, salads do count as an appetizer. Unless you're French or eat as the French do, salads often precede the meal, and the definition of "appetizer," after all, is a small dish meant to stimulate the appetite.
OK, time to get off my technical high horse—in short, this salad is nothing short of mind-blowing. Let it kick off the meal or enjoy this salad alongside grilled meat or fish. However it's served, light summer goodness awaits.
Hero Ingredient: A staple in Italian cuisine, radicchio is the star of the show. It's bitter, spicy, and the perfect contrast to the sharp Parmigiano Reggiano and creamy cannellini beans.
Get the recipe for White Bean & Raddichio Salad.
Ultimate Loaded Nachos from Love & Lemons
Why We Love It: It took me a while to come around to the concept of nachos. You either get a soggy, topping-laden chip from the middle or select from the side and you're left with nothing more than a smidge of queso. But this recipe offers the pro tip of distributing and layering the fixings evenly throughout your pile of chips—forever changing the nacho game.
Hero Ingredient: Shiitake Taco Meat? Vegans, vegetarians, and meat-eaters alike are swooning everywhere.
Get the recipe for Ultimate Loaded Nachos.
Artichoke & Spring Pea Crostini
Why We Love It: These crostini ask for nothing more than 15 minutes of your time. Broil your baguette slices and blend up your pesto components in the food processor. Assemble. Enjoy. The good news too, is that once you've served up your crostini for a crowd, any of the pea pesto leftovers pair perfectly with crisp summer crudités or are delicious spread on a veggie-lover's sandwich. TL;DR: The pea pesto possibilities are endless.
Hero Ingredient: A garnish of artichoke leaves? Genius.
Get the recipe for Artichoke & Spring Pea Crostini.
Vegan Jalapeño Poppers from Minimalist Baker
Why We Love It: Perhaps polarizing, but I'll say it anyway: It takes a lot for me to love a jalapeño popper. I can get down with a lotta heat and can't get enough of a creamy, cheese-filled bite. But when an order of poppers comes to the table, the presentation and pairing leave me underwhelmed. BUT, take a vegan approach, and the cashews and nutritional yeast yield a filling that pays your culinary efforts back ten-fold.
Hero Ingredient: Is it me, or is cumin one of the most underrated spices in the game? This recipe will make you fall in love.
Get the recipe for Vegan Jalapeño Poppers.
Lemony White Bean Dip from Rainbow Plant Life.
Why We Love It: Tired of your go-to hummus but still craving a creamy dip? Here's your answer. While there are plenty of recipes that do the flavor combo of lemons, white beans, and garlic justice, this one takes things to the next level. Also important to note: 10 ingredients and make-ahead.
Hero Ingredient: Pine nuts are good on their own. But toasted? Golden brown goodness.
Get the recipe for Lemony White Bean Dip.
Charlie Bird Farro Salad
Why We Love It: Grain salads come and go, but farro is forever. Truly, its nutty flavor gives heft and body to an otherwise green salad. Recipe creator Jessie De Lowe loves incorporating any fresh finds from the farmer's market, and this version makes the most of crunchy radishes and sun-ripened tomatoes.
Hero Ingredient: Mild but packing a crunchy punch (and salty if you'd like), pistachios are my #1 salad ingredient.
Get the recipe for Charlie Bird Farro Salad.
Smashed Cucumber Salad With Feta + Pistachio from Alison Wu
Why We Love It: Don't believe what you've heard, folks—it actually is easy being green. Case in point, this dream of a salad. Take a tip from recipe creator-extraordinaire, Alison Wu: "Smashing the cucumbers cracks the skin, helps release the water and the seeds, and splits the flesh into perfect bite-size pieces." So next time you set out to slice your cukes, try this method instead.
Hero Ingredient: I've never met a block of salty feta that I didn't fall fork-over-knife for.
Get the recipe for Smashed Cucumber Salad With Feta + Pistachio.
Edible Flower Spring Rolls from Live Eat Learn
Why We Love It: Moment of appreciation for this awe-inspiring work of art. The garden vibes and eat-the-rainbow aesthetic makes these spring rolls a must-eat in my book—and a must-make for every party from now until Labor Day.
Hero Ingredient: An array of edible flowers makes for a beyond-impressive presentation.
Get the recipe for Edible Flower Spring Rolls.
Bruschetta With Slow-Roasted Tomatoes and Ricotta
Why We Love It: When Camille first came out with this recipe, I knew my cravings for a no-recipe recipe were finally satisfied. Sweet, slow-roasted tomatoes and creamy ricotta sit atop toasted slices of sourdough (a personal fave). In other words, layer upon layer of summery goodness.
Hero Ingredient: A generous dusting of flaky salt balances all the flavors beautifully.
Get the recipe for Bruschetta With Slow-Roasted Tomatoes and Ricotta.
Blistered Shishito Peppers from Cookie + Kate
Why We Love It: Every time I dive into a plate of pan-fried shishito peppers, my long-dormant affinity for risk is activated. What do I mean? Nine out of ten shishitos have a mild, almost sweet flavor, while the remaining 10% will make your mouth burn. Don't worry though, you can always compensate with a little aioli.
Hero Ingredient: Essentially a one-ingredient dish, shishitos are the answer.
Get the recipe for Blistered Shishito Peppers.