These 10 spots have some of the best appetizers in Utah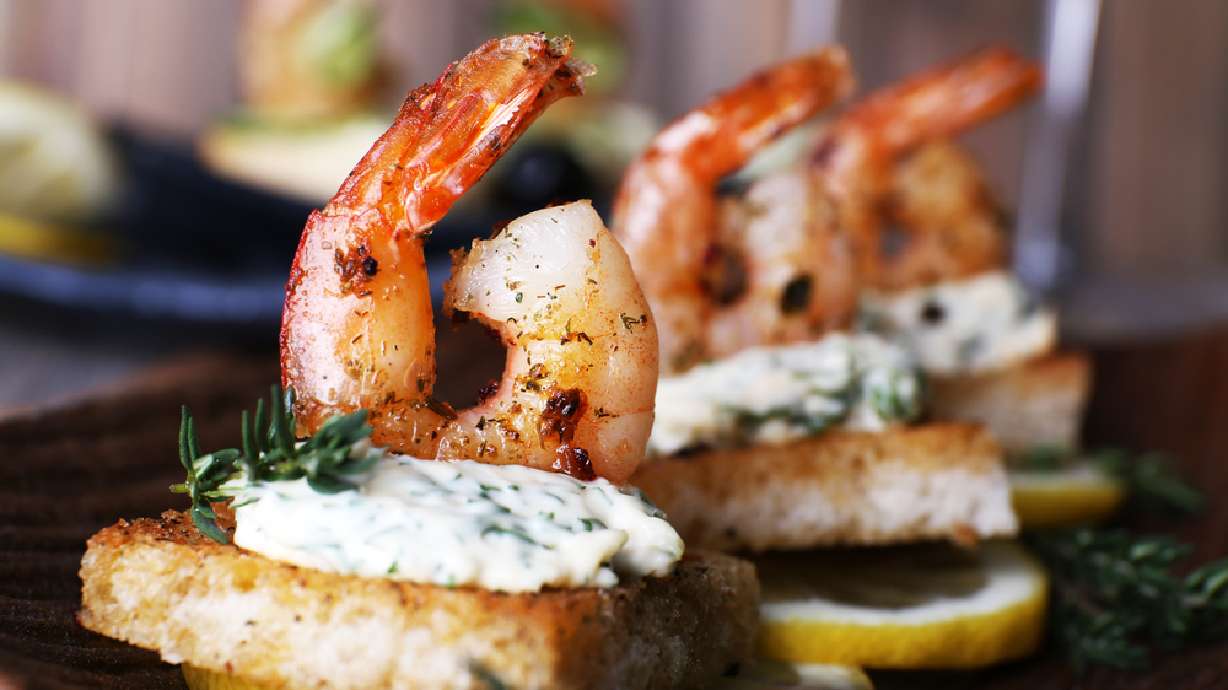 Estimated read time: 6-7 minutes
Warning: This article is bound to whet your appetite.
When you're ravenous at a restaurant and need something to tide you over until the main dish arrives, a good appetizer does the trick nicely. (Think: freshly baked bread, crispy onion rings, saucy chicken wings, chips and salsa. Are you hungry yet?)
Apart from staving off hunger, appetizers also expand your dining experience by allowing you to sample a wider variety of food. Sometimes they even steal the show from the entrees! If you'd like to try a few small plates and snacks that fall under that last category, there are plenty of devourable options on the list below. And if your stomach isn't growling yet, it soon will.
Eva
If you're someone who prefers to make a meal out of appetizers and smaller plates, then Eva is the restaurant for you! Located in downtown Salt Lake, Eva is a popular option for those who like to sample a variety of small dishes. According to the reviews, you really can't go wrong with anything on the menu. Try the "Oink, Oink, Oink" (pork rolled in bacon), or indulge in the creamy spinach and potato gnocchi. And don't skip the shaved brussels sprouts!
"We had five different plates (and) each was creative and delicious. Eva's did not disappoint and definitely is a hidden jewel in the middle of downtown Salt Lake City," writes one Tripadvisor reviewer.
The Bayou
With over 3,000 Google reviews and a 4.6-star average rating, The Bayou's Cajun-inspired restaurant in downtown Salt Lake is a hit for many reasons. The appetizers are just one of them!
Patrons say the cajun seafood balls are a must, but you might also be tempted by the intriguingly-named alligator cheesecake.
Garage on Beck
If you don't know what funeral potatoes are, you haven't lived in Utah long enough. And if you haven't tried the Fried Mormon Funeral Potatoes at the Garage on Beck, you haven't lived. (The restaurant promises that these alone are worth a visit.)
Made with Idaho potatoes, cheddar cheese, jalapeños, bacon, scallions, and a cornflake crust, these funeral potatoes are to die for (pardon the pun). You can order them three ways: regular, fiery, or vegetarian. They're also served with Utah ranch dressing to top them off.
Bambara
Another downtown favorite, Bambara's critically-acclaimed fine dining includes several tasty small plates to get your mouth watering. The roasted red pepper bisque and tuna tartare are sure to satisfy your tastebuds, and you don't want to miss the blue cheese house-cut potato chips.
"This place never disappoints! The food is always impeccable and the service is excellent! I dream about the potato chip appetizer! So decadent! Highly recommend," said one Tripadvisor review.
Crown Burgers
Crown Burgers has long been a local favorite, but it's not just the burgers drawing a crowd. According to a poll KSL conducted in 2016, Crown Burgers can also boast about having the best onion rings in town. With 35% of the votes out of 10 options listed, it blew the competition away. (The next closest was Red Rock Brewing Company with 13% of the votes.)
One Tripadvisor reviewer raves, "Crispy coating embraces juicy rings of onions. I've sampled onion rings around the country and none beat these. Especially with fry sauce!"
Lucky 13 Bar and Grill
It would be a crime to leave the best fries off the list, and there are some serious contenders throughout the state for this one. But it's hard to beat the baskets of cajun and rosemary-garlic fries at Lucky 13 Bar and Grill. Be warned, however — the garlic fries are sure to take your breath away.
"The food at Lucky 13 in Salt Lake City, Utah was super fantastic. We came for the famous hamburgers and we were totally impressed and taken by surprise by their French fries. The Cajun fries and the rosemary garlic fries were unexpected treats. We are big fans of these French fries," said one Google reviewer.
Oak Wood Fire Kitchen
Sometimes appetizers steal the show from the main course, and that definitely seems to be the case at Oak Wood Fire Kitchen in Draper. If you're a cheese lover, you have to try the baked goat cheese and fried cheese curds. The reviews on Yelp consistently describe these as "amazing" and "to die for."
The Painted Pony
For a "touch of Southwestern class and intriguing flavors." take a trip down south to St. George and try the fancy appetizers at The Painted Pony. You can order a variety of small plates, including sage smoked quail, potato trout cakes, baked brie, and bacon-wrapped stuffed dates.
One Yelp reviewer said, "Oh. My. Goodness. I have had bacon-wrapped dates many times but these were the best I've ever had. I wanted more!"
Bombay House
When it comes to Indian food, you simply can't do better than Bombay House, with locations in Salt Lake, West Jordan, and Provo. While the main dishes are phenomenal, you're missing out if you skip over the appetizers. The vegetable samosas, chicken pakora, and onion bhaji are some of the best things you'll ever eat. And even though it's not listed as an appetizer, be sure to order some of their famous naan bread! You won't be disappointed.
The Dodo Restaurant
The Dodo Restaurant in Sugar House offers plenty of delectable options on their menu. But the biggest hit can be summed up in three words: baked cream cheese. Marinated in soy sauce and breaded with toasted sesame seeds, the baked cream cheese comes with crackers, apples, and Asian pear slices. It tastes so good, you'll probably try to replicate it at home. (Good luck.)
Don't despair if your favorite dish and/or restaurant didn't make the list. It's simply impossible to feature all of the amazing food in the Beehive State. And if you haven't tried any of the favorites mentioned, now you've got something to do the next time you are bored.
×
More stories you may be interested in