This 2-Step Cold Brew Kit Saves Me $35 a Week on Coffee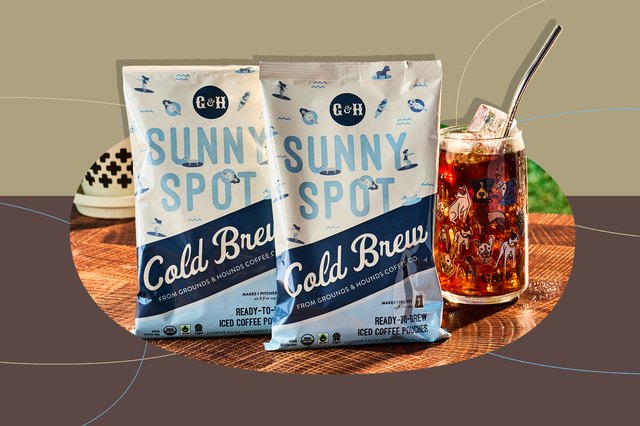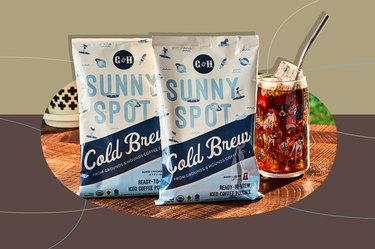 Like 70 percent of Americans, I love my coffee. But I go through phases: I either drink it every day for a week straight or go without a cup for a stretch of time. When I do drink coffee, I tend to treat it as, well, a treat. Plus, a $6 cold brew is only a third of the price of a cocktail in NYC (solid justification, I know).
But spending so much every day when I'm in my java phase isn't very sustainable — and inflation isn't helping. So when I discovered Grounds & Hounds Sunny Spot Cold Brew Pouches, I knew I had to try them.
They're basically these big pouches of coffee that you drop into a pitcher with water, let them do their thing overnight and then, voila, you have delicious cold brew for days!
I've never made cold brew at home before trying this kit, mostly because I had no idea how to. This kit takes the guesswork out of making cold coffee at home — no cheesecloth and straining required — and it really rivals my local coffee shop's overpriced offerings. It's super smooth (read: not acidic or bitter at all) and bold. I usually have a cup around 11 a.m. and it keeps me energized without feeling too jittery.
And we didn't even get to the best parts yet: The coffee is Fairtrade, and Grounds & Hounds donates 20 percent of its profits to dog rescue organizations to give shelter pups a second chance at life.
With this cold brew kit, I can make 14 cups of coffee for $13, which saves me around $35 a week, or about $5 a cup. Consider me sold.
Each box comes with two bags, each with two ready-to-brew pouches. In total, you get four pouches in a box, which is enough to make two pitchers of cold brew coffee.
The instructions note to drop two pouches (or one bag's worth) into a pitcher filled with 4 cups of water. But because I didn't have a large-enough pitcher, I decided to use a 12-ounce Mason jar and halve the recipe.
Here's how to make a full pitcher of cold brew (about 7 cups of coffee) — this process requires just two active steps:
Cold brew pouches

Pitcher or large Mason jar

Water
Put two coffee filter packs (one bag's worth) and 4 cups of cold water into a pitcher.
Steep it in the fridge overnight, or for 8 to 12 hours. The stronger you like your brew, the longer you should steep it.
When it's finished steeping, throw out the coffee pouches and add 2 to 3 cups of water to dilute to taste.
You can store the cold brew in the fridge for up to a week.
Tip
You can half the recipe and make 3 to 4 cups of coffee by adding just one coffee filter pack into a pitcher with 2 cups of water, and then diluting with 1 to 2 cups of water after it's steeped. I diluted my cold brew with only 1 cup of water because I like it on the stronger side.
The morning my cold brew was ready, I filled a glass with ice, poured in the coffee and topped it off with a splash of oat milk. Sometimes I switch it up and use half-and-half instead and sprinkle a bit of vanilla powder on top.
I think it's safe to say my barista misses me already.