Three Keys Coffee Hits the Sweet Notes in HoustonDaily Coffee News by Roast Magazine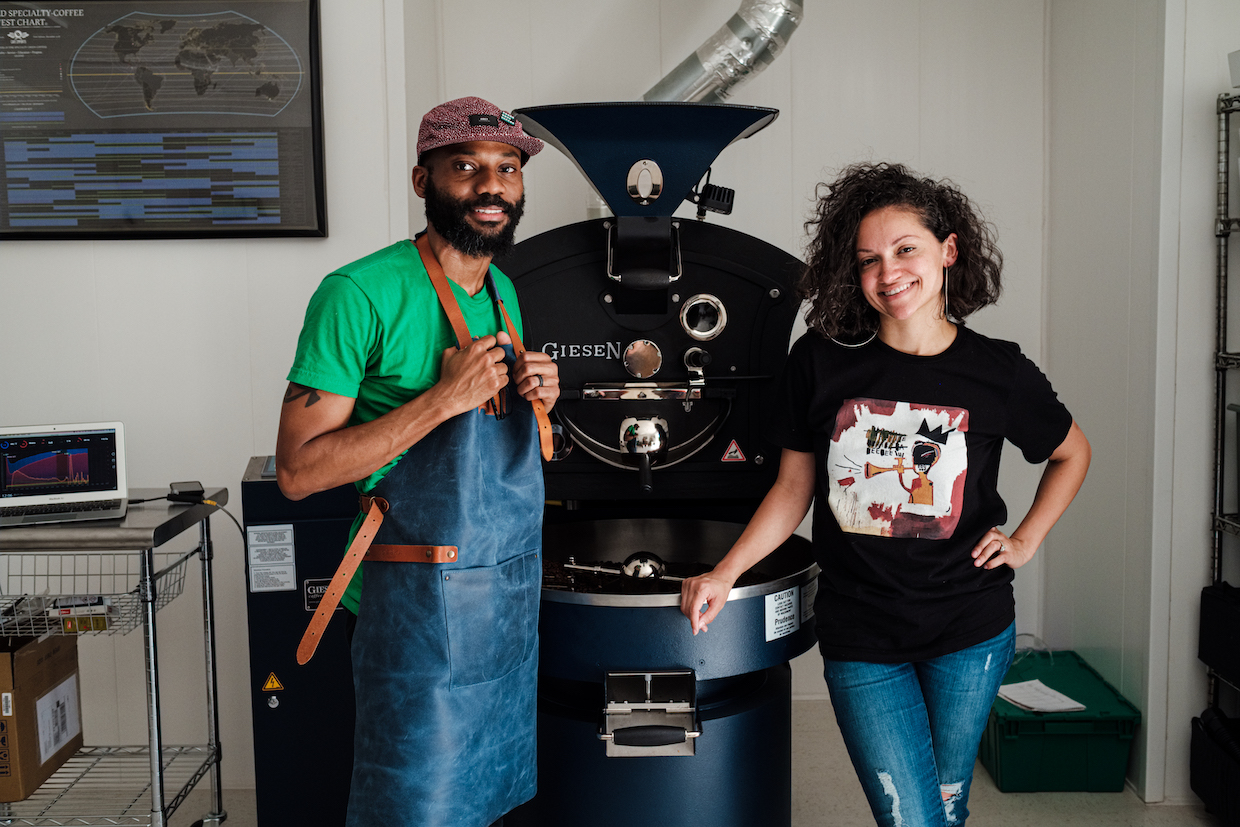 With a 6-kilo-capacity Giesen W6A roaster as its instrument, roasting company Three Keys Coffee is providing a welcome dose of musicality to the Houston coffee scene.
"We try to imagine what if Dizzy Gillespie or Miles Davis or John Coltrane roasted coffee; what flavors and feelings would we want to come through when our coffee is brewed and consumed?" Three Keys Co-Founder Kenzel Fallen recently told Daily Coffee News. "Frequently when evaluating a roast profile, we measure how well it aligns with the name — which is usually musically oriented — and the playlist that corresponds to it."
To date, Q Graders, jazz lovers and Three Keys Co-Founders Kenzel and Tio Fallen have roasted more than 10,000 pounds of coffee in a 250-square-foot portion of a second-floor commercial kitchen at a church in Midtown Houston.
Green coffees for the Black-owned business are sourced by way of nearly a dozen different import companies — including Mighty Peace Coffee, Sucafina and Catalyst Trade — with an emphasis on those that specialize in specific countries and regions.
"Quality is paramount, very closely followed by the traceability to the producer, ensuring there is positive impact and a sustainable chain in the journey from the farm to our roastery," Kenzel Fallen said. "Lately, in order to reduce our carbon footprint, we've been seeking to deepen relationships with importers who store at the Houston [Dupuy] coffee warehouse."
Once roasted, Three Keys bags the beans with artwork that further references jazz classics.
"Some of our product labels are direct inspirations from the Reid Miles Blue Note album art era," said Fallen. "This is very much intentional. We are grateful to have worked with a design firm, Field of Study Design, in our early stages. They were able to masterfully translate our vision of jazz art-inspired product imaging into our company branding."
---
Related Reading
---
For example, packaging for Three Keys' Quartet blended, Kenya Double A Train single-origin and Brazil Bossa Nova single-origin coffees all feature vertical lines that nod to the 1962 album "Hub-Tones" by trumpeter Freddie Hubbard.
In addition to the visual reference conveyed by each package, the brand provides recommended listening for each coffee. For the Bossa Nova, it's "Manteca" by Duke Ellington.
Visitors to the company website can also find the Three Keys Coffee Jazz + Coffee "Notes" Wheel, a re-conceptualized specialty coffee flavor wheel that maps out the company's synesthetic commingling of flavors and sounds.
While the faces of creative leadership throughout the history of the jazz have been predominantly Black, the same certainly cannot be said for leaders in the specialty coffee industry. The Fallens hope Three Keys can help play a role in reshaping that imbalance.
"It's definitely trending in a positive direction," Fallen said. "I have also been pleased with the ways in which companies and large players in the space are making deliberate efforts to empower the Black community within coffee."
Another important parallel between jazz and coffee has to do with access and venues. As Black people haven't always been welcomed into the places where jazz has been performed, Fallen sees a similar shortcoming in many of today's coffee houses, where coffees produced by Black and brown people are predominantly consumed by white audiences.
"I think there's still a lot of work to do in terms of welcoming more Black and brown customers into specialty coffee," Fallen emphasized. "For example, many people in Black and brown communities enjoy dark roasts, which come with a bit of a stigma in certain specialty circles. The more welcoming we can be to a wider spectrum of what 'good' coffee can be, the more we can include those from traditionally underrepresented groups."
Since 2019, the married business partners have juggled the steady growth of Three Keys with the growth of their family, most recently including a third baby boy this past December. They also both continue to hold outside jobs: Tio as a mechanical engineer in the energy industry, and Kenzel in corporate banking risk management.
The Fallens are planning to expand Three Keys into a new 1,800-square-foot space where a new 15-kilo Giesen machine will be uncrated, pending city approvals that have dragged on like a broken record.
"We have so many ideas and plans in store once our physical space can be opened up, but we'll remain tight-lipped on those until we can execute them," said Kenzel Fallen. "Wouldn't want to jinx it."
---
Does your coffee business have news to share? Let DCN's editors know here. 
Howard Bryman
Howard Bryman is the associate editor of Daily Coffee News by Roast Magazine. He is based in Portland, Oregon.