Three Ships Coffee Drops Second Anchor with Roastery Cafe in Virginia BeachDaily Coffee News by Roast Magazine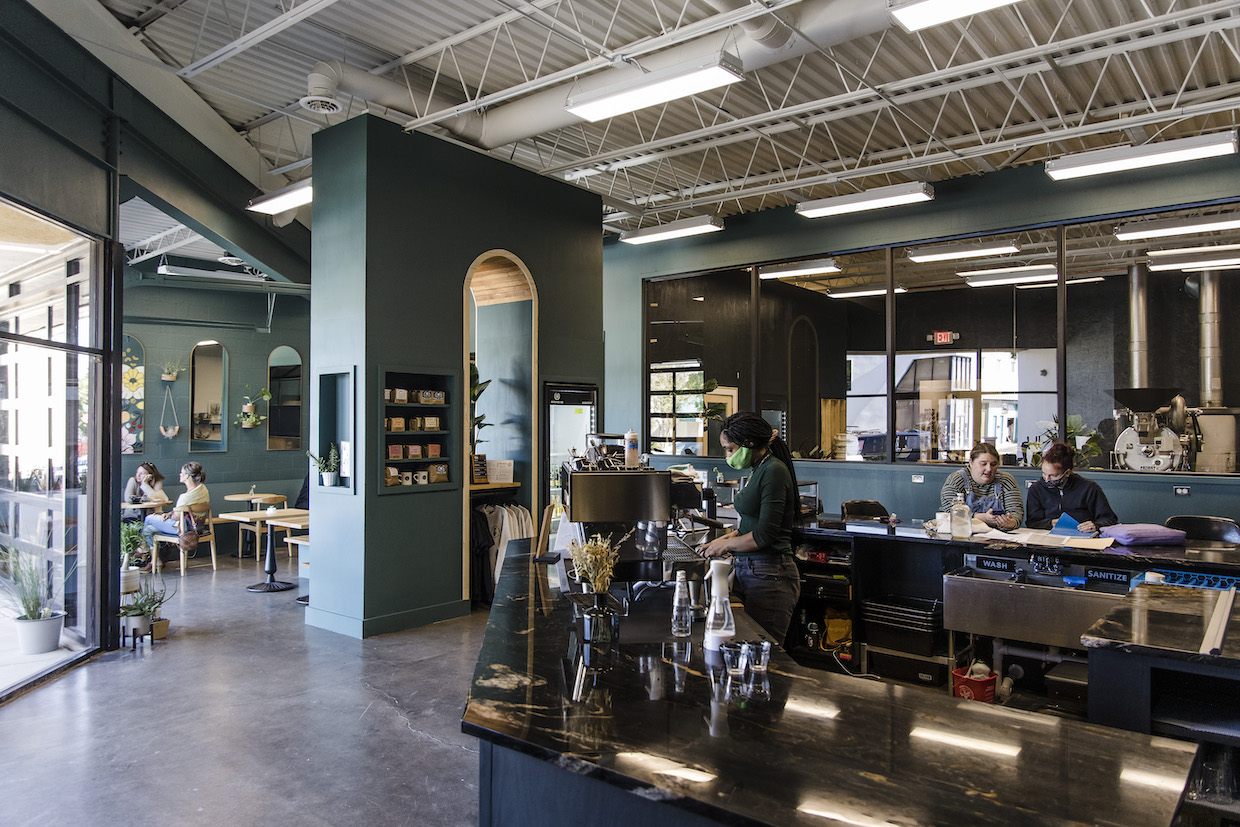 The specialty coffee surge in Virginia Beach, Virginia, is gaining strength with the latest opening of Three Ships Coffee, the homegrown company that just opened a splashy second cafe at its relocated roastery.
Three Ships Co-Founder Brad Ewing told Daily Coffee News the 4,700-square-foot location in the North Virginia Beach Hilltop retail district is split roughly into thirds between the retail cafe, the roastery and a temperature-controlled green coffee storage area.
In the production space alongside the company's original Diedrich IR12, a vintage restored 1954 Probat UG22 is also now moored. Ewing has had eyes on the classic model since touring the Handsome Coffee roastery cafe years ago in Los Angeles.
"That has always stuck in my mind as an iconic cafe/roasting facility," said Ewing, who has also coveted the restored UG22 roasters used by two of his favorite coffee companies: Portland, Oregon's Heart Roasters and Oslo, Norway's Tim Wendelboe.
Three Ships also kept Handsome in mind in designing its new location, where head roaster Amy Ewing's work on the Probat and Diedrich is visible behind the main bar through large windows. An interior glass panel garage door also offers the public a view of the cupping lab.
Upon the cosmic black granite bar stands a matte black powder-coated La Marzocco Linea machine that was rebuilt by Brad Ewing and his electrical engineer father to include Linea PB parts and features. The Ewings' kids, ages 5 and 8, are credited with creating the blend of paint that resulted in the soothing blue-green shade found on walls throughout the facility — a shade the family has dubbed Stormy Sea.
---
Related Reading
---
"The space is huge… It was like a playground for these kids during the pandemic, up until it became a coffee roasting facility and now a cafe," said Brad Ewing. "They were breathing the life into the space with their drawing and painting."
Though their doodles are gone, a mural of colorful flowers and fruits evocative of  flavor notes of coffee and tea remains.
"We're going to be running a tea program here that's pretty special," Brad Ewing said. "Rotating vendors, so that we can get really refined, exceptional single-varietal tea. We've always done that at the other store, but we're bringing it to the forefront in this space and putting it in alignment with our pourover service; something exciting and different."
Formerly home to the roastery, the initial 2,000-square-foot Three Ships Virginia Beach cafe on 19th St. has also been remodeled, and a reopening took place in March. A third Three Ships cafe is also currently under construction in the neighboring city of Norfolk. That one is expected to open early next year, and will likely be the final dropping of the anchor for Three Ships.
"It's the magic number," said Ewing, whose family became a party of three in the company's first year, and whose father, a former professional race car driver, drove a number three car. "For me, it represents balance. I think that as a family, balance is our goal, and I think we will have an imbalance if we try to go past that."
---
Three Ships Coffee Hilltop Location is open now at 612 Jack Rabbit Road in Virginia Beach. Tell us about your new coffee shop or roastery here.
Howard Bryman
Howard Bryman is the associate editor of Daily Coffee News by Roast Magazine. He is based in Portland, Oregon.