Tuffy's Table: Three easy cold brew coffee recipes | Lifestyle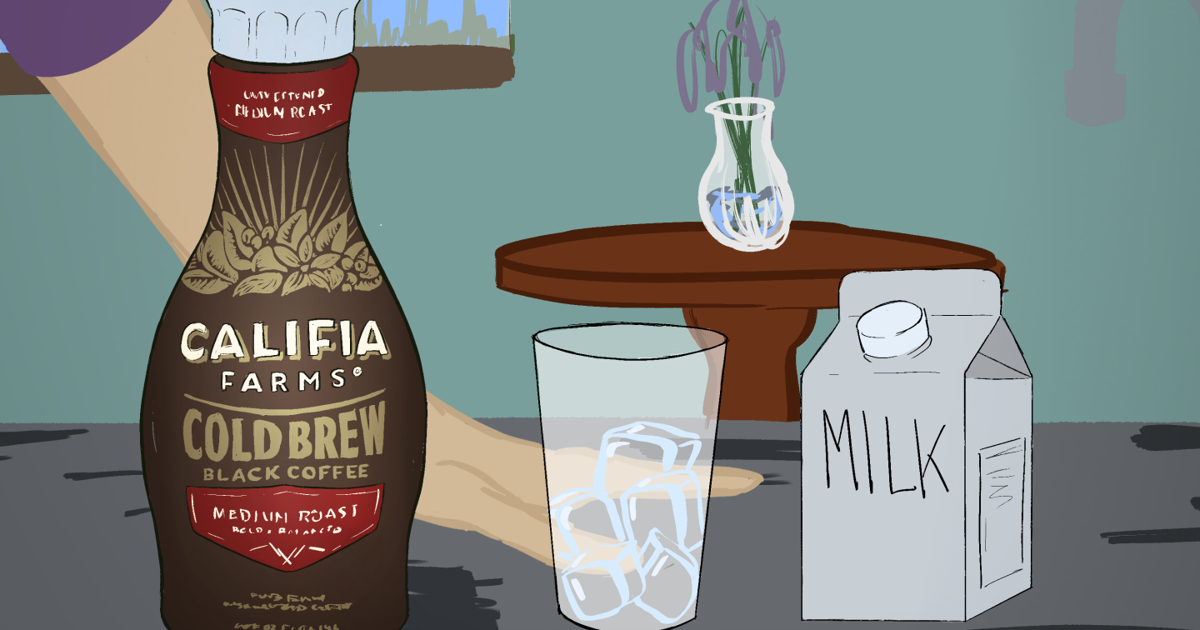 Developing a go-to cold brew coffee that you can make from home is pretty simple. It's even easier when you purchase pre-packaged cold brew. With the following coffee concoctions any pre-made cold brew can be used, but I recommend Califia Farms cold brew, which can be found at Target. Try out these recipes and you're bound to find something that will make your taste buds happy. 
What's the difference between cold brew and iced coffee?
Though cold brew and iced coffee are both caffeinated, the main difference is how they're prepared. Iced coffee is regularly brewed and then served over ice, while cold brew takes longer to make.
To make cold brew, coarse-ground coffee is steeped in cold water for a minimum of 12 hours. The coffee will get stronger the longer it sits. The grounds are filtered out after it's done steeping, leaving a coffee-concentrate to mix with ingredients, like milk. In the end, it's usually not as acidic and bitter as iced coffee. 
The amount of time and patience it takes to make cold brew is what makes it delicious and popular. 
Honey cinnamon iced latte 
If you're someone who prefers sweeter coffee, this one's for you. This recipe includes a honey cinnamon simple syrup that's perfect for hot or cold coffee.
Time: 10 minutes
Ingredients:
Instructions:
To make the simple syrup, combine the water, honey and cinnamon sticks into a small saucepan. 

Heat at medium-high and frequently stir until the honey is completely dissolved into the water. 

When the mixture comes to a boil, turn the heat down and let it simmer for five minutes. Remove from the heat and stir in the vanilla extract.

Let the mixture completely cool, then take the cinnamon sticks out.
Pour ¾ cup of cold brew over ice in a glass, add ¼ cup of milk and 1 tablespoon  simple syrup.
      5.  Mix and combine.
Sprinkle cinnamon on top. 

Serve immediately. 
Cold brew latte
This cold brew latte is refreshing, strong and made for anyone who wants something quick and simple. It's made with an equal amount of cold brew and frothed milk.
Time: 5 minutes
Ingredients:
Instructions:
Froth your milk and create cold foam.

Fill a tall glass halfway with ice cubes and pour the cold brew.

If desired, add a sweetener.

Pour the cold foam on top.
Vanilla sweet cream cold brew
This recipe leaves you with the perfect amount of sweetness, ensuring the coffee taste is not lost. Surely, you'll appreciate this perfect balance.
Time: 15 minutes
Ingredients:
Instructions:
To make the vanilla sweet cream, use a butter knife to scrape out the paste from ½ a vanilla bean. 

Place the cream, milk, vanilla bean paste, simple syrup and salt into a mason jar. 

Cover the jar and shake until the ingredients are combined. 

In order to make the vanilla sweet cream into foam, use a frother for 15-30 seconds until foamy.

Fill a glass with ice and Pour 1 cup of cold brew coffee.

Pour ¼ cup of the vanilla sweet cream on top of the cold brew and use a tall stirring spoon to combine the cold brew and sweet cream.

Serve immediately.
Store extra sweet cream in an airtight container and place it in the fridge, where it'll last up to three days. Start with less simple syrup and add more as you see fit.