Vegan Fast-Food Chains Are Spreading Nationwide. Can McDonald's Keep Up?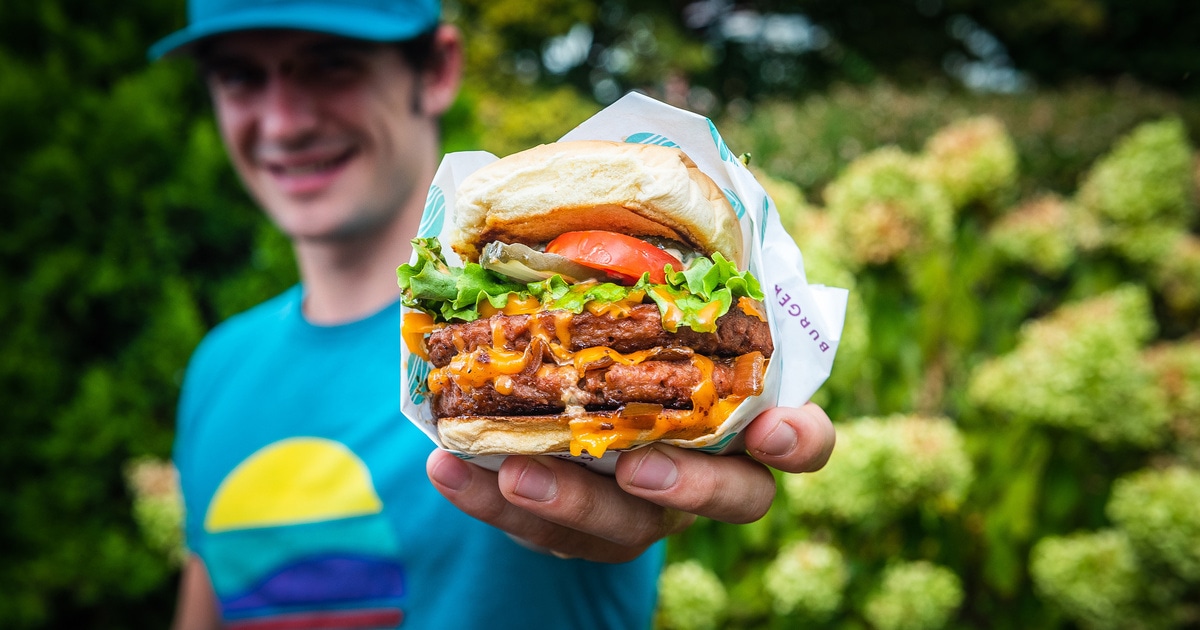 America's fast-food industry is undergoing a plant-based transformation and only those who adapt will survive. Led primarily by McDonald's, the proliferation of fast-food in the 1950's set a standard for how most Americans have eaten ever since: fast and cheap. Now, with concerns mounting around public health and a growing awareness of the large role of animal agriculture in the climate crisis, many consumers are turning to a new crop of fast-food chains.
Vegan fast-food chains have been around as niche concepts for some time in the US, with California-based Veggie Grill being one of the first to pioneer the way with its flagship location in Irvine, CA in 2006. Now, the chain's competition is growing every day with new entrants from coast-to-coast. This month, two such competitors, Next Level Burger (NLB) and PLNT Burger, have announced aggressive expansion plans supported by ever-growing demand for plant-based fast food.
Both concepts coincidentally operate their locations inside Whole Foods Markets, with Oregon-based NLB on the West Coast and celebrity chef-owned PLNT Burger on the East Coast. This year, both NLB and PLNT Burger are opening locations outside of their respective Whole Foods partnerships, ushering in an era when vegan fast-food chains lose their training wheels. 
Next Level Burger: a new kind of fast-food chain
In 2014, when Matthew and Cierra de Gruyter had the idea of starting a plant-based and organic fast-food business, competition was nearly non-existent. The couple opened the first location of NLB in Bend, OR to share the benefits of eating organic, plant-based, and health-promoting foods with their community all the while appending the model of what a fast-food restaurant could be. 
NLB's plant-based burgers can be made with either Beyond Burger or house-made vegan beef patties, slices of gooey vegan cheese, tempeh bacon, and all the fixin's. The menu also features all the other classic aspects of American fast-food, including fries, shakes, and kids meals. The only thing missing here is animal products. "'Vegan' used to be a word that broke up a dinner party," Matt de Gruyter told VegNews. "But we knew that [people] couldn't keep eating factory-farmed animals forever." 
In 2017, the chain struck an expansion deal with Whole Foods Market and has since opened locations inside the grocery store in California, Washington, New York, and Texas. After weathering the pandemic without closing a single location, NLB is striking out on an aggressive national expansion, starting with its first stand-alone location slated to open in the coming months. Matt de Grutyer's ultimate goal is to open 1,000 or more NLB outposts in the coming years to "craft a future that we can all thrive in."
And that future has to be much less reliant on animal products. All climate research points to animal agriculture, specifically beef production, as the most environmentally destructive sector of the global food industry. In a 2021 study published in scientific journal Nature Food, raising cows, pigs, chickens, and other animals for food, as well as growing plants used to feed farmed animals bound for slaughter, is responsible for the vast majority (59 percent) of all food production emissions. 
Growing climate anxiety combined with mounting research that consuming animal products is linked to a variety of health issues, is pushing more people to choose plant-based fast-food and Matt de Gruyter thinks this shift is reaching a point of no return. "Ignorance is only bliss until it kills you," he said. "You can't unknow this stuff. You can't just bite back into that Mikey Dee's (McDonald's) like you don't know." 
East Coast chain PLNT Burger is growing, too
On the other coast, celebrity chef Spike Mendelsohn—an alum of Bravo's Top Chef—is getting ready for his own aggressive expansion of his plant-based burger shop PLNT Burger, the first location of which he opened inside of Whole Foods Market in Silver Springs, MD in 2019. Since then (and in the midst of a global pandemic), PLNT Burger has expanded to nine in-store locations in the mid-Atlantic region.
While Mendelsohn owns a number of popular (and not vegan) concepts, he first got the idea to open a plant-based chain after tasting a Beyond Burger, which he sees as a viable replacement for meat that browns just like the real thing. In fact, all of the advancements made in the plant-based meat, dairy-free cheese, and fish-free seafood spaces inspired the chef to open PLNT Burger, an unabashedly fast-food restaurant that serves a "deliciously greasy" menu that happens to be 100-percent plant-based. "We're not a fast-casual concept," Mendelsohn told VegNews. "We're a fast-food restaurant." 
One-for-one swaps allow chefs like Mendelsohn to do what they do best: create indulgent food without sacrifice. At PLNT, diners will find classic Americana fare made with vegan products that can be pulled right from Whole Foods' shelves, such as Beyond Burgers, Follow Your Heart cheeses, and Gardein vegan chicken patties. 
PLNT Burger's partnership with Whole Foods had the benefit of foot traffic and when that was halted by the pandemic, the in-store chain was able to lean on Whole Foods' infrastructure to shift toward a delivery-first model. This symbiotic relationship allowed PLNT Burger to grow quickly, pulling in an astonishing $6,000 per square foot at its Whole Foods outposts. Now, Mendelsohn is ready to take the concept one step further. 
On Monday, PLNT Burger opened its 10th location in the coveted Union Square neighborhood of Manhattan in New York City. At this PLNT Burger, the more-focused menu zeros in on classic burgers, fries, and shakes and other "bread and [vegan] butter" items. 
For Mendelsohn, this location, operating in one of America's greatest culinary cities, is representative of something bigger. "There's a revolution of the plant-based space and we're living in it right now," Mendelsohn said. "People will look back and see this as the moment when everything shifted." 
Can McDonald's keep up with the vegan fast-food revolution?  
The fact that both NLB and PLNT Burger are independently undergoing an aggressive expansion is not an anomaly. San Diego-based Plant Power Fast Food (where the "Big Zac" is made to mimic the legendary Big Mac but without animal products) is crawling quickly up the Pacific coast with new outlets spreading into Nevada and beyond. Northern California's vegetarian fast-food chain Amy's Drive Thru (where everything can be ordered vegan) aims to operate 25 to 30 locations by 2027. And in the middle of the country, Texas-based vegan chicken chain Project Pollo is quite literally moving in on traditional fast-food chains by moving into shuttered locations of Subway, Carl's Jr., Jack in the Box, and Church's Chicken.  
This is all a representative of the shift happening in the fast-food industry and traditional players know that they must adapt to survive. We're only one month into 2022 and already fast-food giants have made some major plant-based announcements, including KFC (which now offers Beyond Fried Chicken at its 4,000 locations); Wienerschnitzel (the largest hot dog chain in the world which now offers three meatless hot dog options); and McDonald's (the holy grail of American fast-food which expanded its test of the meatless McPLant burger to an additional 600 US locations). 
"We have fast-forwarded 30 years in three years," NLB's Matt de Gruyter said of the proliferation of plant-based options in the fast-food space. "Whether it's Impossible nuggets at Burger King or Beyond Fried Chicken at KFC, people want to choose better and it's a win for the person, planet, and the future." 
Mendelsohn agrees that the landscape of American fast-food is entering a new era, one that will be a direct reversal of the last. "We've experienced a huge shift in the food system. People are just a lot more aware of the foods they consume," Mendelsohn said. "The fast-food industry as it stands today will be on the brink of being completely erased if they don't look at what people are demanding."
For more about vegan fast food, read:
Burger King Is the First Fast-Food Chain to Serve Impossible Nuggets 

Fatburger's CEO on the Future of Vegan Fast Food

Veggie Grill Takes on In-N-Out With New Vegan Burger Chain
JUST LAUNCHED! Vote for your favorite vegan products in the 2022 VegNews Veggie Awards.
Vote Now
JUST LAUNCHED! Vote for your favorite vegan products in the 2022 VegNews Veggie Awards.
Vote Now