Vegetarian Thanksgiving: Try a plant-based menu this year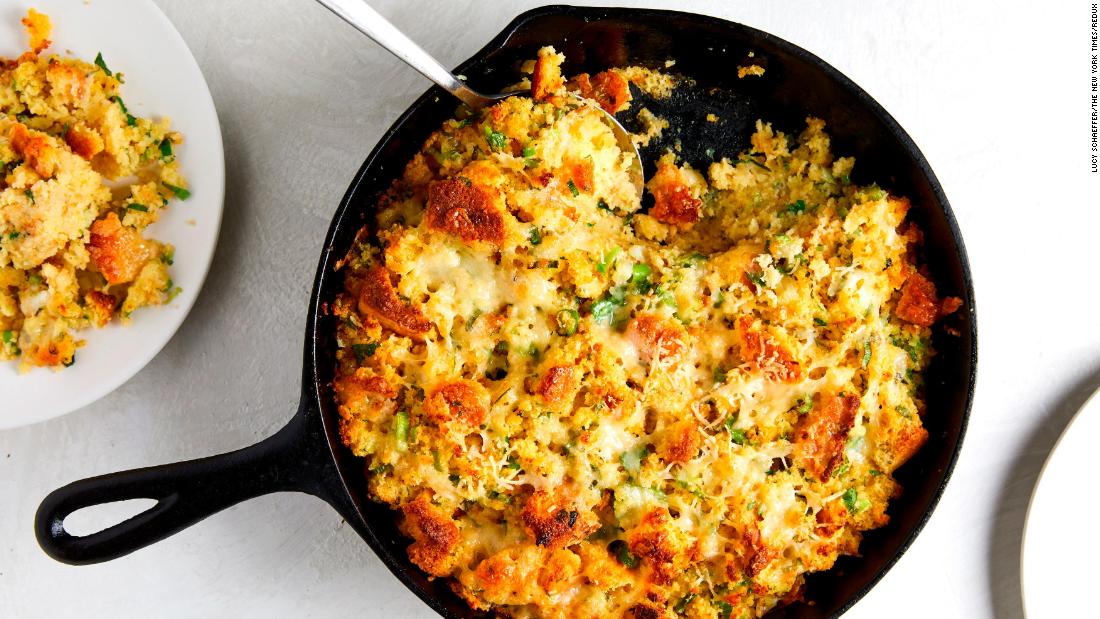 For those who have been choosing to eat more plant-based meals, holidays like Thanksgiving have always been a balancing act between nostalgia and commitment. However, as food technology continues to develop meat- and dairy-free alternatives that are better and better at mimicking the usual ingredients, it's becoming easier than ever to enjoy the traditional feast without the meat.
If you feel like flocking to a turkey-free feast this year, try these suggestions for a flavor-packed Thanksgiving meal with all the trimmings. There's no need to put a whole bird on the table when you've got this much goodness to share.
Turkey might hog the spotlight when it comes to prep time, but for many people, Thanksgiving sides are the true stars of the meal. If you're trying more plant-based cooking,
side dishes
are also fairly easy to adjust for guests who are vegetarian, dairy-free, gluten-free or bringing other food allergies to the party.
The two most beloved sides? Stuffing and mashed potatoes, which vie with the turkey as the most satisfying ways of delivering gravy as well. "In my mind, stuffing is really the Thanksgiving centerpiece," Manning said.
The key to an all-sides Thanksgiving is to serve a diverse lineup of flavors and textures so you're not leaning too heavily on one element. For a mix-and-match strategy, pick one or two dishes from the following categories:
• stuffing and bready carbs like dinner rolls
• soft and creamy: mashed potatoes, potato gratin, corn pudding, or macaroni and cheese
• roasted or sauteed vegetables: Brussels sprouts, sweet potatoes, carrots, cauliflower, or green beans
You can still have great gravy
Find a gentle way to break it to your aunts who have been fussing over the turkey drippings all these years: They're not essential to the gravy after all.
Other main courses
While an all-sides Thanksgiving might sound like a dream dinner for some, it might not feel complete to others. Luckily, you don't have to forego a main dish entirely when planning a plant-based Thanksgiving.
"Thanksgiving is not my favorite holiday," admitted Montana Horowitz, a lawyer and mother of two in New Jersey. Though she grew up in a "big Italian family where Thanksgiving is out of control — my dad makes two turkeys and then there's ham and pasta and rice balls," she feels free to switch up the menu now that she and her husband follow a plant-based diet.
Manning also turns to pre-made seitan cutlets for a small-scale Thanksgiving. "They're great for putting gravy on; I can make as little or as much as I want; and they're crammed with those Thanksgiving spices like sage, thyme and rosemary," she said.
Remember, it's a holiday for sharing
Deciding to do Thanksgiving without a turkey might ruffle the feathers of some family members, so if someone else wants to cook a smaller cut of meat (or even fish), now's not the time to start a family feud.
"I'm doing Thanksgiving collaboratively with my brother-in-law and he's going to do turkey breast," Manning said. She is bringing her vegan cutlets to the six-person celebration, where family members who are curious can try them if they choose.
Offering a plant-based option gives people a chance to expand their palate, and if it's one choice of many dishes on the table, it's more likely to increase the odds of sampling and decrease resistance to a new way of eating.
Casey Barber is a food writer, illustrator and photographer; the author of "Pierogi Love: New Takes on an Old-World Comfort Food" and "Classic Snacks Made from Scratch: 70 Homemade Versions of Your Favorite Brand-Name Treats"; and editor of the website Good. Food. Stories.