Ypsi-area programs tackle food insecurity by making healthy food easier to access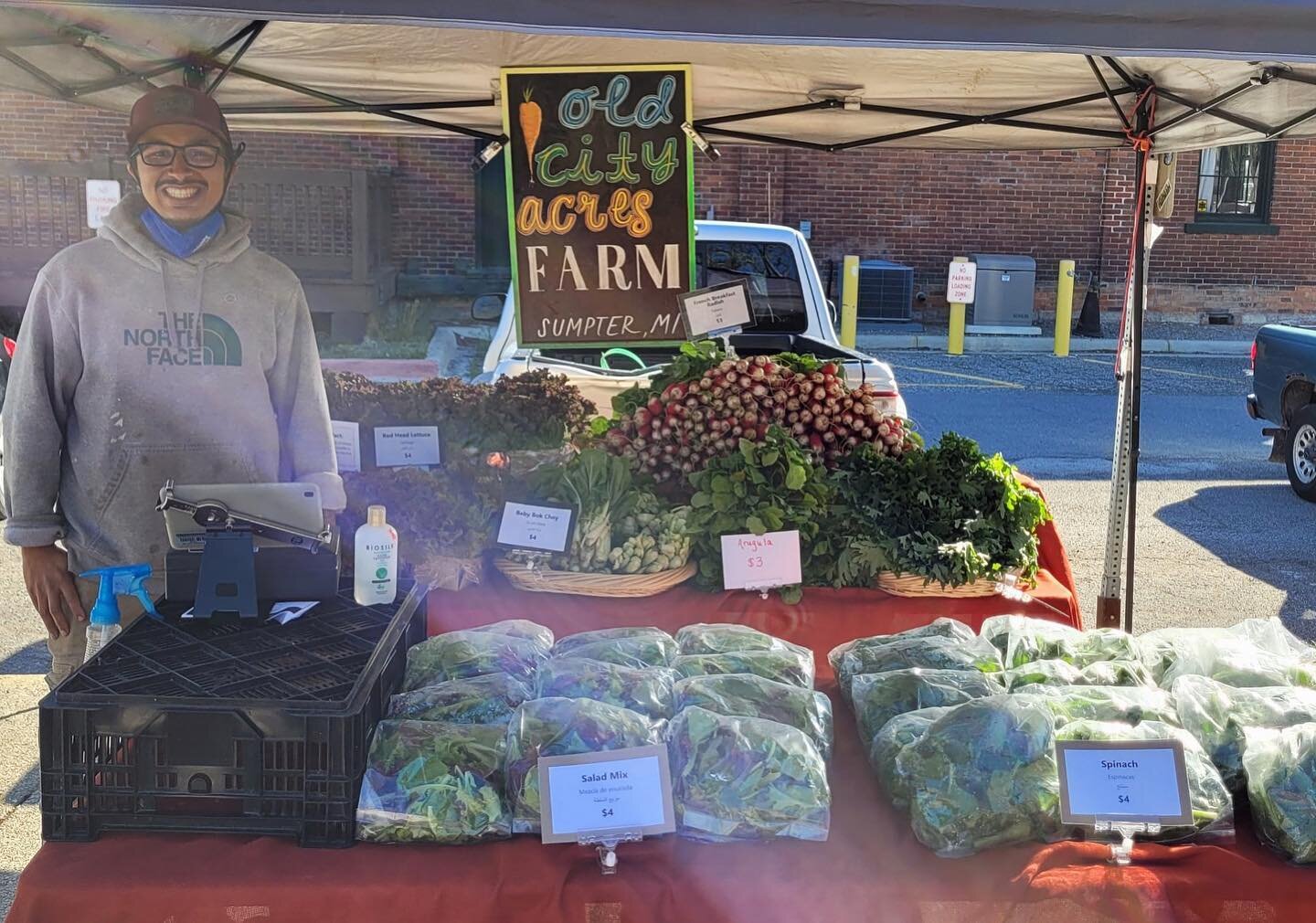 When Alex Ball was a teenager living with his family in downtown Romulus, the only grocery store in town closed down. 
"I'd never thought about food that much, but when the store closed down and our neighbors had no access to fresh food, I started wondering, 'How can I fix this?'" Ball says. "So, at age 18, I started researching and reading and did some small-scale backyard farming."
That first backyard garden kicked off a journey that would lead Ball to become a farmer at the young age of 18, eventually buying his own piece of land in Sumpter Township to establish Old City Acres and help local residents get access to affordable, nutritious, locally-grown food.
He says when he told his mother he was going to be a farmer, she cried.
"All she knew was the suffering farmers go through. And that's a true fact," he says. "But I think we're in a new age of farms, and they're not all fitting into that same description."
As a participant in the Fresh Food Box program, a new collaboration between the Michigan Department of Health and Human Services (MDHHS) and Taste the Local Difference that serves Ypsilanti and Detroit, Ball has recently begun accepting electronic benefit transfer (EBT) as payment for his produce. He accepts alternative forms of payment at his booth at the Ypsilanti Farmers Market and for participating in his farm's community-supported agriculture program. 
The Fresh Food Box program is just one way Ypsilanti-area farms and organizations are innovating to address food security issues in the greater Ypsilanti area this summer.
Fresh Food Box improves access for SNAP-eligible families
Kelly Wilson, director of community partners for Taste the Local Difference, says her organization has been partnering with MDHHS for several years on various programs aimed at improving community access to local food.
The new Fresh Food Box program is a pilot focused specifically on connecting farms and farmers markets that offer online ordering with customers who have SNAP and EBT, two forms of food benefits for low-income families. The pilot program serves Ypsilanti and Detroit because both communities have a high percentage of families that are SNAP-eligible, but organizers aim to expand the program around the state.
"The hope is we gain some knowledge of best practices and a better understanding of how this project can work both on the consumer side of things and the farm side of things, and slowly expand around the state," Wilson says. "We've already identified two other communities we'll be expanding into next year, the western Upper Peninsula and Lansing."
The program is mainly a marketing push to help SNAP-eligible families learn about farms and farmers markets that accept SNAP and EBT as payment online. Some community clinic partners screen their patients for food insecurity and refer them to participating farms. Taste the Local Difference also helped sites in Detroit and Ypsilanti figure out how they could begin accepting alternative forms of payment if they didn't already, and some sites have added Double Up Food Bucks, a program providing a matching dollar's worth of fresh produce for each dollar the consumer spends.
Additionally, Taste the Local Difference received funding from MDHHS to help farm sites with any technical support they needed, from e-commerce platforms to distribution logistics so that participants can access food safely. 
In addition to several participating Detroit locations, there are two in Ypsilanti: Growing Hope's Ypsilanti Area Online Market; and Old City Acres, through Ball's booth at the Saturday farmers market in Depot Town. 
Dayna Popkey, farmers market and nutrition manager for Growing Hope, says the Fresh Food Box program is "wonderful."
"It's not really adding a new program, but rather marketing support to let folks know that all our farmers markets accept SNAP and do Double Up Food Bucks," Popkey says.
Produce at the Ypsilanti Farmers Market.
Popkey says certain programs that focused on coupons or tokens exchanged directly between food producers and consumers "took a hit" during the pandemic, as fewer people were shopping in person at farmers markets.
"But now things are picking up and there are more in-person shopping opportunities, and people are going to be able to utilize their benefits better," she says. 
Pandemic spurs changes to Food Gatherers' Summer Food Service Program
Without the safety net of school lunches, summer can be a hungry time for low-income families, particularly in the greater Ypsilanti area.
"We know from historical data that the 48197 and 48198 ZIP codes have higher rates of food insecurity,"  says Markell Miller, director of community food programs for Food Gatherers. 
Food Gatherers has been operating a Summer Food Service Program for school-aged children for many years. This summer, the nonprofit is operating more than a dozen of its 19 food pickup sites in Ypsi and Ypsi Township – with several meaningful pandemic-prompted changes still in place.
In the past, Food Gatherers served meals to groups of children who had to consume the food that day, on site, per state and federal rules. But Food Gatherers staff obtained waivers from the state that allowed them to tweak the program to make it more pandemic-friendly. Miller thinks some of those changes may become permanent.
Food Gatherers staff with the van they use to deliver food to Summer Food Service Program sites.
One waiver allowed Food Gathers to ignore the requirement that young people eat their food on the site where it's served. Another waiver allows parents to pick up seven days' worth of frozen entrees, milk, and fresh fruit without children being present. Yet another waiver allowed Food Gatherers to operate summer food programs in communities that don't meet the requirement of having 50% or more of families qualifying for free or reduced school lunches.
Not only do the new policies make it easier on parents of school-aged children in Ypsi and Ypsi Township, but they also make access to food easier for parents of students in rural areas like Milan who might have to drive quite a way to access that free food, Miller says.
Those policies may not be available in the future unless Congress takes action after the pandemic to update the rules that govern the program, she says. 
"I hope that after the pandemic, we can retain that flexibility to provide food to families in ways that work best for families," Miller says. 
More information about the Fresh Food Box program is available here. A complete list of summer meal sites in Washtenaw County is available here.
Sarah Rigg is a freelance writer and editor in Ypsilanti Township and the project manager of On the Ground Ypsilanti. She joined Concentrate as a news writer in early 2017 and is an occasional contributor to other Issue Media Group publications. You may reach her at [email protected].
Alex Ball photo courtesy of Old City Acres. Ypsilanti Farmers Market photo by Misty Lyn Bergeron. Food Gatherers photo courtesy of Food Gatherers.