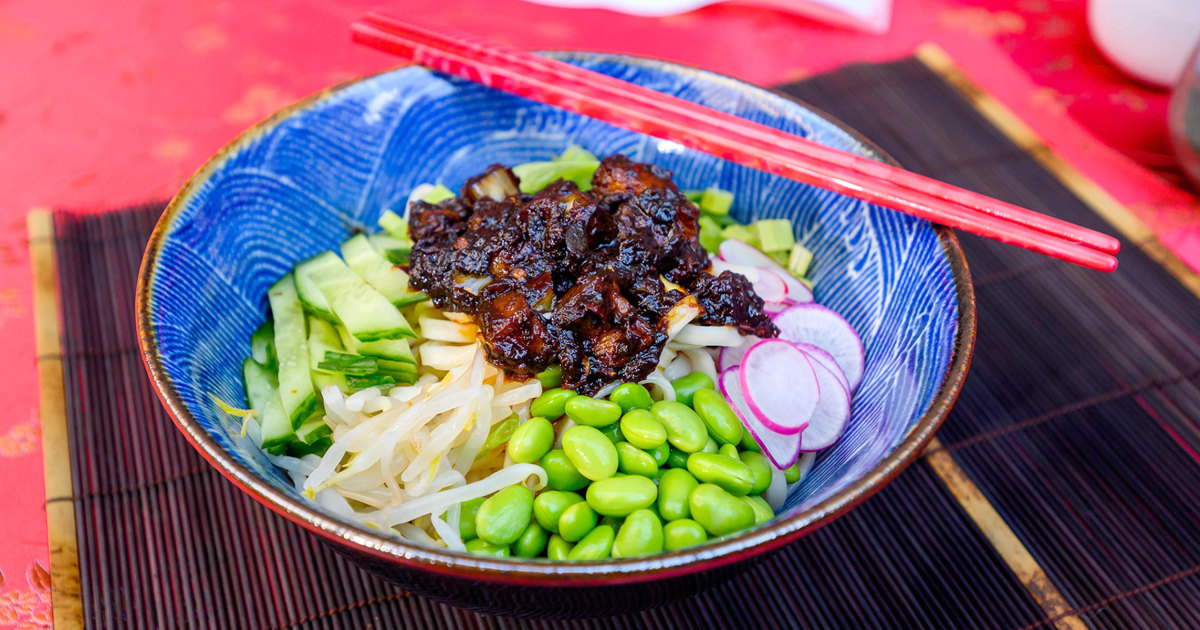 Chef notes
Zhajiangmian  directly translates to "fried sauce noodles." The sauce itself — a fermented soybean paste cooked in oil — is a Beijing street food staple, and just one of the many Northern Chinese culinary traditions that we've served up at Junzi Kitchen.
Every household's sauce is different, but we've made ours from three different sources: yellow soybean paste, Pixian fava bean paste and sweet bean paste, all coming from different Chinese provinces. The result is a deep brown, fried and caramelized sauce that adds immense earthy and savory flavor to any dish.
Technique tip: If desired, the resulting sauce can be blended with 1½ cup warm water to make a more approachable sauce for noodles. But an unblended, undiluted sauce is more authentic.
Preparation
For the sauce:
1.
In a bowl, combine sweet bean paste, fermented yellow soybean paste, chili bean paste, brown sugar and Shaoxing wine. Mix well.
2.
Over medium heat, add oil to the wok. Add diced pork belly and stir-fry, slowly rendering out the fat. Once the pork is fully cooked and beginning to turn golden, around 2 minutes, add garlic, ginger and scallion whites. This may take longer if the pork has a particularly high moisture content. Stir-fry until aromatic, about 30 sec.
3.
Carefully pour in the sauce mixture and simmer on medium-low for 20 minutes, until the oil has been absorbed by the sauce. Continue to mix to prevent sticking on the bottom of the pan. Continue to cook until excess oil begins to separate from the mixture, another 15 minutes. Add raw chopped leeks to finish, and remove from heat. If desired, skim off excess oil from the top and reserve for stir-fries. This sauce can be made 4 days ahead of time.
To serve:
Boil fresh noodles according to package instructions. Quickly rinse in cold water for 5 seconds after cooking to firm up the texture.
In a noodle bowl, place cooked noodles at the bottom. Top with a generous spoon of zhajiang sauce, cucumbers, scallions, bean sprouts and Chinese celery. Mix to eat.