12 days of Christmas cookies: Cappuccino biscotti recipe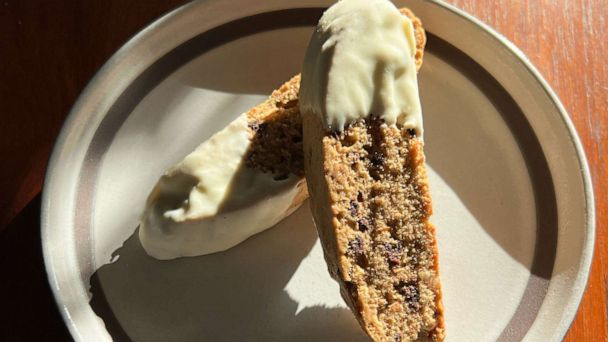 ---
To round out the "Good Morning America" 12 Days of Christmas Cookies there's another classic crunchy confection that deserves a spot on your dessert table.
Renato Poliafito, co-founder of Italian American cafe and Brooklyn hotspot Ciao, Gloria, joined "GMA" on Thursday to share this perfect pastry accompaniment to coffee.
Cappuccino biscotti
Yield: 1x log / 12 large biscotti
Ingredients
2 cups AP flour
1 teaspoon baking powder
1/2 teaspoon fine sea salt
1/2 teaspoon cinnamon
85 grams room temperature unsalted butter
1 cup sugar
2 large eggs
1 teaspoon vanilla extract
2 tablespoons instant espresso powder
3.5 ounces hazelnuts, skins removed
3.5 ounces bittersweet chocolate chips
8 ounces white chocolate chips, to melt and dip
Preheat oven to 325 and set rack in middle position.
Place hazelnuts on a sheet pan and toast until lightly golden in color and fragrant, about 8-10 minutes. Remove from oven and let cool slightly. Once cool, give the nuts a rough chop and set aside.
In a large bowl, whisk together flour, baking powder, cinnamon, and salt. Set aside.
In a medium bowl, whisk eggs, vanilla, and espresso powder together to dissolve powder. Set aside.
In a stand mixer fitted with paddle attachment, cream the butter and sugar at medium to high speed until light and fluffy. Scrape down the bowl as needed. Mixture should be pale in color.
Add egg mixture and beat until incorporated. Scrape down bowl as needed.
Add dry ingredients, at low speed, in two parts, until combined and no sign of flour remains.
Add hazelnuts and chocolate chips and mix on low until just combined.
Line a sheet pan with parchment and transfer the dough to the sheet pan. Using your hands, shape the dough into one log, down the length of the sheet tray, each log about 3" wide. The length should be almost to the edges of the pan.