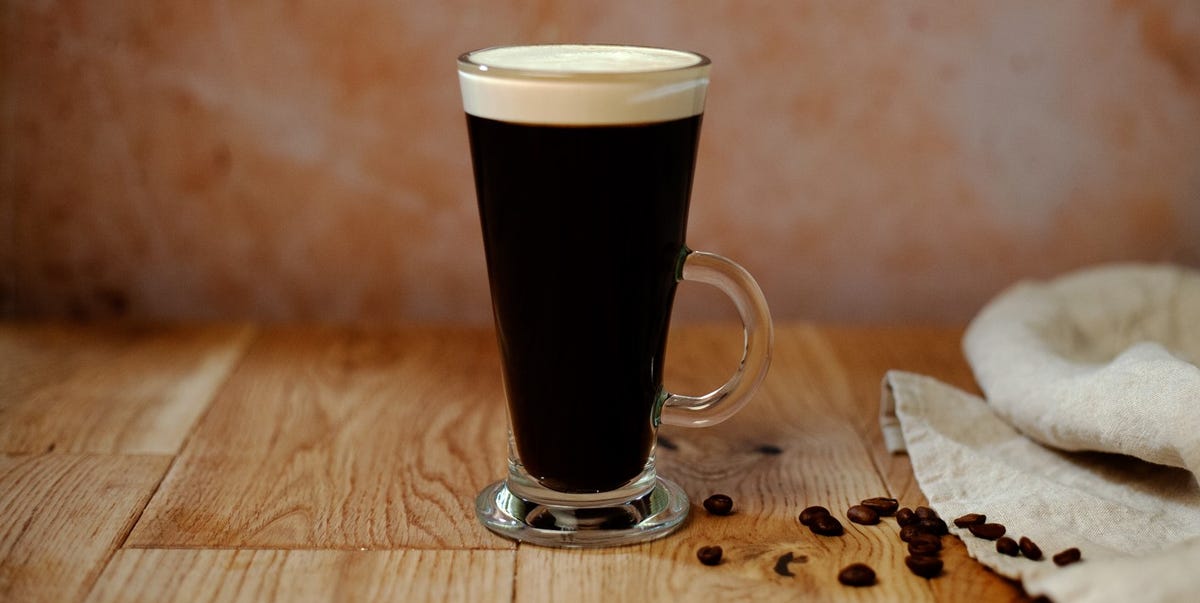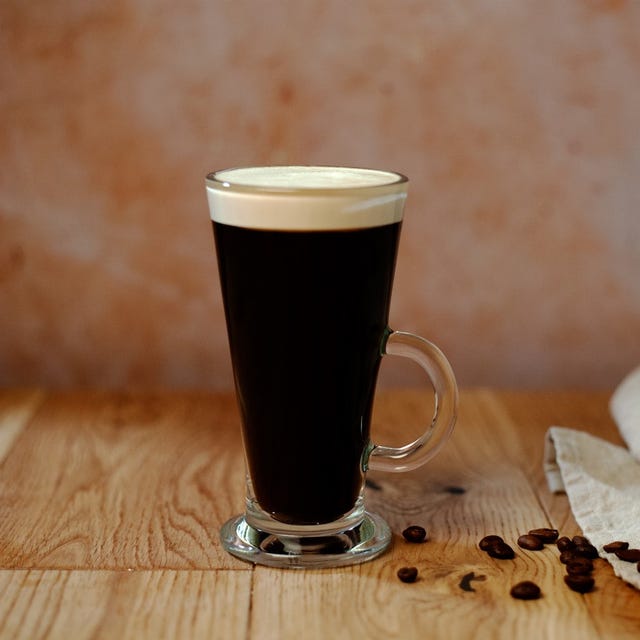 Melanie Giandzi
An Irish coffee is a classic coffee cocktail and is popular all over the world, and its roots actually originate from Ireland.
A short history of the Irish Coffee cocktail
The story goes that a bartender at Foynes airport (now Shannon airport) in Ireland, had to find a way to warm up weary passengers who had to turn back from their flight due to bad weather.
The bartender decided that these passengers needed something stronger to warm them up than just a cup of coffee, so decided to add a shot of whiskey and top it with cream for an indulgent spiked coffee concoction.
What's in an Irish coffee?
It's an incredibly easy cocktail to make but getting the cream layer perfect does require a bit of finesse.
Traditional recipes would add brown sugar to a warm, clear-handled glass, top up with fresh black coffee, add a shot of Irish whiskey, and float lightly whipped double cream on top so you have a distinct layer between the two.
We've gone for a slight upgrade to the traditional recipe by adding a vanilla-demerara simple syrup rather than raw sugar, for a creamier and toffee-like taste.
How to drink an Irish coffee
Rule number one is to never stir an Irish coffee. You should be drinking it with the cream layer still distinctively separated so every mouthful is firstly of sweet cream, followed by a boozy, toffee coffee layer.
How to perfect the cream layer on top
To get the perfect consistency in your cream we suggest adding it to a cocktail shaker (or a clean jar with a lid) and shake for about 10-15 seconds to incorporate air into it.
You'll then need to pour the cream on top of the coffee by using the back of a small teaspoon. Hover the back of a teaspoon just above the coffee layer and gentle pour the cream so it falls gently and floats on top. It should cover the entire surface but if some falls through don't stress! It will still taste delicious.
Advertisement – Continue Reading Below
Makes:

1
Cook Time:

0

hours

10

mins


Total Time:

0

hours

10

mins


For the demerara simple syrup
1
tsp.

vanilla bean paste
For the cocktail
150
ml

hot espresso or strong black coffee
Freshly grated nutmeg, to garnish (optional)
This ingredient shopping module is created and maintained by a third party, and imported onto this page. You may be able to find more information about this and similar content on their web site.
For the simple syrup: In a small pan heat the sugar, 100ml water and vanilla bean paste over low heat, stirring occasionally, until the sugar has completely dissolved.
Meanwhile; in a cocktail shaker or jar, shake the cream for 10-15 seconds (it should still be a pourable consistency).  
In a tall clear glass with a handle, add your whiskey, hot coffee and 50ml of the demerara simple syrup (see GH tip) and mix until combined. Using the back of a spoon, gently pour the whipped cream over the spoon to help it float, ensuring it covers the entire surface of the liquid. Garnish with nutmeg and serve.
GH TIP 
Keep the remaining demerara syrup for up to four weeks in an airtight jar or container for any future cocktails (it works particularly well in an espresso martini or an old fashioned).
Per serving
Calories: 562
Protein: 1g
Total fat: 27g
Saturated fat: 17g
Carbs: 51g
Sugar: 51g
Fibre: 0g
Advertisement – Continue Reading Below