Spicy Shrimp and Turkey Lettuce Wraps Recipe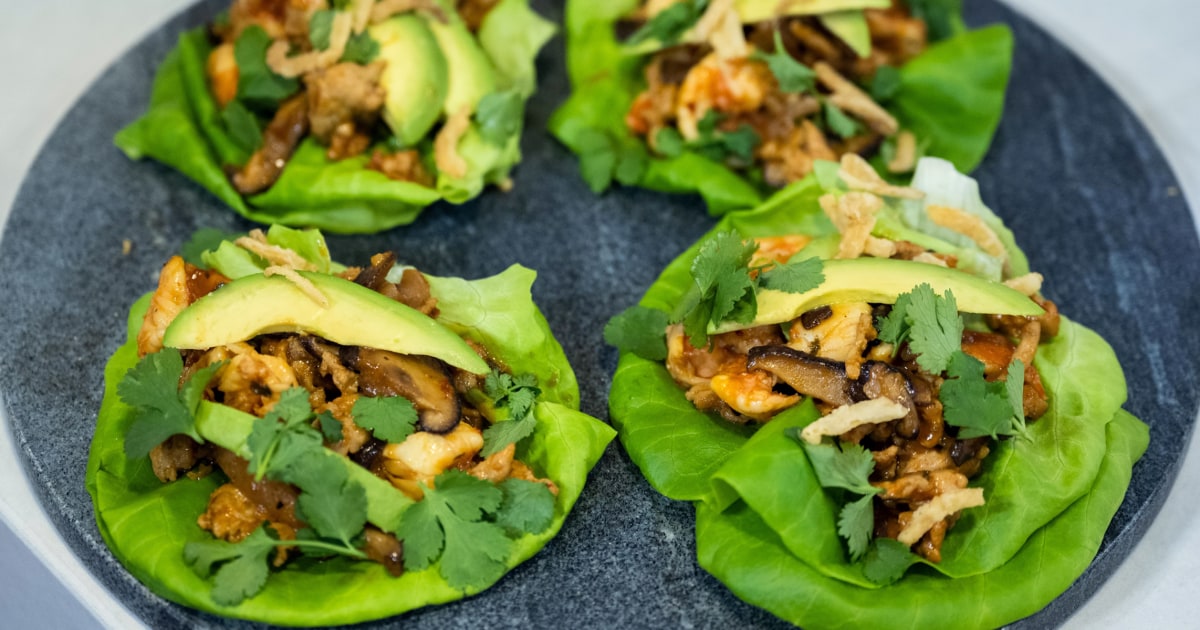 Chef notes
The reason I love this recipe is because it's super easy, flavorful and spicy, and it really packs an umami punch. Make yourself three to four of these wraps for a super satisfying, protein-packed meal.
Technique tip: Cook shrimp separately from ground turkey to prevent shrimp from overcooking. Cornstarch helps to thicken sauce. To prevent lettuce wraps from falling apart, use 2 lettuce leaves per serving.
Swap option: You can swap out ground turkey for ground chicken, ground beef, plant-based proteins, etc.
Preparation
For the spicy-umami sauce:
Add all ingredients in a medium-sized bowl and whisk until well incorporated; set aside.
For the lettuce wraps:
1.
On medium-high heat, place 4 tablespoons olive oil in large saucepan, add ground turkey and dry seasonings to pan, and brown about 2 minutes.
2.
Add shallots, garlic, serrano chile, ginger and lemongrass paste, and continue browning turkey until fully cooked and vegetables are fragrant and tender, about 3 more minutes.
3.
Remove browned turkey from pan with slotted spoon and set aside in a medium stainless steel bowl to keep warm.
4.
Place pan back on heat, add remaining 2 tablespoons olive oil and shiitake mushrooms to pan, and sauté for about 2 minutes, until they start to get tender.
5.
Add shrimp to pan, add pinch salt and pepper, and continue to sauté with mushrooms until shrimp is cooked through and pink, about 2 to 3 minutes.
6.
Remove shrimp and mushrooms from pan and set aside in a separate medium-sized stainless steel bowl.
7.
Place pan back on medium-high heat, add spicy-umami sauce to pan and whisk until it starts to come to a boil and slightly thickened to sauce-like consistency, about 30 seconds; then add all shrimp, ground turkey and 2 tablespoons chopped cilantro back into pan, and toss until well-coated and covered in sauce; season to taste.
8.
To assemble lettuce wraps, use 2 lettuce leaves to make one wrap.
9.
Place a heaping 2 to 3 spoonfuls of shrimp-turkey mixture in each lettuce wrap; don't overstuff.
10.
Top with 1 avocado slice, a teaspoon of fried onions, a lime wedge on the side, and finish with chopped cilantro. Repeat process until all lettuce wraps are assembled.
11.
Squeeze fresh lime on lettuce wraps and enjoy.