Best Sour Cream Coffee Cake Recipe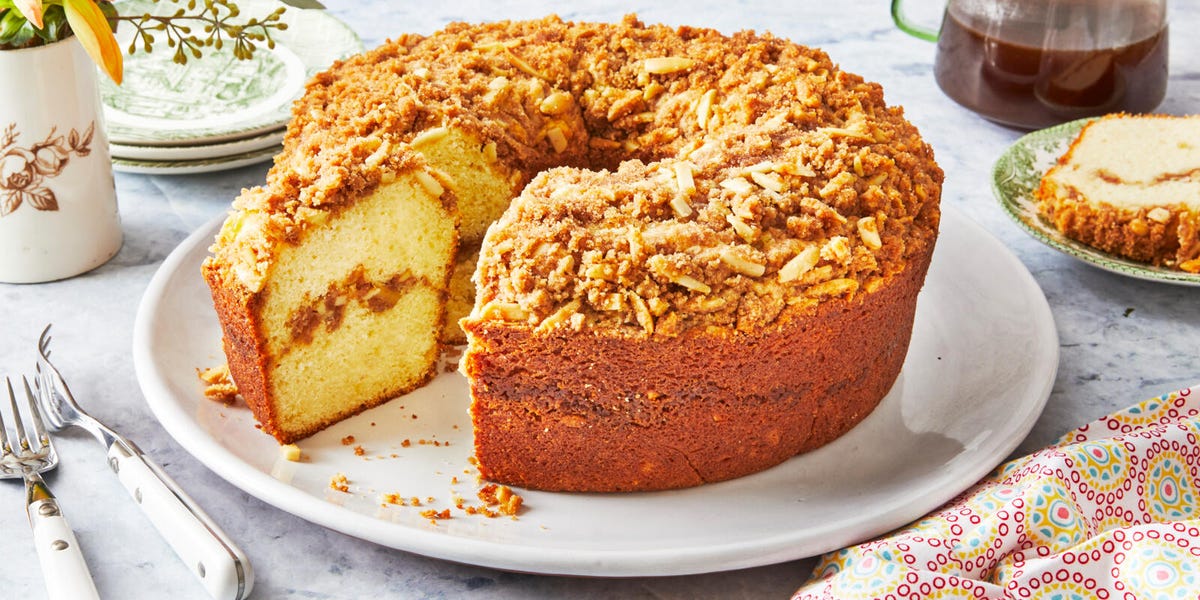 There are two camps when it comes to classic sour cream coffee cake: the "just here for the streusel topping" folks and the "all about that tender, mile-high cake" folks. This homemade cake will make everyone very happy. The streusel—a crumbly mix of cinnamon, almonds, butter, flour, and brown sugar—is sandwiched in between and sprinkled on top of the cake so you get some in every bite. Sour cream adds a hint of tanginess and keeps the cake wonderfully moist and tender, even if you bake it a day ahead. Make it for a special occasion like Thanksgiving breakfast or Christmas breakfast (because who doesn't love cake for breakfast?), or as a fall dessert.  
Is a tube pan the same as a Bundt pan?
A tube pan has tall, curved sides, a flat bottom, and a hollow tube in the center. That tube helps to even out the heat in the oven so that big cakes won't be undercooked in the center. A Bundt pan also has a hollow center, but isn't as tall and has ridged sides. You can use either for this recipe, just note that the streusel topping will be on the flat side (bottom) of the Bundt. 
Does coffee cake actually have coffee in it?
This is a cake that's named for how you serve it rather than what's in it. A cup of hot coffee is perfect for pairing, which is why it's a classic for breakfast or an afternoon snack. Of course, serving it for dessert with a scoop of vanilla ice cream would be just fine too!
How do you store coffee cake? 
Coffee cake can be stored in an airtight container at room temperature up to three days.