Chef Huda makes her signature soulful soup recipe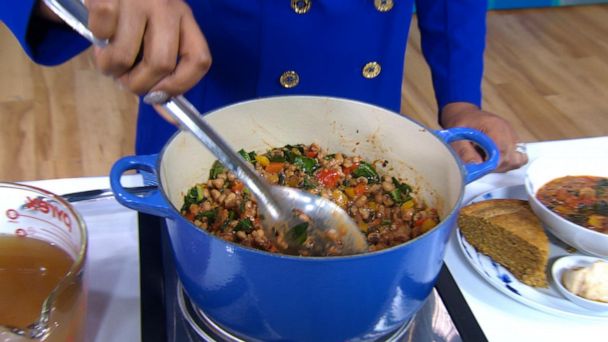 ---
Chef Huda Mu'min is a renowned chef with many accolades and now she's bringing her recipes to "GMA3."
Chef Huda is known for setting records on Food Network's "Cutthroat Kitchen," and has participated on ABC's "The Taste."
According to her website, Chef Huda is the founder of Chef Huda's Kitchen, "an innovative and culturally conscious culinary company specializing in healthy comfort food and chef-curated special events."
She says she fell in love with the culinary arts at the age of six. She dropped by "GMA3" this week to share one of her signature recipes.
Chef Huda's Signature Soulful Soup
1 tbsp. extra-virgin olive oil
1 lb. spicy Italian turkey sausage, casings removed
3 3/4 cups canned low-sodium black-eyed peas (from two 15-ounce cans)
2 cups roughly chopped collard greens
2 cups diced roasted tomatoes (from one 15 1/2-ounce can)
1 cup diced Vidalia onion
1 cup diced red bell pepper
1 cup diced yellow bell pepper
1 tbsp. Just Savor Cajun Kick seasoning
6 cups low-sodium chicken broth
Kosher salt and freshly ground pepper
Directions:
Step One: Heat the olive oil in a large saucepan or Dutch oven over medium heat. Add the garlic and cook, stirring, until lightly browned, 1 to 2 minutes. Add the sausage and cook, breaking up the meat with a wooden spoon, until cooked through, 2 to 3 minutes.
Step Two: Add the black-eyed peas, collards, tomatoes, onion, bell peppers, Cajun seasoning, cumin and stir. Cook, stirring, until the collards begin to wilt, about four minutes. Increase the heat to medium high, then add the chicken broth and stir.
Step Three: Cover and simmer, stirring occasionally, until slightly reduced, 15 to 20 minutes. Season with salt and pepper to taste.